2023 World Jiu-Jitsu IBJJF Championship
The Storylines You Need To Know Ahead Of The 2023 IBJJF Worlds Finals
The Storylines You Need To Know Ahead Of The 2023 IBJJF Worlds Finals
Before the 2023 IBJJF Worlds black belt finals kick off, catch up on the major storylines clouding all 19 divisions: the rivalries, the history & more.
Jun 4, 2023
by Corey Stockton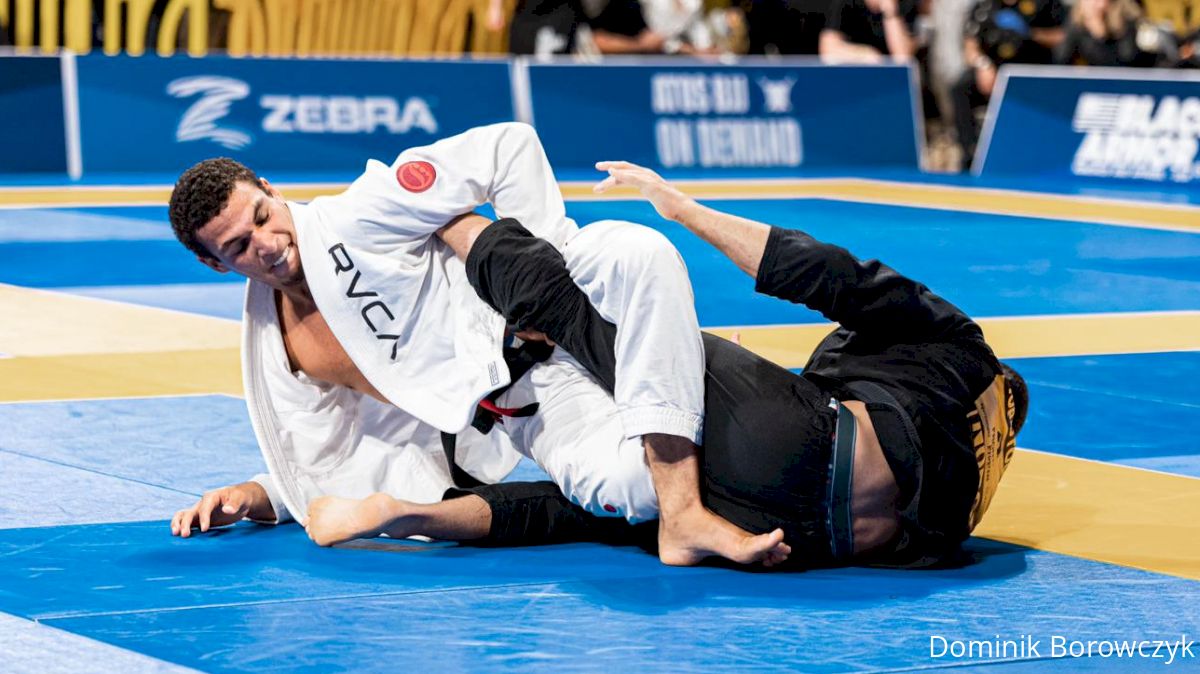 The first day of black belt competition at the 2023 IBJJF World Championships delivered fantastic action and intriguing results, and set the stage for the finals, scheduled to begin on Sunday, June 4 at 12:30 p.m. ET.
Every single division is saturated with storylines: highly anticipated matchups, storied rivalries and the chance to make history. There's no telling how these stories will ultimately play out, but here are some of the stats, background contexts and key details to keep an eye on during the final day of black belt competition at Worlds.


Men's Absolute
Both Victor Hugo and Erich Munis are on the hunt for their first-ever IBJJF Worlds absolute black belt titles. Munis lost the final to Nicholas Meregali in 2022, while Hugo has never previously appeared in a Worlds absolute final at black belt.
But both men have had career years, and have seemed to find their rhythms. They've established themselves among the elite black belts on earth.
Munis is 2-0 against Hugo at BJJStars, but they have never fought on IBJJF mats. Munis easily submitted his three opponents to earn his spot in the final, while Hugo earned two early submissions before taking out one of the division favorites, Kaynan Duarte in the semis.
Hugo is coming off an impressive run at Brasileiros, where he earned his first major black belt double gold, submitting six of his seven opponents.
This match is a true absolute final, it's a battle for the ages.
And Nicholas Meregali is eagerly awaiting the winner.
The 2023 Black Belt Absolute Finals Are Set: Munis/Hugo & Vieira/Pessanha
Women's Absolute
Gabi Pessanha has been on one of the most dominant runs in jiu-jitsu history. She has won double gold at the last nine IBJJF majors consecutively, and could win her tenth straight with double gold here. But the last person to beat her, Ana Carolina Viera, will have the chance to stand in her way again.
Ana Carolina defeated Pessanha in the semis at Pans 2021. Pessanha recently redeemed that loss at Pans 2023 by a narrow 2-0 margin.
Vieira is a five-time world champion, but has never conquered the open class title. This would be the crown on her career, especially given the pedigree of her opponent. In just three years at black belt, Pessanha has already earned four world titles, with her sights on numbers five and six, both available to her on Sunday.
Men's Roosterweight
Lucas Pinheiro is chasing his first-ever IBJJF world title in the gi. After years of competing at light featherweight, the Atos representative dropped to roosterweight, and he's already seen major success there. Earlier this year, he clinched his first black belt Brasileiro title while competing at roosterweight with three submissions in three matches.
One of those submissions was against Bebeto Oliveira, Pinheiro's first opponent in the bracket on Sunday during the semifinals. Bebeto nearly submitted Pinheiro in the Brasileiros semifinal, but Pinheiro escaped and turned the table.
Bebeto has history with the division frontrunner, Thalison Soares, Soares is the reigning champion of the division. He defeated Bebeto in the 2022 finals to take the crown. But earlier in 2022, Bebeto defeated Thalison to win his first Pans title.
If Bebeto gets through Pinheiro, and if Soares gets through division sleeper Roiter Lima, it would mark the rubber match.
Soares is searching for his first World title as an Art of Jiu-Jitsu representative. He officially joined the team earlier this year.
Men's Light Featherweight
The top two seeds in the light featherweight divisions have won the last two world titles in the category.
Diego Pato won the 2021 world title, then he appeared in the final against then-teammate Meyram Alves in 2022. Alves secured the title narrowly in 2022.
On his route to Alves in 2022, Pato defeated the Baby Shark, Diogo Reis, in the semifinal. They're set for a rematch to start things off on Sunday morning.
Since their last encounter, Reis has amassed several important titles, including an ADCC World Championships title, an IBJJF Pans title and his second IBJJF Brasileiros title. He's developed a style as a takedown and top game specialist, which could add new layers of complexity against Pato's dangerous guard. Pato is now representing Art of Jiu-Jitsu, and could see a boost from the strategic guidance of Gui Mendes, especially against a renowned strategist like Diogo Reis.
Alves and Reis have had only one run-in on the IBJJF circuit as black belts. Alves defeated Reis at the 2022 IBJJF Pans in a close, high-scoring match.
Cleber Soursa will try to play spoiler in this division. He'll face Alves in the semifinal round.
Men's Featherweight
Reigning IBJJF world champion Isaace Doederlin will be tested in his first match on Sunday, as he's set to take on his final opponent from his championship run in 2022: Samuel Nagai.
Doederlein submitted Nagai in the 2022 featherweight world finals to claim his first title, to become the third US-born featherweight champ in history. But Nagai wants his redemption as the fiery Checkmat athlete strives to earn his first world title.
On the other side of the bracket, 2021 IBJJF world champ Fabricio Andrey will have his first IBJJF career run-in with Diego Sodre, the brother of Andrey's rival, Alex Sodre, who fell to Nagai in the quarterfinals.
Andrey recently outscored Diego Sodre at a Spyder event, but has not faced him on the IBJJF circuit.
If his brother's game is any indication, Sodre will look to slow down the often-explosive Andrey, while the 2021 world champ will try to force an opening in the hunt for submission.
If Andrey passes through, one of two huge matches await. If Andrey and Nagai hit, it would be yet-another installment of two firecrackers (their last encounter was nominated for match of the year in 2022).
If Andrey and Doederlein hit, it's a long anticipated match between the two most recent featherweight champions as they both try to solidify their claim on the division.
Men's Lightweight
The lightweight division was blown wide open on Saturday, as many of the top dogs like Lucas Valente, JT Torres, Matheus Gabriel, Levi Jones-Leary and Espen Mathiesen fell.
That makes this division ripe for Jonatha Alves to finally assume the throne. Alves was promoted to black belt after 2019, but the 2020 Worlds was canceled due to COVID. Alves was injured in his 2021 campaign before the medal rounds, and he lost on day one in 2022 to Tye Ruotolo, the eventual division champ.
Despite his four consecutive IBJJF Pans titles, Alves has not yet earned any medal at Worlds, but just by making it to day two this year, he's earned himself a spot on the podium.
And he has as good a shot as ever at his first black belt world title, but a few key names stand in the way.
Alves will first have to face Jackson Nagai, who has had a career weekend with wins over Espen Mathiesen, Natan Chueng and Vinicius Barbosa. In the final, his likely opponent is Pedro Maia, who has dropped down to lightweight after a season at featherweight to great success.
Earlier this season, Maia dropped two close matches to Alves' teammate Tainan Dalpra. But Maia fared better than most, and his move to lightweight showed how dangerous he can be. He's on a three-submission streak, including a huge win over Lucas Valente (technical submission by fleeing while caught in a choke).
Tainan Dalpra Reflects On Flawless Day One Performance


The Storylines You Need To Know Ahead Of The 2023 IBJJF Worlds Finals
The Best, Most Exciting, Craziest Matches To Watch From 2023 IBJJF Worlds
Men's Middleweight
The middleweight division has been under Tainan Dalpra's thumb for the last two year, but the 2023 season has brought new challengers.
Dalpra had a two-submission streak to begin his weekend, adding to his 60+ undefeated win streak in IBJJF matches. He's set to face Rolando Samson in the semis; it's a rematch from the Pans semifinal, where Dalpra fended off aggressive attacks to earn a submission victory.
But the other side of the bracket has attracted waves of attention. Tye Ruotolo — who assumed the lightweight throne after his 2022 Worlds final opponent was suspended — moved up to middleweight explicitly hunting a match with Dalpra. He had a successful start to his Worlds campaign: two submissions in two matches. His semifinal opponent on Sunday will be Jansen Gomes, the medium heavyweight European champ who dropped to middleweight, and found early success. Like Ruotolo, Gomes submitted each of his first two opponents this weekend.
Tye Ruotolo Sets His Sights On Middleweight Gold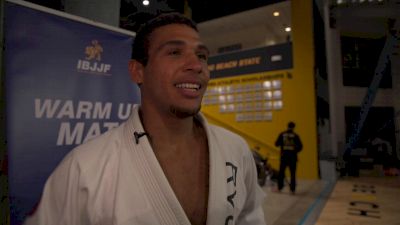 Subscribe To FloGrappling To Watch All The IBJJF World Championship Action
Both Ruotolo and Gomes predict fireworks in their matchup. It's safe to expect a full-throttle sprint to submission in the semi, with Dalpra waiting in the flanks for the winner.
Dalpra hopes to become a three-time IBJJF world champion, part of his larger goal to become the most successful middleweight in history (he needs six titles to do it). He's also on track to win his fourth of four major title in 2023. But each of his opponents will try to stop the Tainan train in its tracks.
Men's Medium Heavyweight
Gustavo Batista is having a career year with Pans and Brasileiros titles to his name. The defending medium heavyweight world champ will be aware of the huge target on his back, especially from his first opponent on Sunday, Unity's Sebastian Rodriguez.
Rodriguez is on a campaign to become the first Costa Rican world champion, and he's appeared in peak form to start that venture. He collected two submissions in his first two matches, then downed Francisco Lo in the quarters to earn his shot at Batista.
On the other side, longtime Batista rival Isaque Bahiense wants a shot of his own. Bahiense got the best of their last encounter in the Worlds semifinal in 2022, collecting a silver medal for his efforts. But this time, Bahiense will have to get through Batista teammate Andy Murasaki.
Murasaki met Tainan Dalpra in last year's Worlds final, but has jumped up a weight category, and the change has worked in his favor. He secured two submissions on Saturday, including a major comeback victory, overcoming a 10-point deficit to win via choke.
The IBJJF's rules against closeouts are in effect at Worlds, meaning that if the two Atos representatives meet in the final,they may square off to ensure the rankings points, the team points and the cash prize remain in play.
Men's Heavyweight
Heavyweight will have a new champion, as reigning two-time champ Kaynan Duarte has moved up to super heavyweight this season.
That leaves a gap for Fellipe Andrew to fill. Andrew moved down to heavyweight in pursuit of his first undisputed World title (he did earn a World title in 2021 after the champion was suspended for a doping violation).
Andrew will face Rider Zuchi first, and could face the winner of Pedro Machado and Jackson Sousa in the following Round. Machado has had a stellar weekend with notable submission victories, and could look to play spoiler to Andrew's campaign.
Men's Super Heavyweight
Kaynan Duarte and Erich Munis appear on a collision course. The two-time super heavyweight champion, Munis has reached new heights in 2022, but he will have to defend his throne. And the most likely challenger is two-time heavyweight champ Kaynan Duarte, who has moved up in weight this season.
The two have never faced off this year, but have both reached elite status in 2023. If this final hits, it's a clash of modern day titans.
Munis will have to get through Felipe Costa, while Duarte will have to get through Gutemberg Pereira.
Men's Ultra Heavyweight
Two-time ultra heavyweight world champ Victor Hugo has come into his own atop the ultra heavyweight division. This is his title to lose. First, he'll have to face Alliance standout Marcus Scooby. On the other side, Alexander Trans will face Guilherme Augusto.
Victor is on track to double gold at Worlds for the first time in his black belt career. But three big potential spoilers are looking to stand in his way.
Women's Roosterweight
Mayssa Bastos is on track to become a three-time IBJJF World Champion. With a win here, she would complete her second-consecutive year winning all four IBJJF majors. She's already been awarded her second straight Grand Slam title, winning every major from Worlds 2021 through Brasileiros 2023.
This time, it's Jhenifer Aquino who will try to stop her. Bastos defeated Aquino in their only encounter, a 4-0 victory at Pans 2022.
Women's Light Featherweight
Light featherweight will have a first-time champion, as back-to-back winner Anna Rodrigues has moved to featherweight. That leaves room for Jessa Khan and Thamires Aquino to try for their first career world titles.
The two have split victories in their last two bouts. Khan defeated Aquino in the 2022 Pans final to earn her first (and currently only) IBJJF major title. But Aquino bounced back, downing Khan in the Worlds quarterfinals.
Women's Featherweight
Ana Rodrigues moved from light featherweight to featherweight, stepping on Bianca Basilio's turf. Basilio, the reigning featherweight champion, won't give it up easily. This match has been anticipated for years. Rodrigues and Basilio have crossed paths at AJP on a few occasions, but never on IBJJF mats. ARod is looking to expand her foothold across multiple divisions, but Bia Basilio will fight tooth and nail to fend her off.
In the lighter weight categories, it's unusual to see resilient passing pressure for the duration of the match. ARod and Bia have proven the exception to that rule time and time again.
Women's Lightweight
Ffion Davies made history in 2022, becoming the first British-born IBJJF world champion in history. She's looking to expand on her reputation with a second world title in a rematch against Janaina Lebre.
Lebre has emerged in the spotlight since falling to Davies, winning the IBJJF Lightweight Grand Prix last November. But Ffion is the queen of the lightweight division, and she already has two submissions on the weekend to back up that title.
Women's Middleweight
Andressa Cintra is looking to expand her dominance over this division in search of her fourth consecutive world title. But the young Thalyta Lima has chipped away at middleweight frontrunners this season, and has a mark on Gracie Barra's queen pin headed into the final.
Women's Medium Heavyweight
Maria Malyjasiak has won everything there is to win except for a world title. But the young black belt Amy Campo will be a huge test. In the semifinal, Campo knocked off five-time world champ Ana Carolina Vieira. It's veteran vs newcomer in this final; but one will emerge a first-time IBJJF world champion.
Women's Heavyweight
Larissa Dias is looking to double down on her 2022 IBJJF world title. Melissa Cueto, the 2021 world champion, wants the throne back. Dias has had a phenomenal year, but Cueto may be riding high after dragging no.1-ranked Gabi Pessanha into a close battle in the open class earlier this weekend.
Women's Ultra Heavyweight
Gabi Pessanha is on the hunt for her tenth consecutive IBJJF major double gold, her third straight super heavyweight world title. She's defeated Mayara Custodio on six consecutive occasions, but that's not to take away from Custodio. Pessanha is nearing a 70-match win streak on IBJJF mats.
Watch The 2023 IBJJF Worlds Finals on FloGrappling
FloGrappling is live broadcasting the event at 11:30 a.m CDT