Abu Dhabi Jiu Jitsu Pro
Finals Are Set | AJP 2023 World Pro Main Bracket Results & Finals Pairings
Finals Are Set | AJP 2023 World Pro Main Bracket Results & Finals Pairings
The first day of AJP's main bracket action is complete, and the finals are set. The 2023 Abu Dhabi World Pro Jiu-Jitsu Championship are on the line tomorrow
Nov 9, 2023
by Corey Stockton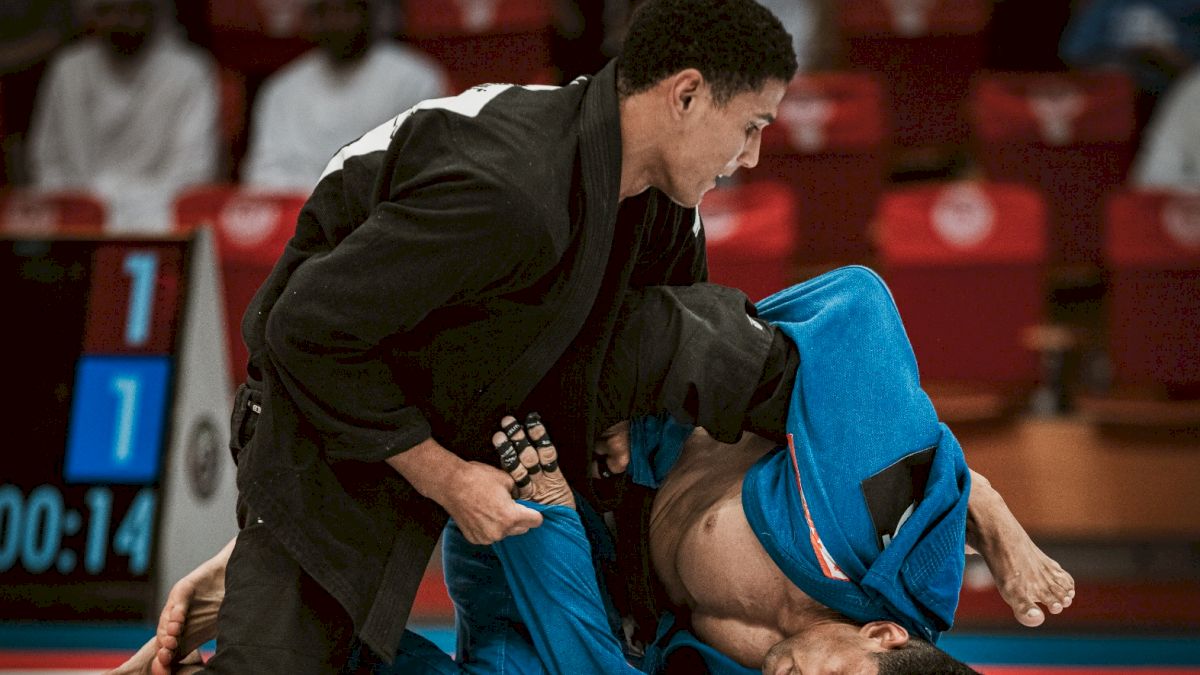 The black belt finals are set for the 15th edition of the AJP World Pro in Abu Dhabi following a day of action in Abu Dhabi which determined the finalists in each of the 12 divisions.
Related Links
Pedro Ramalho of Portugal had a breakout performance in the 77kg division today, submitting all four of his opponents en route to the final, where he's now set to face reigning World Pro champ Lucas Protasio. Protasio, the division favorite, earned three victories on points.
Meyram Maquine will try to defend his title in the 62kg division after defeating two Cicero Costa representatives, and earning a 28 second submission in his opening round. Maquine will face Khaled Alshehi, who hopes to become the second Emirati World Pro champ in history.
The first is Zayel Al Katheeri, who will return to the 56kg division final for the second time, defending his title against Brazil's Yuri Hendrix. Hendrix earned a huge upset victory today, taking out two-time IBJJF World Champ Thalison Soares in the quarterfinals in a 4-3 victory.
The 120kg division was filled with upsets, as Felipe Bezerra knocked off reigning champ Yatan Bueno via referee decision, and Russia's Anton Seleznev took out two of Australia's finest, Nico Maglicic and Anton Minenko on his way to the final.
2022's 85kg champion Fellipe Andrew has earned a spot in the 94kg final after seven matches across two days. In the main bracket semifinal today, he submitted Catriel Oliveira, the reigning 94kg champ, with his famous triangle. In the final tomorrow, Andrew will take on Renan Cruz.
Uanderson Ferreira and Bruno Lima are set to square off for the vacant 85kg title, meaning one of them will earn their first World Pro title. Ferreira, a rookie black belt, had a flash submission in the semifinal. Lima, of Portugal, scored two submissions in his three-match campaign today.
At 69kg, Diego Sodre will return to defend his title, this time against Sebastian Serpa. The American, Serpa, put together a solid run today, taking out division favorites like Florian Bayili and Thiago Macedo.
Mayssa Bastos defeated division rival Brenda Larissa, the 2022 World Pro champ, in the 49kg semifinal, earning her spot in the final tomorrow, where she will try to secure her third World Pro title. She'll face Margarita Ochoa, the Atos representative.
Ana Rodrigues is also after her third title at 55kg, earning a finals berth against Alexa Yanes. ARod earned an early submission today, then a narrow victory over young Atos purple belt standout Tamara Toros of Hungary. Yanes strung together three victories today to earn her spot in the final.
Julia Alves is also set to defend her title at 62kg, where she will take on Violeta Angelova of Bulgaria.
Ingridd Sousa defeated reigning champ Isadora Silva in the semifinal, and will face brown belt Nia Blackman of the UK in the final. Blackman had a strong performance en route to the final, defeating Aurelie Le Vern and Magdalena Loska. Sousa poses a significant challenge for Blackman; but Blackman has a chance to become the first-ever British World Pro champ.
Yara Soares will once again face her rival Gabi Pessanha in the 95kg final. Pessanha is looking for her fifth consecutive World Pro title, which would make her fourth on the list for most World Pro titles for a single athlete.
Of note, in the purple belt division, teenager Sarah Galvao won three matches to capture gold, putting up 15 points and conceding none. The daughter of three-time World Pro champ Andre Galvao and World Pro champ Angelica Galvao, Sarah could compete in the top level female brown / black division as early as 2024.
The 2023 AJP World Pro black belt finals are set to take place tomorrow in Abu Dhabi.
Finals:
Men's Gi / Professional / Black Belt
56kg – Zayed Alkhateeri vs. Yuri Hendrex
62kg - Meyram Maquine Alves vs. Khaled Alshehi
69kg – Raimundo Diego Sodré vs. Sebastian Serpa
77kg - Lucas Protasio vs. Pedro Ramalho
85kg - Uanderson Ferreira vs. Bruno Lima
94kg - Fellipe Andrew vs. Renan Cruz
120kg - Felipe Bezerra vs. Anton Seleznev
Women's Gi / Professional / Brown / Black Belt
49kg – Mayssa Bastos vs. Margarita Ochoa
55kg - Anna Rodrigues vs. Alexa Yanes
62kg - Julia Alves vs. Violeta Angelova
70kg - Ingridd Alves vs. Nia Blackman
95kg - Gabrieli Pessanha vs. Yara Soares Nascimento