Abu Dhabi Jiu Jitsu Pro
Sarah Galvao Triumphs at Abu Dhabi Grand Slam Miami, Eyes World Pro
Sarah Galvao Triumphs at Abu Dhabi Grand Slam Miami, Eyes World Pro
Atos' 17-Year Old, Sarah Galvão wins adult purple belt division, defeating decorated and experienced opponents.
Sep 22, 2023
by Mariana Viana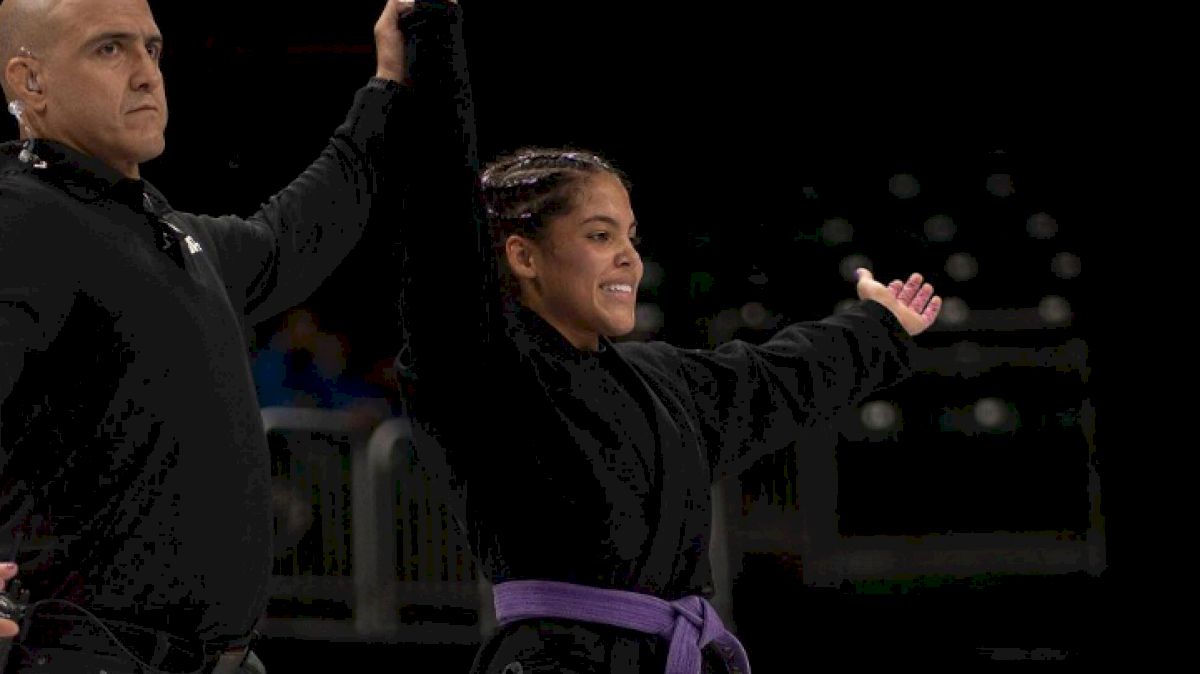 The UAEJJF Abu Dhabi Grand Slam, held in Miami, played host to Sarah Galvao's remarkable debut as a purple belt. Her stellar performance on Sunday, Sept. 17, earned her the gold medal in the adult division, under 62 kg category.
The Atos Jiu-Jitsu athlete competed in two memorable bouts. In her first match, she secured a victory over Keanna Klay from the team Gracie Barra with an impressive choke. The submission initially began as an Ezequiel Choke but concluded as a choke from the back. In her subsequent match, she beat Eliza Nascimento, a standout from Marcio Andre's team, with a final score of 14-0 in the gold medal showdown.
"I had two fights since I had the bye, but that didn't make it any easier," Galvao said. "I knew who my opponents were, but I wasn't worried because I trusted and believed in my jiu-jitsu game. I was determined to do everything to secure victory. I wasn't nervous or scared, only confident. I'm really proud of my performance."
Galvao previously competed in the adult purple belt division at the Abu Dhabi Grand Slam London in March, while still a blue belt. She achieved success at that tournament, participating in four fights and securing victories in two by submission and two by points.
"I truly enjoy ADGS because they provide me with the opportunity to compete against higher-level opponents," Galvao added. "I want to conclude this year on a high note. I aim to showcase my identity within the jiu-jitsu community, highlighting my unwavering commitment and hard work for this sport."
Galvao's upcoming challenge will be a super fight against a brown belt in the Abu Dhabi Extreme Championship (ADXC) by IVSM, scheduled for Oct. 20 at the Mubadala Arena in Abu Dhabi. Her opponent has yet to be announced. Following this competition, Galvao's focus will shift towards her ultimate goal: winning the World Pro, on Nov. 8-10 at the Mubadala Arena in Abu Dhabi, United Arab Emirates.
In the coming year, Galvao aspires to win the IBJJF Grand Slam events (the World IBJJF Championship, the European IBJJF Championship, Pan IBJJF Championship and the CBJJ Brazilian National Championship) once again, but — for the first time — in an adult division. She's likely to spend most of the season running into Nascimento and Klay, two of the top performers currently competing in the female purple belt divisions.
"I will be working twice as hard and putting all my work into it because I want to be the best," said Galvao. "I'm happy to see where this sport has taken me not only as a purple belt but as a female. There are so many opportunities. I want to open doors for the next generation and prove where jiu jitsu can take you and how it can change lives. I truly love this sport and I will keep doing what needs to be done to be number one."