2023 The IBJJF Crown Presented by FloGrappling
Gabi Hopes To Face Tayane In The Final Of The Crown: 'Fans Will Go Crazy'
Gabi Hopes To Face Tayane In The Final Of The Crown: 'Fans Will Go Crazy'
Gabi Pessanha opened up about her physical and psychological preparation to take the crown and maintain an unbeaten record at the Walter Pyramid
Nov 19, 2023
by Carlos Arthur Jr.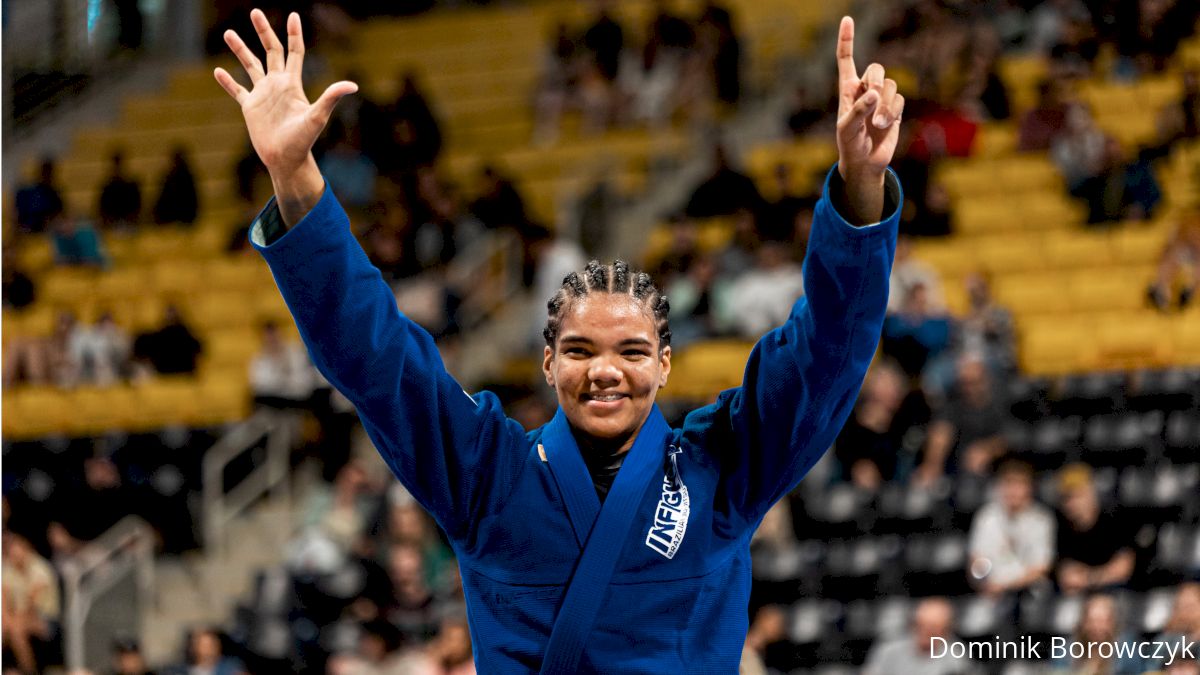 Six-time world champion and undefeated since 2021, Gabrieli Pessanha is ready to add another high-profile victory to her resume at IBJJF The Crown.
Presented by FloGrappling, the tournament arrives at the famous Walter Pyramid in Long Beach, CA, on Nov. 19 and brings six GPs filled with the toughest athletes on the competitive scene.
Scheduled to join the super heavyweight GP, Gabi will have her first fight against 2023 World Champion Amy Campo, from Zenith. If she wins, Gabi will have another tough duel ahead of her, facing the winner of the clash between Tayane Porfírio and Melissa Cueto, both with an extensive medal count and ready to challenge Gabi's unbeaten record.
Even though she's the name to be beaten in the upcoming GP, Gabi carries with her the teachings of her parents and professor to arrive at the competition with a clear mind. Ahead of the tournament, Gabi spoke about her expectations for The Crown and a possible final against Tayane Porfírio, as well as opening up about life as a champion and a possible transition to no-gi Jiu-Jitsu. Check out the interview below!
---
FLOGRAPPLING: What is the biggest mental challenge in staying at the top after so long? How to curb the fear and insecurity that can affect an athlete who always has a target on their back?
GABRIELI PESSANHA: In this regard, I am very grateful to my teacher. Those who follow Marcio de Deus' work can see how much he helps in this aspect. Furthermore, my father also taught me something very important. As a brown belt, I once went to fight in an event worth a lot of money and I was very focused on that aspect. My dad said, "Gabi, if you don't compete in this tournament to have fun and do what you love, it won't be worth anything." It doesn't matter how many titles I've won or how long I've been undefeated, money and victory are always a consequence, the important thing is to be happy while fighting. Of course, it would be a lie to say that I never worried or was afraid of losing, but I learned a lot from my previous losses. No one is invincible or unbeatable, so if I can't be happy while fighting, I rather not compete at all.
How do you analyze your opponent Amy Campo? Have you studied her game? Do you think it might be difficult to face an athlete who also stands out in the no-gi divisions?
I used to think that dealing with no-gi people was more difficult, but I developed a lot of positions to deal with athletes from this background, who usually put more pressure on passing, so I think everything will be fine. I studied Amy's game and I also studied Tayane's and Melissa's. They are all world champions, how could I not? But even more important than that, I always like to study myself. I usually watch my own fights and think: "What do I have to do to beat Gabi Pessanha?", and I use that mindset to further develop my game.
And in a possible tournament final? Would it be better to meet Melissa Cueto again, whom you already faced this year, or challenge Tayane Porfírio?
Both have very good fighting styles, but I think that in this competition it would be more interesting to face Tayane. I say this not only because I've faced Melissa several times this year, but because I think a final between me and Tayane will drive the crowd crazy.
After six titles as a black belt in the IBJJF and countless victories in other tournaments, what is Gabi's biggest motivation today?
I'm slightly curious about competing in no-gi. In 2017, when I was still a teenager, I fought in the Brazilian No-Gi Championship and won my weight and the absolute. Here at the gym we have this training every week and I like it, but training is training and a fight is a fight. I don't think much about MMA. My poor mother can barely handle me fighting in jiu-jitsu, imagine what it would be like if I went to MMA.