2023 The IBJJF Crown Presented by FloGrappling
Erich Munis Betting On His Combat Prowess To Win IBJJF's The Crown
Erich Munis Betting On His Combat Prowess To Win IBJJF's The Crown
Against Erich, Roosevelt Sousa, Victor Honorio, and João Gabriel Rocha are also aiming for the ultra heavyweight crown this Sunday
Nov 19, 2023
by Carlos Arthur Jr.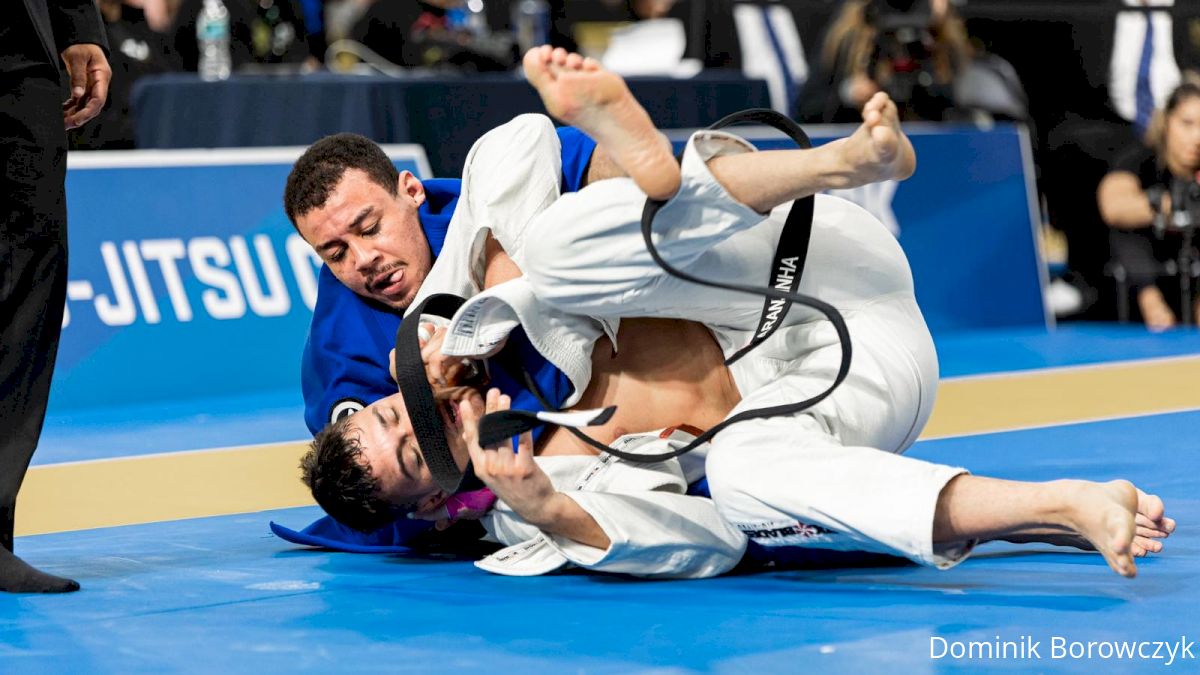 Featured on The Crown's star-studded card, Erich Munis stands out as the most decorated fighter in the ultra-heavyweight bracket. The event, organized by the IBJJF and presented by FloGrappling, takes place this Sunday, Nov. 19, with a live and exclusive broadcast from FloGrappling.
A black belt representing Fratres, Erich will have two fights ahead of him before he takes the title, the event's crown, and the hefty $15,000 prize. Erich will face black belt Roosevelt Sousa in the first fight, with Victor Honório and João Gabriel Rocha on the other side of the bracket. In addition to the ultra heavyweight grand prix, five more weight divisions, with their own selection of jiu-jitsu stars, will make up the tournament.
Ahead of The Crown, Erich analyzed his preparations and revealed that, with his competing experience, his training routine only suffers minor tweaks whenever he jumps from one event to another, keeping the proverbial machine always well-oiled and ready for combat.
"I'm always well-trained, but not for specific events," Erich said. "Of course, maturity and experience allow me to improve my preparation against opponents of specific weights, but the training is always the same."
Looking at the card and the challenges he will face in the event toward the title, Erich spoke about his strengths and his prowess with dynamic techniques, alongside the other skills that landed him atop the world three times as a black belt, giving him an edge against the other contenders.
"One advantage I have is the pace I can impose. Roosevelt is strong, dangerous, and has very specific submissions. I have a lot of confidence in my skills and I will be prepared. guard passers are usually very heavy and strong, so the strategy doesn't change much."
After winning the greatest titles in jiu-jitsu, Erich started dedicating himself to trying out new techniques, always carrying a new ace up his sleeve in tournaments. Seeking to perfectly balance his newest tricks and keeping himself safe in the mats, Erich makes full use of his technical know-how during his duels.
"Trying new skills really motivates me to make my jiu-jitsu better because it's me against myself. Having good jiu-jitsu and knowing how to use it intelligently is the right thing to do. There's a right time for everything during a fight. You have to give it a show, but you also have to be smart to come out victorious."
Today among the best heavyweights in the world, Erich is proud to have been invited to join IBJJF The Crown alongside other powerhouses of the sport. His journey to reach the top was certainly not easy, but the ace says that every step taken was worth it.
"I'm very proud of my journey and happy with everything God has done in my life. Just the other day I was a young blue belt, fighting every weekend. May this serve as motivation for these new guys. Keep going, keep working, and everything will be fine. Succeed."
IBJJF's The Crown: Presented by Flograppling
Walter Pyramid, Long Beach-CA
November 19th, 2023
Men's Featherweight (70kg/154.3lbs)
Fabricio Andrey, IBJJF World Champion
Isaac Doederlein, IBJJF World Champion
Samuel Nagai, IBJJF World Champion
Diego Pato Oliviera, IBJJF World Champion
Men's Middleweight (82.4kg/181.4lbs)
Andy Murasaki, 2-time IBJJF Worlds Finalist & Pans Finalist
Tainan Dalpra, 2-time IBJJF World Champion & 3-time Pans Champion
Pedro Maia, IBJJF Worlds & Pans Finalist
Mauricio Oliveira, IBJJF Brasileiro Champion
Men's Heavyweight (94.3kg/207.9lbs)
Fellipe Andrew, 2023 IBJJF World Champion, 4-time Pans Champion
Gustavo Batista, 3-Time IBJJF World Champion, 4-time Pan Champion
Francisco Lo, 2023 No-Gi Pan Champion
Uanderson Ferreira, 2023 IBJJF Sul Americano Champion
Men's Ultra-Heavyweight (Unlimited)
Erich Munis, 3-time World Champion, 2023 World Absolute Runner-Up
Joao Gabriel Rocha, 2-time Pan Champion, 3-time World Medalist
Roosevelt Sousa, 2023 Pans Medalist
Victor Honorio, European Champion, Brasileiro Champion
Women's Lightweight (64kg/141.1lbs)
Janaina Lebre, 2022 IBJJF Grand Prix champion & 2-time IBJJF World Finalist
Nathalie Ribeiro, 2-time IBJJF Worlds Medalist & 2-time IBJJF Pans Champion
Brianna Ste-Marie, IBJJF Worlds Medalist
Luiza Monteiro, 2-time IBJJF World Champion & 9-time Pans Champion
Women's Super-Heavyweight (Unlimited)
Gabi Pessanha, 6-time IBJJF World Champion
Amy Campo, IBJJF World Champion
Melissa Stricker, 2-time IBJJF World Champion
Tayane Porfirio, 2-time IBJJF World Champion