Create a free account to unlock this article!
Get Started
Already a subscriber? Log In
The 18-year-old Brazilian brown belt Gabrieli Pessanha is a star in the making and has proved in the last year that she is one of the best female athletes in the world, regardless of belt color.
After winning the double grand slam in 2018 (golds medals in weight and absolute divisions at the IBJJF Europeans, Pans, Brazilian Nationals and World Championships) she was promoted to brown belt.
Due to her young age and IBJJF promotion requirements of serving 18 months as a purple belt before able to compete at brown, Pessanha found herself ineligible to compete for IBJJF and so directed her attention to the UAEJJF circuit.
Gold medals at every one of the Abu Dhabi Grand Slam tournaments followed, with Pessanha clearing up in Tokyo, Los Angeles, Rio, Abu Dhabi and London.
And she capped off the 2018-2019 UAEJJF season with gold at the Abu Dhabi World Pro and a $6,000 cash prize along with the no.1 position in the global ranking, an achievement that earned her $10,000. That's a total of $16 grand– and yet some people claim there's no money in jiu-jitsu.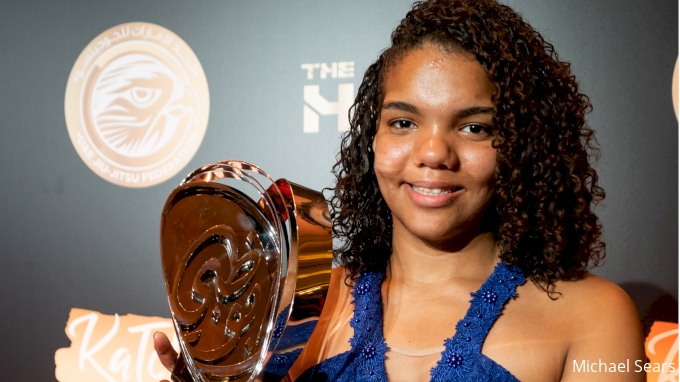 At the Emirates Palace hotel in Abu Dhabi for the end of season awards gala
In March she returned to IBJJF, where she promptly took double gold at brown belt. She aims to repeat the feat at Brazilian nationals in May and Worlds in June.
And if she does, we've been told she could well receive her black belt on the podium.
And why not? Over the last year she has faced two-time black belt IBJJF World champion Nathiely de Jesus no less than three times, winning every encounter. It would be pointless to make her complete the entire year as a brown belt once over just because of promotion requirements.
Instead, Pessanha will continue to invest in the Abu Dhabi Grand Slam tour (now known as the AJP Tour) and will be heading to Moscow in June for the first Grand Slam in Russia.
For an 18-year-old who hails from one of the most notorious areas of Rio de Janeiro, the money she has made this last year and stands to make over the coming season is– no exaggeration– life-changing. She has been catapulted from teenage hopeful to one of the top professionals in the world in a single season.
Her track record this past year shows there is little competition for her. Only Nathiely has come close enough to make it their matches competitive, and Pessanha still finds a way to win every time.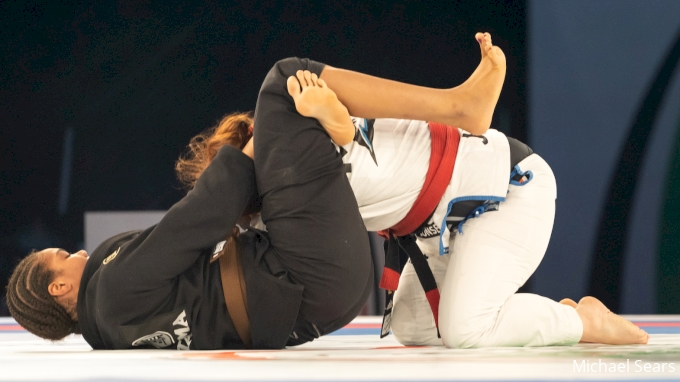 The gold-medal winning triangle that saw Pessanha become 2019 Abu Dhabi World Pro champion
Pessanha is a rare talent. She is a fierce competitor, athletically gifted, technically solid in every area and physically capable of mixing it up with anybody. Her main weapons are her fearsome collar drag takedown and her attacks from guard, but she is equally proficient at playing top and plays both a heavy top game and and has a killer back control.
There are few– if any– holes in her game at this point and it will take a high-level opponent to expose them. Whether she will find them soon is another matter– it may not be until 2020 when she regularly competes as a black belt that becomes a reality.
By then, she will have developed as an athlete and a competitor and she may be so far ahead of the competition that her success could eclipse what she has managed to do in this past year.
Based on her performance over the last 12 months and an assessment of her potential, Gabrieli Pessanha stands to become not just a future black belt world champion, but possible one of the greatest female competitors of all time.
Watch Pessanha's gold medal run at 2019 Abu Dhabi World Pro:
Quarterfinal: Gabrieli Pessanha vs Shantelle Thompson
Semifinal: Gabrieli Pessanha vs Nathiely de Jesus
Final: Gabrieli Pessanha vs Claire France-Thevenon
Bonus matches:
Gabrieli Pessanha vs Marta Szarecka 2019 ADGS London
Gabrieli Pessanha vs Francisca Flores 2018 ADGS Rio
Training:
Gabi Pessanha Rolling in Rio with Male Brown Belt
Read:
From The City Of God To Gold At Worlds: A Teenager's Dream Comes True