Unlock this article, live events, and more with a subscription!
Get Started
Already a subscriber? Log In
The IBJJF Pan Kids is a window into the future of the sport, the best kids at Pans tend to have success at the juvenile level next before graduating into the adult divisions at 18. If you have followed this event over the ten years of its existence, you know that the Costa Mesa-based Art of Jiu-Jitsu academy stands out among the rest as the best kids team in the world.
Professors Gui and Rafa Mendes have invested into the youth program at their academy, and now as the athletes age into the juvenile and adult divisions, the hard work is starting to reap rewards in the form of one of the most promising young competition teams on the planet. Johnatha Alves, Tainan Dalpra and Jessa Khan are three of the names that are tearing up the adult division from AOJ currently.
Looking ahead to next year, AOJ has two standout athletes who will move into the juvenile division and leave their Pan Kids days behind.
Cole Abate and Gustavo Ogawa have won Pan Kids eight times between the two of them, among many other gold medals, and are two of the most heralded prospects in the sport. Under the guidance of Gui Mendes, they are preparing to take on the next level of competition starting in January.
Watch: Cole Abate with the berimbolo and choke at Pan Kids 2019
Watch: Gustavo Ogawa gets a berimbolo and choke to win his fifth Pan Kids title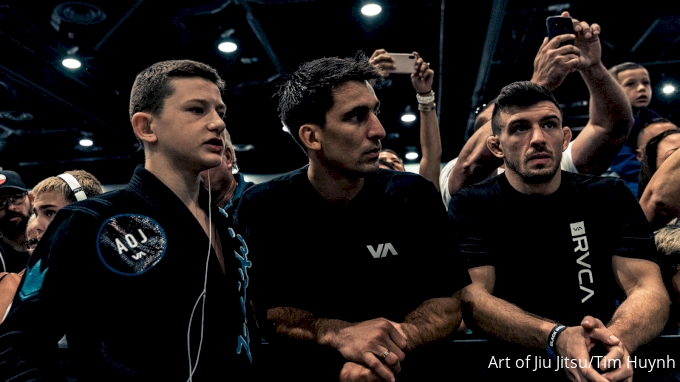 ---
Gustavo and Cole took two very different paths to end up in Costa Mesa at AOJ. Gustavo was born in Japan to Brazilian parents, while Cole was born and raised in Texas. They both developed a dedication to jiu-jitsu beyond their years and excelled at their age levels, cleaning up every tournament they could enter.
"They are extremely different. Gustavo is Brazilian born and raised in Japan. Cole is American and speaks perfect Portuguese. Gustavo is shy and quiet, Cole is very outgoing," says Gui Mendes.
"Both of them are very confident in their abilities and have the most important qualities in an athlete; they are dedicated, respectful, mature for their ages and coachable. They have well rounded and beautiful technique."
Both of them became avid fans of the Mendes brothers while growing up and were fortunate to relocate to California to fulfill their dream of training at AOJ. They utilize a back-attacking style similar to their mentors and both list the berimbolo as their favorite technique. AOJ seemed like the perfect fit for their styles and goals so they made the move to California.
"Since I was very little I've been following the careers of Gui and Rafa, they were always my idols and my biggest inspiration in the sport," says Gustavo.
"Even before I started training with professors Gui and Rafa, I would watch and study a lot of their fights," says Cole. "I'm a fan of their technical and innovative style and I've always tried to implement their techniques into my game."
Watch: Gustavo Ogawa with a quick triangle at American Nationals
Watch: Beyond The Match Cole Abate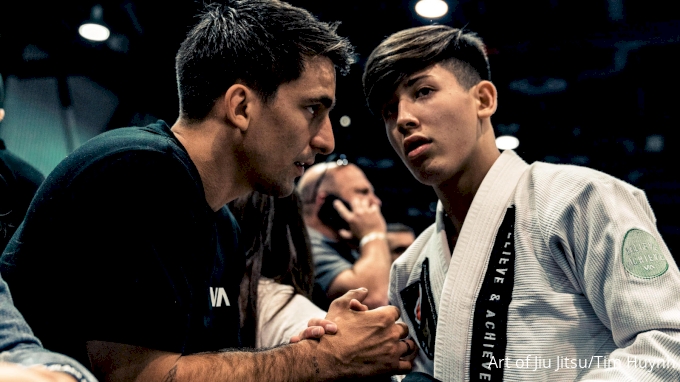 ---
Now training full time with their idols and surrounded by an abundance of talent at AOJ, Gustavo and Cole look primed to make a big jump in their careers. Rubbing shoulders with two of the greatest of all time on a daily basis has elevated their game not just technically, but on the mental level of competition as well.
The Mendes brothers were famously driven competitors, and instill this into their students– they coach them to not get comfortable after a successful tournament or day of training, to always raise the bar and to expect much of themselves.
"Professors Gui and Rafa are great mentors for my career, and I know they will help me succeed in my future because they've already been where I'm standing. They know the path to get to the top, and that's exactly where they're leading me.

– Cole Abate



"They are two of the greatest of all time and have one of the most successful academies in the world. I plan on doing the same and having them by my side gives me the confidence that I am on the right path," says Cole. "I've always been a very hard worker and had a competitive mindset, but I feel like they showed me it's not only about being the hardest working person in the room, there are many factors that need to be put together for you to be successful."
The jump to juvenile from the kids tournaments is a big one.
Once an athlete reaches juvenile, you fight at the adult tournaments, usually on Saturday alongside the best black belts in the world. It is a stepping stone to the big show, and the champs at juvenile typically dominate at purple belt immediately after moving up to adult.
Cole is excited to be able to fight at juvenile next year and is aiming to travel to the big tournaments such as Worlds, Pans, and Euros– something he wasn't able to do in the kid's ranks.
"For me, it's a chance to see how my jiu-jitsu is evolving and to see my work paying off," says Cole. "My goal every time I step onto the competition mats is to perform better than I did the last time. I use the competitions to analyze where my level is and push myself to the next level. So, I always strive to be a better version of me than before. Winning competitions is important to me, but I want to be recognized because of my technical level and aggressive style."
Whereas Abate is excited, Ogawa has a more measured response. "I try to be calm and consistent. My goal is to always be secure in my positions and progress without making mistakes. I just like the feeling of winning."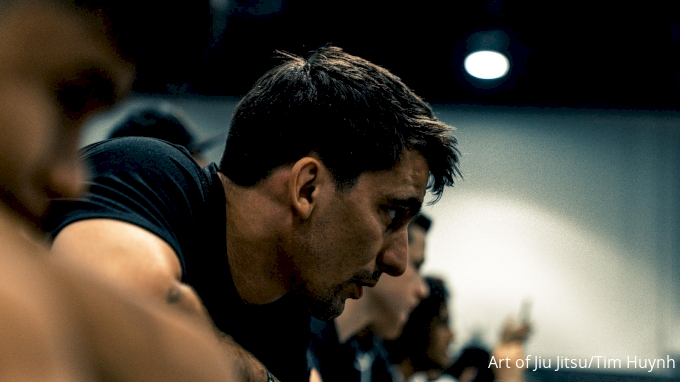 ---
Gui Mendes learned a lot from his career in jiu-jitsu, from starting in a small town in Brazil to becoming a four-time world champion and retiring young to start one of the worlds best competition teams. He has used this experience and knowledge to shape the careers of some of the sport's brightest rising stars. Next up are Cole and Gustavo.
"I believe that a coach is not able to create a desire to succeed in any person, in my opinion, it comes in the person as a result of their personality and their childhood experiences," says Gui. "When you become a leader, especially in a competitive environment, you start learning about different personalities and their choices, and you start to appreciate all different ways to succeed in life. To me it is just extra fun to find those who are just like me and my brother were when we started in jiu-jitsu– young athletes that are disciplined and truly enjoy the process of becoming a champion."
Gui and Rafa had previously run the Believe & Achieve program, supporting the careers of younger athletes at Art of Jiu -itsu. The program is no longer in place, and Mendes says they have updated their approach to training young athletes after the experience.
"It started as a project where we would bring people to train at Art of Jiu-Jitsu and support them, helping them to build their careers. I admit that I got disappointed with the way "easy opportunities" affected the approach of young athletes," he says. "I really believe that the struggles to make it to the top and the competition to conquer opportunities is very important in building character and a very necessary phase of any champion's career. I felt that I was cutting off an important learning experience from their lives, and it was changing their approach to training and competition.
"Now we don't have a program, but we have an academy that is a powerhouse. It gives opportunities to those who are willing to work for it. Most of the original athletes are still with us in the academy, speak English and work with jiu-jitsu, winning competitions and profiting more from their talent than a lot of the black belts. The competition for opportunities between competitors magnifies the attention on their behavior and their effort in the training; it shows them how the outside world operates and how you have to do much more than expected if you want to be the best; in my opinion it's what makes people shine in sports."
Abate and Ogawa have won everything possible over the past few years. They now enter the juvenile ranks, and it's just two short years until we will be talking about them preparing to make their adult debut. They are focused, dedicated, talented and learning from legends, one can only assume their teen success will transfer over to juvenile.
"They have the potential to be the next big thing in jiu-jitsu. Both of them have interesting personalities and amazing jiu-jitsu. They have the support from an academy that has built opportunities for others and a professor who carved this path and knows what it takes to get to where they want to be. Now it's just a matter of being consistent with the work and staying true to their goals. If they follow it, they will be multiple time black belt world champions and much more."