Unlock this article, live events, and more with a subscription!
Get Started
Already a subscriber? Log In
The Dagestan region in Russia is the most talent-rich area for freestyle wrestling in the world. Located in the North Caucasus and bordering the Caspian Sea, a disproportionate number of world champions and medalists come from Dagestan. With a population of just 2.9 million people, Dagestan dominates the wrestling scene and could probably win a team world championship competing as their own country.
At the 2019 UWW Freestyle Wrestling World Championships, 10 out of 40 of the world medalists hailed from the Dagestan region, including three out of 10 gold medalists. Six out of the 10 spots on Russia's national team are taken by Dagestanis, with athletes from Dagestan also branching out to medal for four other nations through family relations. Famous athletes from the region include UFC champion Khabib Nurmagomedov and five-time wrestling world champion Abdulrashid Sadulaev.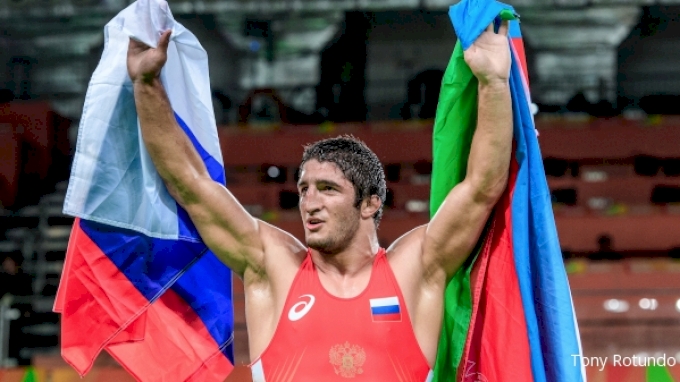 Manaus, The Dagestan Of Brazil?
Located in the north of Brazil smack-dab in the middle of the Amazon rainforest, Manaus is a four-hour flight north of Rio and Sao Paulo, and has always produced a ridiculous amount of talent per capita.
Dagestan is known as a mountainous and isolated area where generations of clans and tribes engaged in decades-long feuds. On the surface, it doesn't seem to have much in common with Manaus, but if you look closer you'll see there are some similarities. The city of Manaus is a third of the size of Dagestan, yet has a similar-sized population. Both are far from the outside world. In the case of Manaus, the most common ways in are by air or by boat. Neither region is particularly rich.
The population is Manaus is around 2.6 million people and has a long history as a goldmine for jiu-jitsu talent: Manauaras, as the residents of the city are called, have taken to the sport of jiu-jitsu with a passion.
"Here jiu-jitsu is the number one sport. The manauras like jiu-jitsu more than soccer," says black belt Melqui Galvao, one of the best-known coaches in the region.
The city has a rich history of producing champions, going all the way back to when Wallid Ismail took a bus from Manaus to Rio to train at the legendary Carlson Gracie academy. The Ribeiro brothers Saulo and Xande were raised in Manaus and hold a combined 12 IBJJF World titles and four ADCC titles.
"They train like there is nothing else. They train to get away from the problems and the bad spots they are in. The kids are born with the genetics of a fighter, because their parents do jiu-jitsu, their grandparents did jiu-jitsu, and even some great grandparents did jiu-jitsu. It's in the DNA." – Manuel Ribamar
Another legend from the city is Ronaldo "Jacare" Souza, a four-time IBJJF World champ and also ADCC champ. From 2004-2008, a Manaus resident won the black belt absolute World title in four out of five years, two from Xande and another two from Jacare. Other IBJJF black belt world champions from Manaus in recent years include Mateus Gabriel, Gabriel Moraes, and Ary Farias.
"I believe that Manaus has the highest level of jiu-jitsu in Brazil. It is much more popular than soccer there. Many of us come from social projects. We train hard, fight every weekend – myself and many others fought in the adult division at 14 years old." – Thalison Soares
Watch: Matheus Gabriel Wins Black Belts Worlds by Submission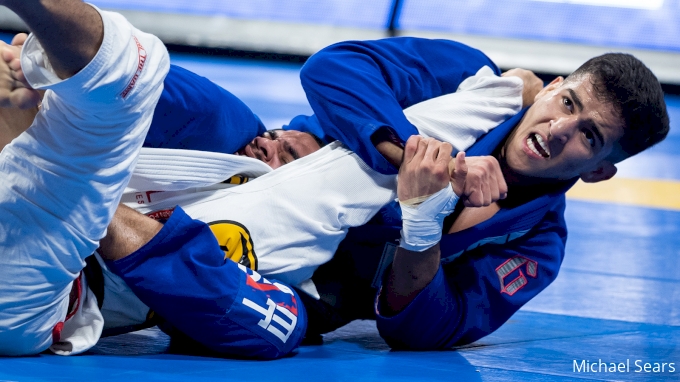 Matheus Gabriel submitting Marcio Andre in the 2019 IBJJF World Championship featherweight final
Recently the city has seen a resurgence in results at all belts. Most notable was Matheus Gabriel of Checkmat who won Pans and Worlds in 2019 – his first year as a black belt. Like many other natives, Matheus learned his trade in Manaus before leaving the city for opportunities elsewhere, moving to the United States as a purple belt.
He's not the only black belt competing on the world stage. Manuel Ribamar is a manauara and is currently ranked No.5 in the world at middleweight. Diego "Pato" Oliveira and Thalison Soares are two of the most promising first-year black belts on the scene.
Watch: Thalison Soares The Path To Black Belt Part One
New Generation Of Manauaras On The Rise
The real story about Manaus is their current domination at the colored belts. Only five athletes completed the IBJJF Grand Slam in 2019, and four of those athletes were from Manaus. Dream Art Manaus athletes Micael Galvao and Diogo Reis both achieved the double grand slam at juvenile blue belt, while Thalison Soares and Diego Pato both grand slammed as brown belts.
Read: Micael Galvao: The Next Big Thing In Jiu-Jitsu
Alliance's Dream Art, the Sao Paulo-based project that undoubtedly boasts the strongest group of colored belts in the world, is composed of mostly manauaras. They knew where to look when assembling an all-star team of blue and purple belts, and their success has led the Dream Art Project to expand into Manaus, with Melqui Galvao leading the local chapter of the team. Among his students is Brenda Larissa, the brown belt who recently defeated reigning black belt World champion Mayssa Bastos, and of course his son Micael, who has looked unstoppable.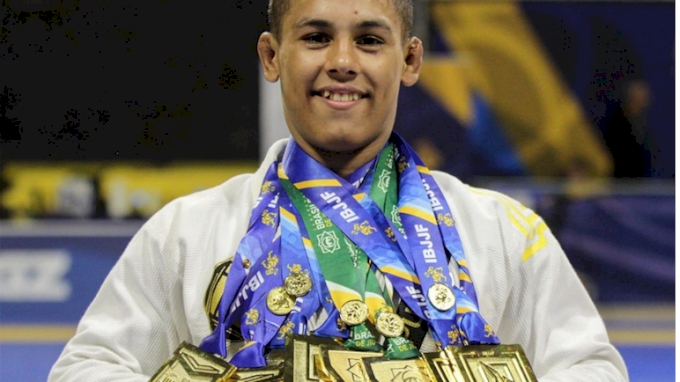 Micael Galvao
The Future of Jiu-JItsu is Coming From Manaus
The top three ranked juveniles in the world are currently from Manaus: the aforementioned Micael Galvao and Diogo Reis, plus Pedro Silva of Cicero Costha. There are only four Worlds male absolute divisions at the juvenile level, and those athletes conquered three out of the four.
What makes Manaus so special? Diego Pato believes the people are different.
"The training is the same in Manaus, Sao Paulo, New York, California.. so it isn't the training, you know? It's something in each person there," Pato said. "The heart, the soul. My professor Nabil always pushed me hard, encouraged me to go to another place and be more professional, because in Manaus we don't have the opportunities. When we leave Manaus, we do our best, always! We leave everything when we leave Manaus, so when we go to fight it is our life."
The purple belt featherweight final at Worlds this year was an all-Manaus affair. Diego Sodre defeated Meyram Alves in that match – now they're currently ranked first and second at brown belt featherweight. Fabricio Andrey is another manaura who won Worlds at purple: he won light-featherweight and currently holds the top rank at brown belt light-feather.
Watch: All Manaus Purple Featherweight World Final

Manaus already has a few young black belt stars making a name for themselves and there is an army of top-ranked colored belts soon to join them.
The city is looking likely to be more successful in the 2020s with homegrown talent than any other on earth. Whether they can equal the success on an international scale that Dagestan has achieved in wrestling is yet to be seen, but the results are pointing towards a Manaus takeover at black belt in the coming years.