Unlock this article, live events, and more with a subscription!
Get Started
Already a subscriber? Log In
Kaynan Duarte has just finished building what could be called the best rookie year in jiu-jitsu history. It came to a climactic conclusion this weekend at Spyder King of Kings where he defeated P4P #1 Nicholas Meregali. This victory shot Kaynan to the top of the rankings, making him #1 P4P and earning him a cash prize of $100,000.
View: FloGrappling P4P Male Black Belt Gi Rankings
Today we are taking an in-depth look at his journey during his first year at blackbelt and identifying what it took to become the best.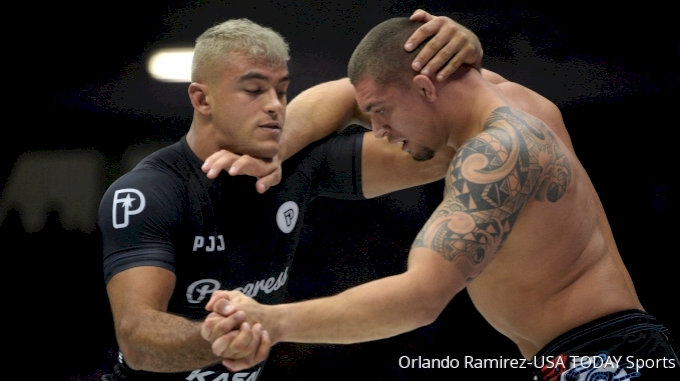 ---
Kaynan's Highlights of 2019
1st Place ADCC World Championship (2019)

1st Place IBJJF World Championship (2019)

1st Place IBJJF Pans Championship (2019)

1st Place IBJJF European Championship (2019)

1st Place UAEJJF Abu Dhabi World Pro (2019)

1st Place Kasai Pro 5 Grand Prix (2019)

1st Place Spyder BJJ Invitational Championship (2019)
At only 21 years old, having theses accolades is nothing short of sublime. Kaynan seems to be unstoppable and shows no signs of slowing down. On the way to these titles, Kaynan had to battle his way through an incredible lineup of top tier competitors. Throughout his career, here is a list of the some of the elite he has bested:
Patrick Gaudio

Craig Jones

Felipe Andrew

Jackson Sousa

Aaron 'Tex' Johnson

Erberth Santos

Murilo Santana

Vinicius 'Trator' Ferreira

Adam Wardzinski

Leandro Lo

Yuri Simoes

Marcus Almeida

Nicky Rodriguez

Rodolfo Vieira

Nicholas Meregali
Overall Kaynan has a record of 86 wins and 12 losses, highly impressive considering the exceptional quality of his opposition. However, what is even more impressive is the way he has won these 86 matches. The variety of submissions he has used constantly shows how well rounded his submission game has become. Although he favors the guillotine, he is also hunting leglocks and chokes from the back.
Moving into 2020
Kaynan announced during the Spyder post-event press conference that he will be skipping Europeans and starting off 2020 year at Pan Ams. He is ready to rest after a full year of competition, here are all the tournaments he stepped into last year:
IBJJF Europeans

IBJJF LA BJJ Pro

Abu Dhabi Grand Slam London

Pan American Championship

KASAI Pro 5

Abu Dhabi

World Pro (Brazilian Qualifier division)

Abu Dhabi World Pro

IBJJF Brazilian Nationals

F2W 113

IBJJF World Championship

AJP Tour

Abu Dhabi

King of Mats

KASAI Pro 6

Marianas Open

ADCC World Championships

F2W 128

Spyder BJJ Invitational Championship
Kaynan has earned a much-needed break after 2019; however, there is no doubt he will return to competition with a large target on his back. His first challenge will be KASAI Pro 7 to participate in the heavyweight tournament.
While away, every top-tier competitor will anxiously be awaiting their turn to claim his spot as #1 P4P. The most eager is previous #1, Nicholas Meregali, who will want a rematch after a controversial decision at Spyder King of Kings. Will Kaynan be able to defend his title during 2020 or will a new #1 P4P be crowned?
Unlock this video, live events, and more with a subscription! Get Started

Already a subscriber? Log In