Unlock this article, live events, and more with a subscription!
Get Started
Already a subscriber? Log In
Every year Pans marks the jiu-jitsu calendar as the end of the IBJJF season, and then we look forward to the next season's start at the IBJJF World Championships just a few months later.
Of course, this year has been a bit of a strange one in a lot of ways. But six months after it was originally scheduled the IBJJF has crowned their Pan champions and is onto the next.
So now that we've seen where the chips fall what did we learn from the mega tournament? What has IBJJF been doing in their downtime? Are people still training? What are the new trendy techniques? Who's the best in the world?
There were plenty of questions and lucky for you we've got plenty of answers. Take a quick look at our five biggest takeaways from one of the biggest tournaments of the year!
---
1. First-year black belts are hungry
The competitors who have been hit the worst during this pandemic is undoubtedly the first year black belts who have been waiting patiently to break in their new belts. With over six months of no IBJJF tournaments, it's these guys who showed up hungriest at the IBJJF Pan jiu-jitsu championships to claim what was theirs.
Athletes like Samuel Nagai, Johnatha Alves, Kendall Reusing, Rafaela Guedes, Ronaldo Junior, and Josh Cisneros all had dominant 2019 IBJJF seasons at brown belt. Most were promoted right after their gold medal performances at the IBJJF World Championships and were more than eager to see how they stack up at black belt.
I don't know if it was the time off, the jubilation at the return of competition, or something else entirely, but the new era of black belts showed up ready to compete at Pans and in my opinion, broke some of the biggest stories of the weekend.
There were eight first-time Pan champions which is just a staggering number! Every year it feels like younger and younger phenoms are taking to the mats and pushing out their veteran counterparts.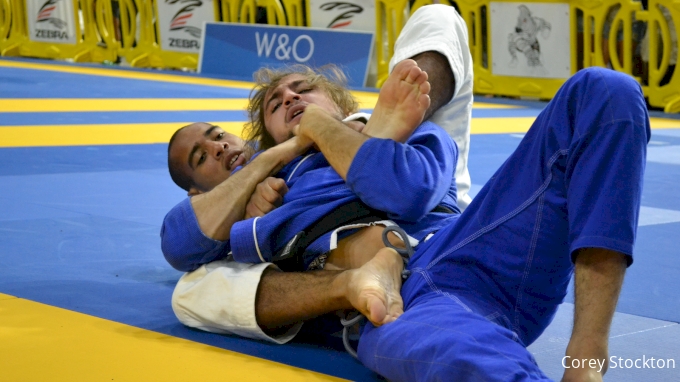 Unlock this video, live events, and more with a subscription!
Get Started
Already a subscriber? Log In
2. Atos holds the line
Many wondered how the Atos team would perform at the 2020 Pan Championships. Historically, of course, Atos has dominated the competition that usually happens in southern California but with recent roster changes, their split with Art of Jiu-Jitsu, and the tournament relocation, it was hard to see a path for victory for the Andre Galvao led team.
After all, Atos continually has had a target on their back. That's what happens when you rattle off back-to-back team wins at the world championships. Everyone wants to beat you, and try hard they will. CheckMat specifically brought a powerhouse team that looked like they'd be able to steal the trophy from the returning champs. Gracie Barra, Alliance, and Unity as well all brought teams who would contend for the team title.
However, when the action began, Atos started to show they are still the most dominant team in jiu-jitsu competition. Stacking the heavier weights with top prospects, dominating at the lower belts and controlling the open class made for another impressive Atos title. This should be a fascinating race to keep your eye in the future.
3. Heel hooks in the IBJJF?
Perhaps the biggest revelation of the entire weekend didn't come from the mats or competitors but word from around the tournament. It started off as wishful gossip and quickly grew into a real possibility.

While at Pans, the FloGrappling crew was able to confirm that yes, in fact, heel hooks will be coming to an IBJJF tournament near you in 2021. Which if you been following along for the last several years is absolutely mind-blowing!

We will still wait for more specifics on the regulations and how they affect the current IBJJF ruleset but I don't heel hyperbolic in saying this could be the biggest rule change in the history of grappling competition and has the potential to completely shift the strategies and approach to IBJJF competition. I'm eagerly awaiting this change and have to commend the IBJJF for listening to the community and stepping up to make it happen.
4. Closeouts are on the decline
Another great development that we noticed was the peculiar absence of closeouts at the black belt level. While we did see a few it was impossible not to comment on how many teammates we saw fighting each other this time around.

I'll always think back to the physical battle that Mahamed Aly and Tim Spriggs had at ADCC 2019 as a perfect template for why and how teammates shouldn't feel uncomfortable competing against someone with the same team patch as you.
Victor Doria and Hywel Teague talked at length about this development on the broadcast and I'm here to pile on even more praise for the athletes who put it on the line no matter who their opponent was.
Listening to Nisar Loynab put it into perspective after losing to his teammate and eventual gold medalist Gustavo Batista was very refreshing. No one likes losing, to a friend or enemy, so there might be some resentment afterward but jiu-jitsu has always been bigger than winner and losing.
"Even though I train with him every day, I'm grateful to fight him here. Honestly there is always salty feelings but I'll get over it. We'll overcome"
5. There is still a place for old school jiu-jitsu in 2020
While the Pans talk was mainly a buzz about the new generation of competitors making a splash in the black belt divisions, I'd be remiss if we didn't also point out that a few old dogs are still out there beating back the younger opposition. The future of jiu-jitsu is very bright and matches like Josh Cisneros vs Paulo Miyao or Mayssa Bastos vs Pati Fontes are prime examples but let's not forget what got us here.
Veteran athletes like Otavio Sousa and Murillo Santana rolled back the clock over the weekend and proved that the modern era of grapplers are not unbeatable. At medium heavyweight, Otavio Sousa put on one of the most impressive performances of the weekend and despite being 34 years old (a full 10 years older than second-place Matheus Luna) he won his fourth Pan title.
Murillo Santana also had a stellar performance submitting the new generation's top prospect Jonnatas Gracie in the dying seconds. For all the talk about the new era of grapplers who started when they were five years old it's easy to forget how skilled the veterans of our sport really are.