Technique Showcase
Guillotine Masterclass, Featuring Hinger, Combs & More | Technique Showcase
Guillotine Masterclass, Featuring Hinger, Combs & More | Technique Showcase
In this week's Technique Showcase, we look at the keys to guillotines, and the details that differentiate variations like the Hingertine and the Combatine.
Jan 22, 2021
by Corey Stockton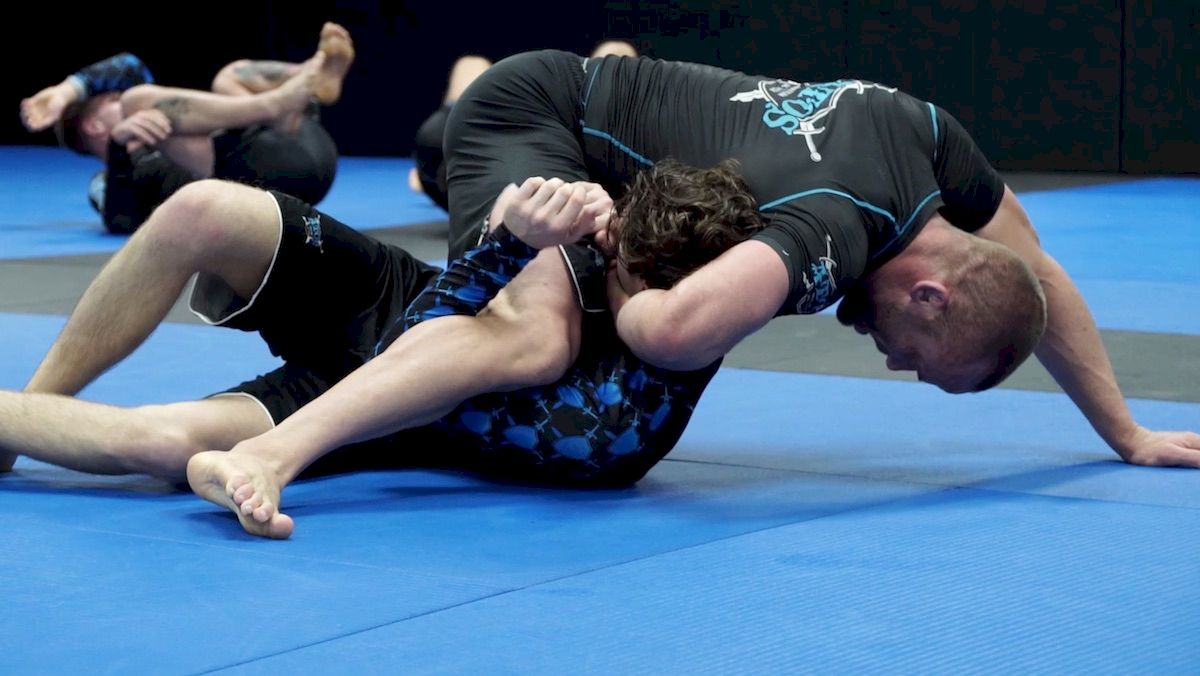 Unlock this article, live events, and more with a subscription!
Get Started
Already a subscriber? Log In
Few techniques carry a personal stamp the way guillotines do. Guillotine artists have often found ways to put their own spin on the front headlock, and to make their variations integral to their personal brands.
Marcelo Garcia may have been the first to be known for his version, the "Marcelotine." Since then, the grappling world has seen many new takes on the classic choke, most notably, the "McKenzietine," the "Hingertine," and the "Combatine."
One of the most impressive aspects of these chokes is their success rate. Front headlock players are often incredibly precise with their favorite choke.
That's likely because unlike many attacks which are position-dependent, guillotines can be executed from almost anywhere. They're part of the standing game; they're used as a guard attack; they're useful in the top game or in the turtle position. Some of the best modern guillotine hunters favor the choke as a crucial component of their passing game.
In this week's Technique Showcase, we look at the keys to success in attacking with guillotines, as well as the details that differentiate the Hingertine, the Combatine, and other noteworthy variations.
---
Essential Arm-In Guillotine Concepts
The arm-in guillotine is sometimes considered a lesser variation of the front headlock submission. But it offers one crucial benefit: control of the defending arm. Gordon Ryan, Craig Jones and Kaynan Duarte have all had success against talented opponents with this choke. One of the keys to their success has been their ability to nullify their opponents' defending arm.
Gordon Ryan Wins First ADCC Gold With Guillotine Vs Keenan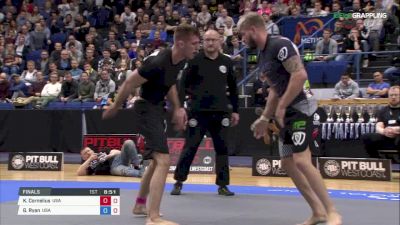 Gordon Ryan attempted several guillotines in his 2017 ADCC final against Keenan Cornelius. He missed on the first few tries (he explains why here), but finally landed the choke off of a standing exchange in the back half of the match. Gordon was persistent with his collar ties throughout the match, dragging on Keenan's posture and forcing him to shoot with a severe bend in his back.
As Keenan attempted the final shot, Gordon scooped the neck with an arm-in position, and positioned his own chin between Keenan's shoulders. As he dragged Keenan to the ground, he landed nearly perpendicular, keeping a short distance between Keenan's hips and his own. This allowed Gordon to easily transition to mount. Because Gordon had the arm-in position, both of Keenan's arms were out of position to defend. Gordon had an overhook on one arm, drawing it over Keenan's head, while the other arm was trapped between Gordon's legs, towards Keenan's hips. From there, Gordon kept his head on the mat, providing a post to keep Keenan's head elevated. He drove his hips forward and pinched his elbow, keeping his forehead on the mat to earn the submission.
Craig Jones Guillotines Mason Fowler At ADCC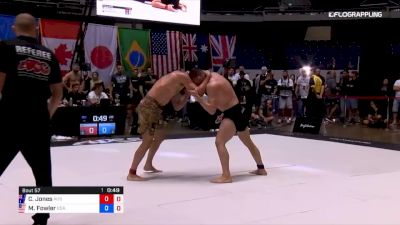 Unlock this video, live events, and more with a subscription!
Get Started
Already a subscriber? Log In
Craig Jones earned his own guillotine finish at ADCC in 2019 against Mason Fowler. This one appeared to be more opportunistic than Gordon's, but it functioned similarly. As Fowler shot for a single, Jones overhooked Fowler's inside arm and blocked the outside arm as if to sprawl. When Fowler transitioned to a double leg, Jones took advantage of the space, shooting his arm deep across Fowler's neck.
Because Jones had the overhook, he was able to isolate Fowler's arm away from a defensive position as they landed. Fowler rolled to the top position, but Jones had his legs fully wrapped around him, allowing Jones to apply his pressure and extension for the submission.
Highlight: Kaynan Duarte's Most Iconic Guillotines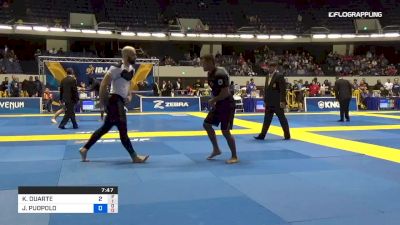 Unlock this video, live events, and more with a subscription!
Get Started
Already a subscriber? Log In
Kaynan Duarte opened his black belt career with several arm-in guillotine finishes following the same principles. He waited for the opportunity in which his opponents' heads were lower than his shoulders, trapped the defending arm out of position, and closed his guard to get his hips involved.
Although this attack is frequently called an arm-in guillotine, Josh Hinger refers to this choke as an arm-out guillotine, as the defender's arm is isolated outside of a defensive position. See his explanation here.
---
What Sets The Hingertine Apart?
The Hingertine is a hybrid of an arm-in guillotine. Josh Hinger focuses on trapping his arm against his hip with a deep overhook. Once he's secured the arm out of defensive position, he focuses on attaining a grip on his opponent's jaw. While he settles into position, he keeps his head on the mat. As he starts to pursue the finish, he relinquishes the overhook, using that hand, instead, to push against the mat for extra leverage, further compressing his opponent's body and neck.
Highlight: The Best Of The Hingertine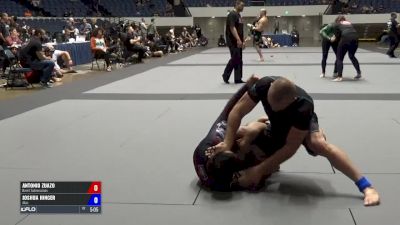 Unlock this video, live events, and more with a subscription!
Get Started
Already a subscriber? Log In
If, instead of finishing on top, Hinger applies the technique from his guard, he leaves his overhook behind his opponent's arm. In these instances, he creates additional force by tucking his chin against his opponents' backs and simultaneously elevating his own hips.
---
The High-Elbow Guillotine
Among arm-out, high-elbow guillotines, Tim Spriggs' chokes may be the best modern examples. In each of these three clips, he executes the same finish. As soon as his opponent changes levels, Spriggs feeds a headlock grip, and wastes no time connecting his hands, swinging his elbow in front of his opponent's free shoulder, and jumping to guard.
Highlight: 3 Brutal Guillotines From Tim Spriggs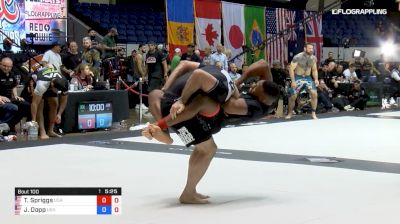 The high elbow ensures that the choking arm remains in place, and prevents the defender from reaching over top to regain position. Meanwhile, Spriggs jumps to guard to guarantee that he secures the appropriate finishing position with his hips, whether he ends the exchange on top or bottom.
---
Identifying The Combatine
John Combs is an expert of the guillotine in his own right. But his variation, which he calls the Combatine, has a few details which set it apart from other chokes. Like the previous submissions, the Combatine is an arm-in guillotine.
However, it also resembles the high-elbow technique often used in the arm-out guillotine.
Highlight: John Combs' "Combatine" Is Menacing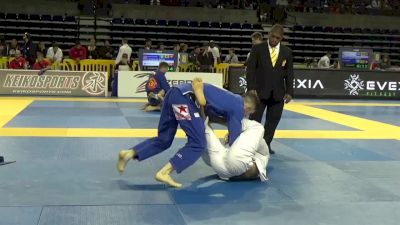 Unlock this video, live events, and more with a subscription!
Get Started
Already a subscriber? Log In
Combs focuses on getting both of his elbows above his opponents' shoulders as he finishes his choke, driving his hands deep into his opponents' necks. He also makes a severe angle when he attacks with this submission, often mounting his opponent sideways as he applies the technique. This angle allows him extra space to thrust his hips and to get his elbows into a high position.
---
Up-And-Coming Neck Hunters
One of the keys to a good guillotine appears to be relentless chin-strapping. Some of the best guillotine artists may miss with the first attack, but follow it up with another choke attempt immediately after.
Pedro Marinho gave us a great example of that in his match against David Garmo. He baited Garmo to shoot, feeding a headlock under Marinho's left arm. As Garmo scrambled free, Marinho immediately switched sides, offering Garmo another angle. The second attack earned a submission.
Highlight: Two Vicious Guillotines From Pedro Marinho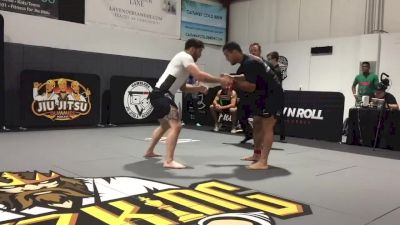 Unlock this video, live events, and more with a subscription!
Get Started
Already a subscriber? Log In
Marinho displayed similar eagerness for the choke against Johnny Tama. Marinho set up the first choke attempt beautifully, but recovered his guard, alleviating pressure from the arm-im guillotine. Marinho rolled to his back to try to finish, but couldn't find the appropriate angle. Rather than selling out on a bad choke, Marinho let go of Tama's arm, using it to recover the front headlock position; then he switched to an arm-out, high-elbow guillotine, with which he got the finish.
Although Garmo was a victim to Marinho's bloodthirsty guillotine chase, he's been the aggressor in pursuit on other occasions.
David Garmo Chains Guillotines And Darces At No-Gi Pans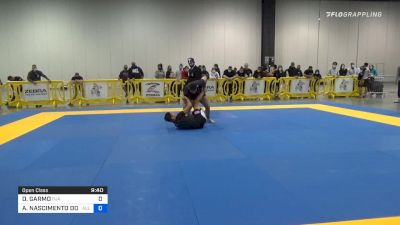 In this clip from 2020 No-Gi Pans, Garmo secured an initial arm-in guillotine grip from top position. Not finding appropriate hip angle for the finish, he switched to a Darce grip. The new grip galvanized his opponent to move in defense, and the chase began.
Garmo followed the defeneder to standing position, where he switched his grip again, this time finding an arm-out, high-elbow guillotine. When Garmo got to superior angle, he got the finish without even involving his hips in the squeeze.
---
Additional Resources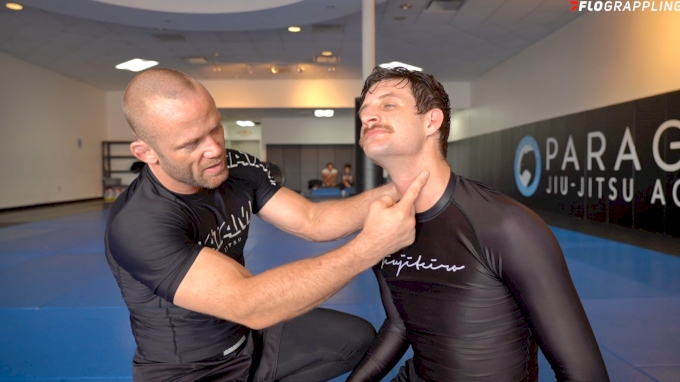 Turns out, guillotines are a perennial hot topic. Many of the top athletes have taken time to discuss the finer points of the front headlock on FloGrappling. Here are some of the best techniques, concepts, and breakdowns: