WNO: Craig Jones vs Ronaldo Junior
Full Recap & Results | Who's Number One: Craig Jones vs Ronaldo Junior
Full Recap & Results | Who's Number One: Craig Jones vs Ronaldo Junior
We'll be posting up-to-the minute updates, so you don't have to miss a moment of the action. Keep your page refreshed, and stay tuned.
Feb 27, 2021
by Corey Stockton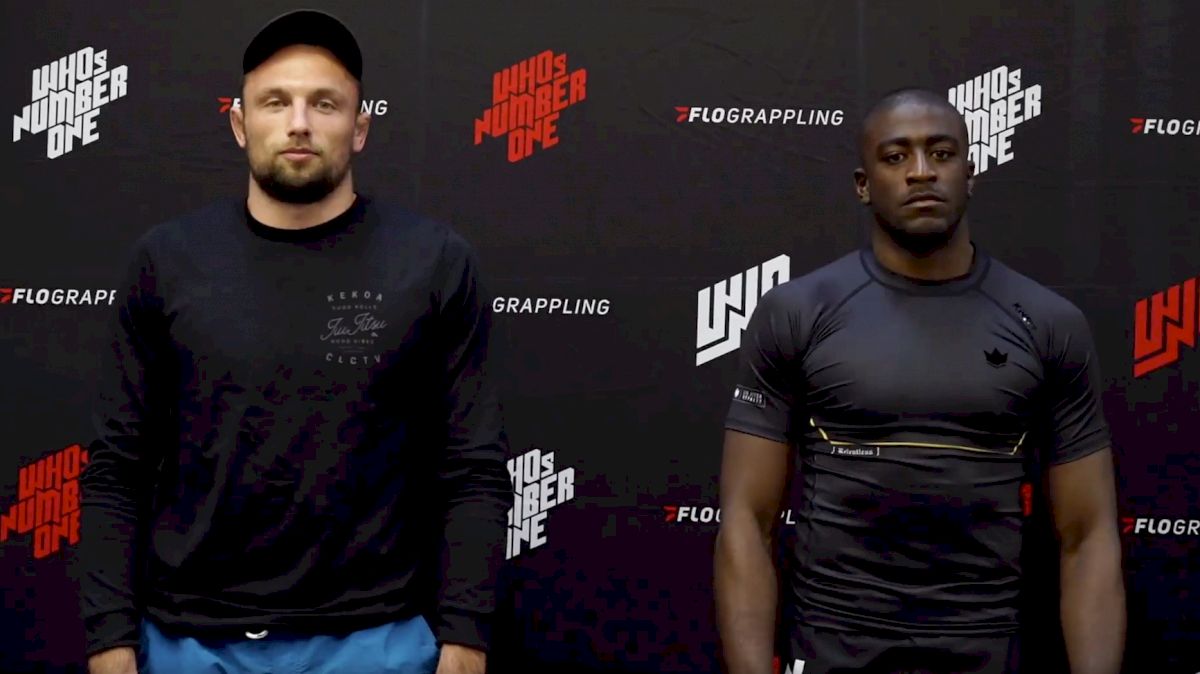 Unlock this article, live events, and more with a subscription!
Get Started
Already a subscriber? Log In
The 2021 season of Who's Number One is underway, as WNO: Craig Jones vs Ronaldo Junior is almost underway.
Tonight, Danaher Death Squad's Craig Jones will try to pick off Atos' human highlight reel, Ronaldo Junior. These two athletes have remained focused on their own games, but the teams have been trading blows since the match was announced last month.
In the co-main event, Gordon Ryan will step in to replace injured Nicky Ryan against Roberto Jimenez. Jimenez is as game as they come, and has earned the respect of his opponent for his unrelenting attitude, but will that be enough to take down one of the best modern no-gi grapplers alive? Ryan is on a 38 match win streak, and has won 15 of his last 17 by submission.
This event is stacked from top to bottom, complete with athletes from Pedigo Submission Fighting, better known as the Daisy Fresh squad, 10th Planet competitors like the no. 1-ranked featherweight, Geo Martinez, and the no. 1-ranked pound-for-pound female grappler, Gabi Garcia.
We'll be posting up-to-the minute updates, so you don't have to miss a moment of the action. Keep your page refreshed, and stay tuned.
---
Couch sat immediately to guard, and Cruz sat to his knees to begin hand fighting. Couch started to play his butterfly half guard, causing Cruz to back out and play more of a distance game.
Cruz tried to smash Couch's knees together to gain control of Couch's upper body, but Couch rebuilt his frames.
Cruz remained tight on his knees, getting rough on Couch's head but not moving forward. As Couch sat up to attack, Cruz attacked with his nearest guard pass, flashing momentarily around the guard.
At the halfway mark, Cruz switched his passing attempts to the other side, and nearly established an underhook. He had a better ability at establishing upper body control, but could not connect fully.
Cruz sprawled his hips back, splaying his upper body across Couch's knee frames. He backed out, and switched his passing attempt to the other side, scoring his nearest passing try. Cruz appeared to be down the walls of Couch's guard, making small advancements in every passing try.
With less than five minutes left, Cruz had his sharpest passing attempt yet, forcing Couch to turtle. Cruz established a front headlock, and transitioned for a moment to a figure-four grip before Couch recovered, and rebuilt his guard.
Building confidence, Cruz leaned heavier and heavier on Couch's guard, grinding his forehead in Couch's face and building his certain lead.
Cruz backed away momentarily, then switched pace, flashing past Couch's guard and immediately establishing back control. Couch recovered unharmed, but clearly down in the eyes of the judges with just 90 seconds left.
Cruz dropped back atop Couch's guard, where he leaned heavy once again, clubbing and thrashing Couch as time expired.
Elder Cruz def Jacob Couch via unanimous decision
---
Kelly and Khan jousted standing for a moment. Kelly took a shot, and Khan seemed to time it with a sharp guillotine in response. Kelly got her head free and took Khan to the mat, but landed in closed guard.
As Kelly stood up, Khan swung through for a kneebar. As Kelly defended, Khan transitioned to 50-50 and attacked with a heel hook. Kelly worked her way free, putting herself on the bottom for a moment before the competitors returned standing.
Kelly shot a single leg, and was countered by another guillotine from Khan. Khan released, and jumped on an armbar from closed guard. Kelly defended.
After a few moments of stalemate in closed guard, Khan swung at another leg attack and transitioned to a toe hold. Kelly freed herself, but soon faced two heel hook attacks from Khan. As she escaped those, Khan finally came to the top, and immediately passed the guard.
From there, Khan poured on the pressure, slowly moving toward mount then to back control.
Kelly escaped and gained top position, but with 30 seconds on the clock, Khan's victory was a foregone conclusion.
Jessa Khan def Danielle Kelly via unanimous decision
---
After a brief wrestling exchange in which Barch displayed his superiority, Wiltse pulled guard and tried to initiate from a seated position. Barch looked confident in his passing attempts with several knee cut entries and aggressive, leaning pressure. But he found himself in two ashi garami attacks; first, Wiltse applied a heel hook, then a straight ankle lock. Barch defended both.
Barch continued to apply his knee cut pressure, but each time he got close, Wiltse entered an ashi garami. Despite that, Barch was never under significant threat.
Andrew Wiltse def PJ Barch via unanimous decision
---
Junny sat to guard and went directly after a leg. Geo defended, and came into a stack pass reminiscent of the one he used to try to pass Junny's guard in their first encounter in 2019.
Junny played an inversion game early, and Geo played a distance passing game. Eventually, Geo jumped in, feinting a pass before dropping on an ankle lock.
Junny attacked with a berimbolo, then switched to an ankle lock, moving to butterfly ashi before releasing the attack.
The athletes experimented with a wrestling exchange momentarily before Junny returned to his guard. At the halfway mark, Geo turned up the pace in his passing attempts, and started to play in a closer range. Geo sat back on a leg attack; Junny countered with his own, but neither secured a meaningful threat.
Junny stood up, wrestling with Geo, and Geo soon secured a trip, the first takedown of the match.
While on the bottom, Junny continued to alternate between back attacks and leg attacks, but Geo countered with his own leg threats and increasingly heavier passing attempts.
Geo Martinez def Junny Ocasio via unanimous decision
---
Gabi appeared fired up, taking an energetic wrestling approach and rushing Nathiely off the mat. Nathiely sat straight to guard on the restart. Gabi wrapped up a standing ankle lock, but when she released it she found herself under attack. Nathiely settled on a triangle, but could not attain a significant finishing position.
Gabi sat down on an ankle lock which looked threatening. Nathiely counter attacked with a heel hook. Gabi escaped and returned to standing.
Gabi sat back on another leg attack, putting herself on her back and under the knee cut pressure of Nathiely. Gabi transitioned to deep half and earned a quick sweep, landing in Nathiely's closed guard.
Gabi attacked with yet another ankle lock, this time belly-down. Nathi countered with an outside heel hook. As Gabi defended, Nathiely entered 50-50 and then attacked with the inside heel hook, which appeared to put Garcia under significant threat.
The action broke and returned to standing for a moment. Nathiely sat guard again. The theme of the night continued, Gabi dove for an ankle lock; Nathiely came up on top; Gabi insisted on top position.
Nathiely tried to play a de la riva game, then locked her closed guard. She attempted a triangle, but it worked in favor of Gabi, who used the triangle attempt to gain a better passing position.
Nathiely nearly earned a sweep but could not come on top. Gabi tried another ankle lock, but this time Nathi capitalized, coming on top, securing back control, and settling in mount.
Nathiely rode out the mount position for a moment before Gabi escaped.
The momentum swung in Nathi's favor. Gabi tried another leg attack and Nathi came up for the sweep, entering a significant passing position before time expired.
Nathiely de Jesus def Gabi Garcia via unanimous decision
---
Gordon sat to guard and entered an easy kani basami, but he relinquished the leg position to comp to the top.
Gordon was patient to get to half guard, but once he got there, he focused on delivering a heavy cross face, crushing Roberto and soon slipping his way past the guard.
Gordon mounted and began setting up his favorite top position, the arm triangle. Roberto eventually made an explosive bridge, undoing much of Gordon's upper body work but remaining mounted.
Roberto exploded out again, but Gordon quickly returned to his passing position and to mount. He worked down Roberto's defenses and slid on an armbar. It looked tight, but Roberto scrambled free.
After another feeling out process, Gordon tested another leg exchange and Roberto moved into his A-game, a berimbolo attack. Gordon stopped Roberto's progress with a sharper leg attack, and the match opened up.
They scrambled momentarily, but Gordon punctuated the exchange with an immediate mount.
Gordon attacked the same armbar, and Roberto scrambled with the same escape, but the second time he could not get free.
Gordon Ryan def Roberto Jimenez via armbar
---
Craig wasted no time sitting to guard. Ronaldo kept his hips back, changing directions with his head forward, cautious not to over-commit.
Craig secured a reverse de la riva, and Ronaldo tried to spin out a few times before finally escaping.
Jones attempted a kani basami. As Ronaldo defended, Jones switched his leg entanglement to 50-50. There, he patiently began separating the legs. Once the legs were separated, Craig was quick to finish the heel hook.
Craig Jones def Ronaldo Junior via heel hook