2021 BJJ Stars VI
Grappling Bulletin: How Hulk Beat Diniz Even Though He Got Choked Out Cold
Grappling Bulletin: How Hulk Beat Diniz Even Though He Got Choked Out Cold
Can you still be declared the winner if you are unconscious at the end of a match? The answer may surprise you, as we found out at BJJ Stars.
Jun 28, 2021
by Hywel Teague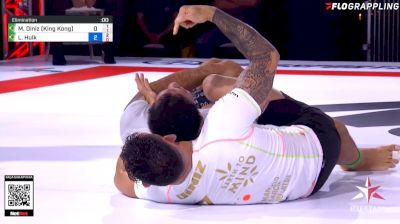 Nobody could have predicted the end of the no-gi match between Lucas "Hulk" Barbosa and Matheus Diniz at BJJ Stars VI. A candidate for the most surprising, complicated and controversial finish to a grappling match in living memory, Diniz put Barbosa to sleep with a choke but it was deemed to have been applied after time had run out. Below, I'll attempt to clarify what happened and you can even see my analysis of the video to determine whether the choke was legit or not.
Don't forget to watch the Grappling Bulletin podcast, every Monday at 3:30pm ET. Watch it on FloGrappling.com or the app, or catch it LIVE on YouTube or Facebook.
Missed the live show? Catch up on the replays here.
Breaking Down The Most Controversial Match Ending: Hulk vs Diniz
I'll start by saying I have never seen anything like this. This was an entirely new situation for me in the many years I've been involved in grappling. Never have I seen somebody get choked out at the end of the match but go on to get their hand raised in victory. A very unique result, indeed.
Let's break it down. With seconds left on the clock Matheus Diniz, down 2-0 on the scoreboard, was able to get his arm around Hulk's neck and applied a very tight one-armed RNC.
The clock counted down to zero, but the referee did not immediately stop the match. This was not the first time that the airhorn to signal the end of the match had been late, having sounded seconds after the end of the match between Erberth Santos and Gutemberg Pereira earlier in the evening.
In the five seconds from the clock counting down to zero and the referee calling time, Diniz's choke put Hulk to sleep. Barbosa was briefly but unmistakably left unconscious on the mat and Diniz threw his hands up to claim the victory.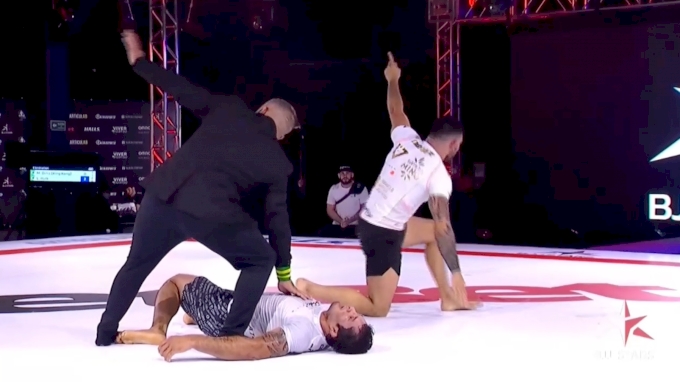 Here's where it gets complicated. The referees realized there was an issue and conferred to review the video reply. After a lengthy review they awarded the win to Barbosa, based on the fact he was ahead on points when time ran out and appeared to lose consciousness only after time should have been called.
I wanted to see if the right decision had been made. Based on my interpretation of the rules, if Hulk had gone to sleep while there was still time on the clock then Diniz should be the rightful winner. I slowed it down at key moments and by analyzing the video I could see that Hulk was active right until the clock hit zero. He bridged into Diniz, and his hands only appeared to drop seconds after the clock has stopped.
What's important to note is that Diniz – through no fault of his own – had hold of the choke for over five seconds after time had expired. He let go when the ref said stop, and it was at this point that we could see Hulk was out.
Hulk was declared the winner and in my opinion, rightfully so. He had worked hard to score those points, and had been the more effective grappler for the first nine minutes and 50 seconds of the match. If Diniz had just 10 more seconds on the clock he could have won in spectacular fashion, but the fact remains that Barbosa was the one who got his hand raised.
Barbosa's victory was tainted by the debacle surrounding the stoppage, and it's clear there is unfinished business here. Diniz couldn't believe the outcome, and understandably feels robbed of the win. This was definitely one of the most unusual endings to a match that we've ever seen, and a great example of the power of video replay.
We will have to wait to see them settle the score, but both men will be in action on our Road to ADCC event on July 17. Diniz will fittingly take on Hulk's teammate Kaynan Duarte in a battle between two ADCC champions, while Barbosa will face the deadly Craig Jones.
Catch up on the match replays from BJJ Stars VI here. Watch Road to ADCC on July 17 only on FloGrappling.
---
ADCC 2022 Dates Announced
The ADCC World Championships takes place every two years, and the highly anticipated biennial no-gi submission grappling event was originally scheduled to take place in September 2021 following a year-long series of qualifying events.
Held across the globe, these international ADCC Trials events were canceled due to the COVID-19 global pandemic, forcing the postponement of the World Championships to 2022.
Thanks to ADCC 2022 organizer Mo Jassim, we know now the exact dates of the 2022 ADCC World Championships. As promised, the event will take place at the Thomas and Mack Center in Las Vegas on September 17-18, 2022. Tickets will go on sale exactly one year out, so get yours in just a few months as this event is sure to sell out.
Watch the 2022 ADCC World Championships only on FloGrappling.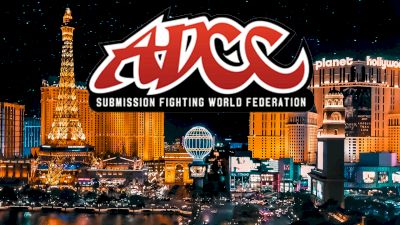 ---
Watch BJJ Bet Live on FloGrappling
Just a teaser for you right now – BJJ Bet's second major event will go down on August 1 and if you live outside of Brazil you can watch live on FloGrappling!
We'll be dropping more info soon but we CAN tell you there will be an 8-man no-gi tournament and a series of gi superfights. Follow BJJ Bet to find out who's competing.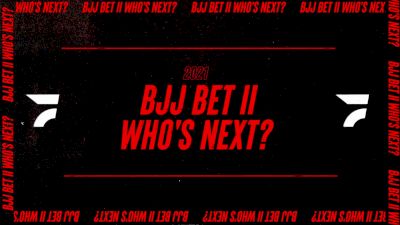 ---
Kayla Harrison Remains Undefeated
Two-time Olympic judo gold medalist Kayla Harrison's MMA career has been nothing short of unstoppable. She moved to a perfect 10-0 last week with a first round submission at PFL 6 win versus Belgian fighter Cindy Dandois. Harrison got the win via armbar at 4:44 of round one, marking her fourth career submission. The judoka-turned-MMA fighter's perfect record includes four wins by TKO, with only two of her fights going the distance.
Harrison won gold medals at the 2010 Judo World Championship and at the 2012 and 2016 Olympic Games. Harrison switched to MMA in 2018. She fights out of Coconut Creek in Florida and represents American Top Team.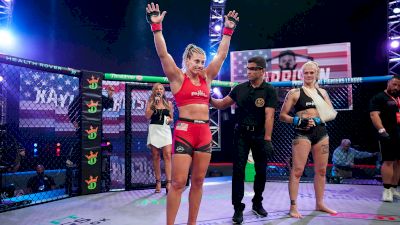 ---
Results Recap
There was a lot of action taking place over the weekend, here are some of the most notable results.
BJJ Stars
Felipe Pena submitted Patrick Gaudio in a masterful display of jiu-jitsu technique, defending his heavyweight title. Pena needed little over five minutes to choke Gaudio from the back – watch the match
Yuri Simoes won a 0-0 decision against Mahamed Aly, while Erberth Santos won in similar fashion versus Gutemberg Pereira.
ADCC champ Bianca Basilio returned to no-gi with a points win over Brazilian National no-gi champ Gabi Fechter – check out the replay
Tainan Dalpra scored a submission against Athos Miranda, securing a choke from the back thanks to his dynamic guard passing – see his performance here
WATCH: Felipe Pena Uses Smooth Technique to Choke Gaudio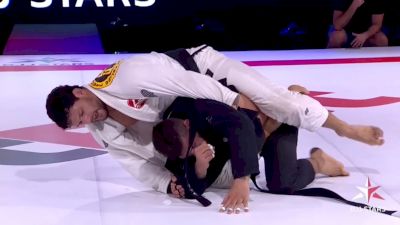 Tainan Dalpra's Laser-Guided Passing Leads To Choke
Fight to Win 175
Gabriel Sousa of ZR Team earned a unanimous decision win against Ethan Crelinsten. Sousa never allowed the Canadian to settle. Keeping a high workmate and using effective wrestling and slams to score – check out the action
The unheralded Hiago Adao scored a decision win over Crelinsten's teammate Oliver Taza in an even match that saw the two exchange sweeps. Neither were able to enter into meaningful submission attacks – here's the video
Fred Silva of Alliance-Lucas Lepri submitted Justin Hale with a good old fashioned cross collar choke from mount – watch it here.
Best Moments: Gabriel Sousa vs Ethan Crelinsten F2W 175 Highlight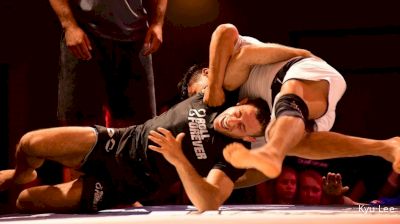 Submission Underground
Kyle Boehm returned from the wilderness to win the SUG 8-man tournament, earning the right to challenge reigning champion Mason Fowler. This was Boehm's first grappling event since he lost to Gordon Ryan one year ago. He defeated Pedro Marinho in the final via submission during the EBI OT round to win.
IBJJF American Nationals
Fellipe Andrew earned double-gold in the gi, collecting two submissions in five matches. Elisabeth Clay also took double-gold, submitting all four of her opponents across the medium heavyweight and open weight divisions. Her opponent in the final, Janaina Maia, had submitted each of her previous opponents.
Pedro Marinho won the heavyweight division in his IBJJF black belt debut, catching a footlock and a guillotine on his path to gold. His teammate, Bruno Matias, also earned two submissions in three matches, taking gold in the medium heavyweight division.
Submissions & Highlights | 2021 American Nationals
Matias had another strong outing on Saturday for the no-gi tournament. There, he scored 35 unanswered points in two matches to take first place in the heavyweight division. In his opening match, Matias defeated former teammate Felipe Trovo.
Trovo came back to take gold in the open weight division. Kendall Reusing won the women's open weight division with a submission victory over Ana Paula Cardoso.
Champion Interviews | 2021 American Nationals
Haisam Rida had one of the most impressive performances of the day, edging out a close match with Lucas Lopes in the opening round, and scoring a quick armbar over Diego Ramalho in the super heavyweight final.
WATCH: Haisam Rida Hit His Kimura Trap Armbar Again At American Nationals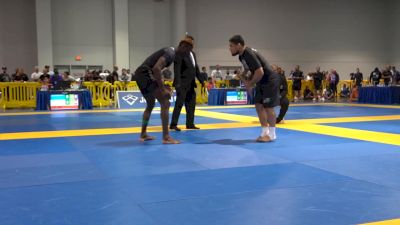 Several brown belts looked impressive over the weekend, but three of the top performers were Elder Cruz, Amy Campo and Omer Emaonoley. Emanoley, from Israel, submitted all three of his opponents in the middleweight category via leg lock in less than a minute each. Campo won the absolute division in both gi and no-gi. Cruz won three gold medals in his brown belt debut, collecting ultra-heavyweight gold in the gi, and winning his weight and the open in no-gi with an impressive display of wrestling all weekend.
WATCH: Road To Double-Gold: Elder Cruz Flexes His Passing Game In Brown Belt Debut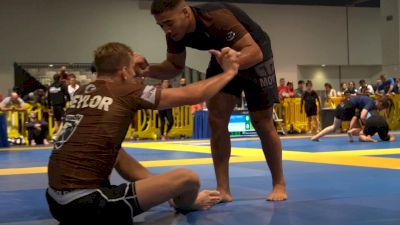 ---
Fight to Win Superfights
Fight to Win have dropped a bunch of match announcements for the next events, which you can see below. Don't forget you can watch F2W live or on demand on FloGrappling.
July 9, 2021
Junny Ocasio vs Carlos "Bebeto" Oliveira (no-gi)
Samir Chantre vs Orlando Castilo (gi)
July 16, 2021
Rafael Lovato Jr vs Alexandre Ceconi (gi)
Victor Hugo vs Guilherme Augusto (gi)
Kendal Reusing vs Maria Malyasik (gi)
July 24, 2021
Xande Ribeiro vs Felipe Trovo (no-gi)
July 30, 2021
Jessa Khan vs Tubby Alequin (gi)
Jeferson Guaresi vs Hugo Marques (gi)
Matheus Luna vs Yago de Souza (gi)
---
Upcoming Events on FloGrappling