2021 World Jiu-Jitsu IBJJF Championship
Live Updates & Results | 2021 IBJJF World Championships Finals
Live Updates & Results | 2021 IBJJF World Championships Finals
Follow the action for the latest results and analysis as new champions are crowned at the 2021 IBJJF World Championships.
Dec 12, 2021
by Corey Stockton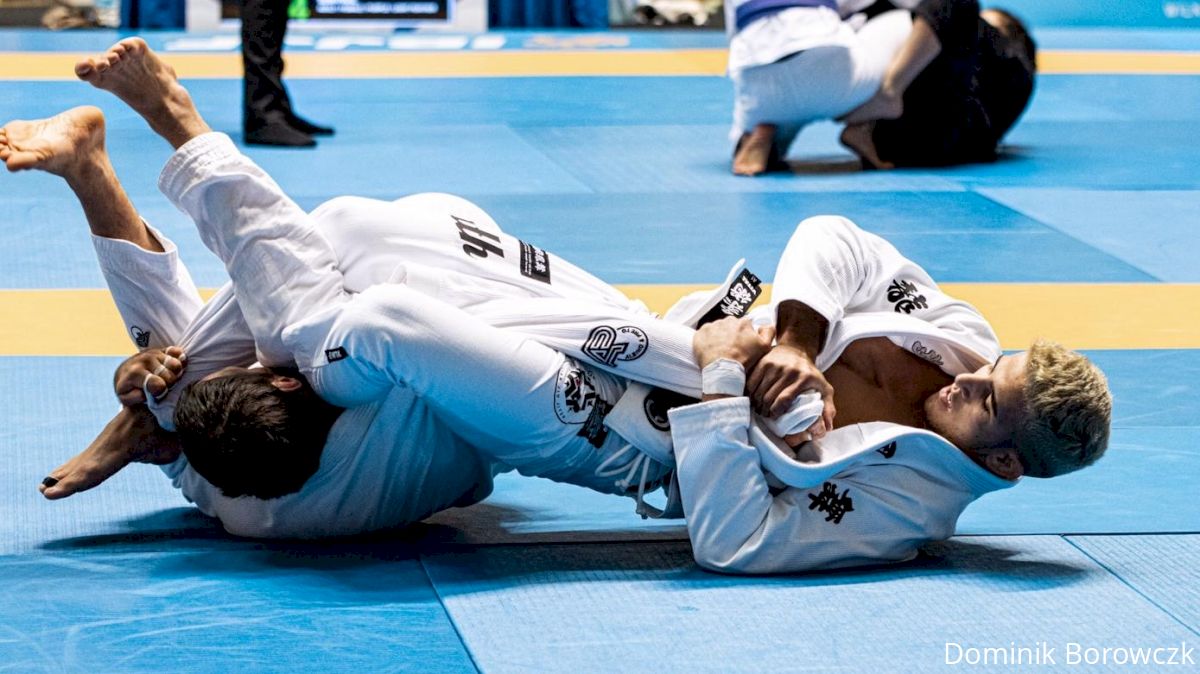 The 2021 World Championships final rounds are set. Today, the IBJJF will crown its first new champions in more than two years at the 25th edition of Worlds.
We've been following the action and story lines all week, and this event will be historic. We're guaranteed to see at least six first-time champions, and several rookie black belts could be among them.
And the main event will be a highly anticipated matchup between Nicholas Meregali and Felipe Pena, an absolute final in a rivalry that goes back two years.
Don't miss a moment of the action, tune in to this article all day to see who passes through to the next round, and how.
See the day's starting brackets and info regarding the team race HERE.
---
Roosterweight
Quarterfinals: Jonas Andrade vs Tomoyuki Hashimoto (watch here)
Hashimoto outscored Andrade early in the match, and was maintaining a lead despite Andrade's aggressive attacks, but received a passivity penalty, conceding two points and the victory in the final moments.
Quarterfinals: Roiter Lima vs Rodnei Barbosa (watch here)
Lima and Barbosa kept the score close throughout the match, with Lima up in the final minute. But Barbosa secured a backtake in the last minute, putting himself into the semifinal.
Quarterfinal: Mikey Musumeci vs Bebeto Oliveira (watch here)
Musumeci was hellbent on a footlock from the start of the match, and finally finished one belly down against Bebeto (4:47). He'll move to the semifinals.
Quarterfinal: Thalison Soares vs Bruno Malfacine (watch here)
Malfacine stayed on top in Soares' guard. It went entirely scoreless, but Malfacine secured the unanimous decision and will face Musumeci next.
Semifinal: Bruno Malfacine vs Rodnei Barbosa (watch here)
Malfacine remained on top of Rodnei Barbosa in his guard until the final 60 seconds, when he dove on a toehold to secure an advantage, pushing him into the final, his 13th of the day.
Semifinal: Mikey Musumeci vs Jonas Andrade (watch here)
Mikey Musumeci secured his second submission of the day, another footlock, to earn his entry into his fourth IBJJJF Worlds final.
Mikey Musumeci will face Bruno Malfacine in the roosterweight final.
Light Featherweight
Quarterfinal: Diego Pato Batista vs Yuta Shimada (watch here)
Pato got an early lead from a sweep, and amassed several advantages for near passes. He expanded his lead in the last 30 seconds, and fended off an attack in the dying seconds. He'll move ahead to the semis.
Quarterfinal: Malachi Edmond vs Pedro Dias Clementino (watch here)
Pedro Dias proved once again that he knows how to prevent his opponent from scoring. But Malachi Edmond pressured from top for the entire length of the match, and earned a unanimous referee decision.
Quarterfinal: Meyram Alves vs Willis Nunes (watch here)
Alves scored two sweeps through the duration of the match, strategically building his edge to defeat Nunes.
Quarterfinal: Rene Lopez vs Ram Ananda (watch here)
Lopez secured an armbar finish over Ananda at 3:34.
Semifinal: Rene Lopez vs Malachi Edmond (watch here)
Malachi Edmond defeated Rene Lopez by one advantage. He'll make his first appearance in a black belt final.
Semifinal: Diego Pato vs Meyram Alves (watch here)
Alves beat Pato on the guard pull, then scored two by coming up to top position. Pato used lapel trickery to even the sore. With one minute left, Pato finally let loos, running around to Alves' back and tacking up advantages in pursuit. Pato secured two bonus points as Alves fled the mat in defense.
Diego Pato will face Malachi Edmond in the light featherweight final
Featherweight
Quarterfinal: Fabricio Andrey vs Richar Nogueira (watch here)
Andrey hit the gas early, completing a pass, taking Noguira's back and settling in seven points. Nogueira continued to press the attack to try to narrow the score, leading to one of the most high-paced matches of the day.
Quarterfinal: Diego Sodre vs Osvaldo Queixinho Moizinho (watch here)
Sodre got up on advantages, and remained patient as Queixinho slowed him down with lapel guards. In a last ditch effort, Queixinho opened up, and Sodre accelerated, cementing his lead with an additional advantage in the closing seconds.
Quarterfinal: Alexssandro Sodre vs Isaac Doederlein (watch here)
Sodre earned two points for a well timed guard pull, then coming on top. After seven minutes of sweep attempts, Doederlein gained an advantage for a tight footlock, then scored a go-ahead two points for a sweep. In the last 30 seconds, Doederlein took a penalty, losing his lead to Sodre, and losing the match.
Quarterfinal: Jamil Hill-Taylor vs Kennedy Maciel (watch here)
Hill-Taylor demonstrated his rarely seen and underrated passing game, putting Maciel under consistent pressure for the first nine minutes of the match. Maciel wrestled up in the final moment, but Hill-Taylor broke free and pulled guard, securing the victory, as Maciel had received an early penalty for an illegal grip.
Semifinal: Fabricio Andrey vs Alexssandro Sodre (watch here)
Fabricio Andre tactically tallied advantages, keeping Sodre's game docile, and winning by narrow margin. Sodre nealry stole the match with a final burst in the last ten seconds. Andrey will compete in the featherweight final in his first season as a black belt.
Semifinal: Jamil Hill-Taylor vs Diego Sodre (watch here)
Yet again, Jamil flexed an underrated part of his game; this time it was his wrestling. He scored an early takedown to go ahead, then flocked to his famous lasso guard, where he wore Sodre down, and finished the match.
Fabricio Andre will enter the featherweight final. He'll face 2018 champion Shane Jamil Hill-Taylor.
Lightweight
Quarterfinal: Johnatha Alves vs Murilo Amaral
Alves pulled out of the final day after injuring his hand on day one. Amaral will move into the semis.
Quarterfinal: Matheus Gabriel vs Michael Liera Jr. (watch here)
Gabriel and Liera went on a mad dash in hunt of each other's backs, and setling for sweeps back and forth. Liera set up for a sweep in the final moments, and fought to take Gabriel down. But Gabriel stayed composed, riding his lead into the victory.
Quarterfinal: Levi Jones-Leary vs Renato Canuto (watch here)
Canuto danced and avoided Levi's pull for some time, and eventually stole an advantage, sitting with Levi then quickly standing up. Canuto countered an inversion, and came very near to passing Levi, securing another advantage.
Canuto continued to engage from a distance, keeping free of Levi's attacks until the final 90-seconds, when Levi dove for an armlock and converted to a barataplata attack. Canutp defended the attack and made an intelligent grip change, then blasted past Levi's guard to put a stamp on his victory.
This was a huge win for Checkmat, and one of the best matches of the day.
Quarterfinal: Lucas Valente vs Marcio Andre (watch here)
A nonstarter of a match, Andre was stuck in Valente's guard for the first nine minutes of the match. Valente finally opened up with one minute remaining, launching the only gesture of offense with an ankle lock in the final five seconds, and securing a split decision victory.
Semifinal: Renato Canuto vs Murilo Amaral (watch here)
Canuto has displayed the perfect blend of explosiveness and tactics so far today. He made a great play from guard to threaten several attacks and achieve the top position. Canuto carried his lead to the end, and turned on the attack in the closing seconds.
Semifinal: Matheus Gabriel vs Lucas Valente (watch here)
A huge points haul for Checkmat, as Matheus Gabriel turned up the pace in the closing ten seconds against Lucas Valente, earning a decision victory. He'll move into his second consecutive Worlds final, and will likely close out with his Checkmat teammate, Renato Canuto.
Renato Canuto will return to the IBJJF World Championship lightweight final for the first time since 2018. He'll meet, and likely close out with his teammate Matheus Gabriel.
Middleweight
Quarterfinal: Jaime Canuto vs Tommy Langaker (watch here)
Canuto tried to pressure Langaker's guard early; it was a mistake, as Langaker landed a triangle in just 2:14.
Quarterfinal: Jackson Nagai vs Isaque Bahiense (watch here)
Nagai dropped for an armbar right from the start, but it gave Bahiense an opportunity to pass the guard when he escaped. Nagai broke free, and narrowed the margin with a takedown. The final minute of the match escalated into a chippy exchange of hard snaps, but neither man was interested in taking any further risk, and Bahiense's one-point lead carried him into the semis.
Quarterfinal: Tainan Dalpra vs Ronaldo Junior (watch here)
Dalpra accelerated early, throwing Ronaldo to the mat for a quick two points. Ronaldo returned to his feet, and Dalpra pulled guard. Dalpra then wrestled up for a clean sweep.
Ronaldo initiated 50-50, and used it to sweep, perhaps a mistake given Dalpra's lead. Dalpra swept back and broke free.
Ronaldo established a spider guard, but Dalpra kept his pressure forward, threatening with considerable passing attempts. Tainan continued to tally points, and escaped a late submission attempt from Ronaldo to attack with his own. Dalpra finished the match 8-4.
Quarterfinal: Jonnatas Gracie vs Leo Lara (watch here)
A show of experience, Jonnatas Gracie passed early, and drove his weight, wearing Lara down. Lara got back on top, but couldn't overcome the one point and five advantage lead Gracie had amassed.
Semifinal: Tainan Dalpra vs Tommy Langaker (watch here)
A rare moment for Tainan Dalpra, he found himself down on the scoreboard early in the match as Langaker nearly took Dalpra's back and earned an advantage for it. Dalpra turned the tables, slowly pressuring until he took Langaker's back, where he settled in and achieved the choke with 3:06 remaining in the match.
Semifinal: Johnatas Gracie vs Isaque Bahiense (watch here)
Bahiense won a unanimous decision victory, and will fight in his second Worlds final. He'll take on Tainan Dalpra.
Medium Heavyweight
Quarterfinal: Gustavo Batista vs Ruan Oliveira (watch here)
Textbook Batista: heavy grinding passing, exhausting his opponent for the early phase of the match and collecting a submission with 2:04 left on the clock.
Quarterfinal: Lucas Hulk Barbosa vs Fabio Alano (watch here)
Hulk seemed to be warming up in this match, beginning slowly and ramping up the pace. He wasn't able to score, but a few advantages for close attacks were enough to give him the edge.
Quarterfinal: Leandro Lo vs Otavio Sousa (watch here)
A gritty battle between two grizzled veterans came down to a score in the last 30 seconds, when Leandro turned on the gas and took Sousa to the mat, scoring an advantage to break the 0-0 deadlock.
Quarterfinal: Murilo Santana vs Andre Porfirio (watch here)
Porfirio's triangle threat in the final 90 seconds of the match gave him the advantage he needed to break the 0-0 tie.
Semifinal: Leandro Lo vs Gustavo Batista (watch here)
This match came down to the last 10 seconds. Lo was up by two, but was called for fleeing the mat on Batista's try to tie the match. That left the match to referee decision, which went to Batista.
Semifinal: Lucas Barbosa vs Andre Porfirio (watch here)
Six minutes into the match, Barbosa dove for a berimbolo from the top, securing control of Porfirio's back and finishing the choke. He's likely to close out with his teammate, Batista, for the second time since 2018.
Heavyweight
Quarterfinal: Gabriel Henrique vs Matheus Godoy (watch here)
A pass from Gabriel Henrique was the only score that mattered. Godoy scored a sweep in the closing seconds, but couldnt overcome Henrique's three points.
Quarterfinal: Dimitrius Souza vs Felipe Pinheiro (watch here)
An important victory for Alliance, Dimitrius Souza is into the semifinals after a submission win over Pinheiro.
Quarterfinal: Helton Junior vs Kaynan Duarte (watch here)
Duarte got on the board first, pulling guard then finding an easy sweep. A heavy, grinding legdrag put him past Junior's guard. Remaining patient, Kaynan waited for the opportunity to attack Pereira's back; he found a collar choke for his fourth submission victory of the weekend.
Quarterfinal: Rider Zuchi vs Luan Azevedo (watch here)
The entirety of this match was spent inside of Azevedo's closed guard. The referees awarded the decision to Azevedo.
Semifinal: Gabriel Henrique vs Kaynan Duarte (watch here)
Henrique managed an early sweep, and nearly secured mount within the first minute of the match. Duarte swept back, and worked his slow, grueling pressure. With eight minutes of forward movement, Duarte gained an advantage for a near pass, and swayed the judges to call the match in his favor.
Semifinal: Luan Azevedo vs Dimitrius Souza (watch here)
A scoreless match came down to referee decision, a unanimous victory for Luan Azevedo, who will make his first Worlds finals appearance. He'll face Kaynan Duarte in the final.
Super Heavyweight
Quarterfinal: Erich Munis vs Joshua Guerra (watch here)
Munis secured a quick sweep, then put the pressure down to pass to north south, establishing a five point advantage within the first three minutes. With his lead in hand, Munis hopped over Guerra's guard and directly onto a triangle, which he finished with 5:18 elapsed in the match.
Quarterfinal: Felipe Pena vs Harryson Perriera (watch here)
Perreira opened with a passing blitz, and nearly got by Pena's guard before giving up vital grips and a sweep.
Pena finaly settled past Perreira's guard, and pressured Perreira. Pena eventually secured a cross collar choke, with which he put Perreira to sleep.
Quarterfinal: Fellipe Andrew vs Marcelo Gomide (watch here)
Gomide had several legitimate attacks early in the match, but could not overcome Andrew's ecperience. When Andrew began scoring, he picked up momentum; he scored 11 points before submitting his opponent with less than a minute on the clock.
Quarterfinal: Devhonte Johnson vs Fellipe Trovo (watch here)
Devhonte Johnson earned a three point lead, and carried it through the match to defeat Trovo to earn a spot in the semifinal.
Semifinal: Felipe Pena vs Erich Munis (watch here)
Munis seems to have demonstrated significant growth since his last run-in with Pena at BJJ Stars in February. He established a two advantage lead, which he carried into the final 60 seconds of the match. Pena laid on the pressure, in the closing minute. Pena got desperate, conceding another two points and pushing Munis into the Worlds final.
Semifinal: Fellipe Andrew vs Devhonte Johnson (watch here)
Fellipe Andrew got ahead on a sweep, and rode the lead through most of the match. But Johnson swept back with two minutes on the clock, taking the lead due to a penalty against Andrew.
In the final minute, Andrew swept back, regaining the lead and fending off Johnson's last ditch effort.
He'll face Erich Munis in the final.
Ultra Heavyweight
Quarterfinal: Luiz Panza vs Max Gimenis (watch here)
Gimenis built and rode an advantage lead early in the match. Panza scored to overturn it, but gave it away by receiving a penalty in the final minute for fleeing the mat.
Quarterfinal: Nicholas Meregali vs Roberto "Cyborg" Abreu (watch here)
A mirror image of their last match, Meregali swept Cyborg directly into a loop choke, and finished him early in the match.
Quarterfinal: Victor Hugo vs Wallace Costa (watch here)
A triangle submission put Victor Hugo into the semifinals.
Quarterfinal: Antonio Zuazo vs Igor Schneider (watch here)
Another big victory for Dream Art, Schneider is in the ultra heavyweight semifinals after getting onto Zuazo's back early in the match. He continued to rack up points in a one-sided smashing; finishing the match with a 30-0 victory.
Semifinal: Igor Schneider vs Max Gimenis (watch here)
It was a one-sided affair for Max Ginemis, who earned six points and five advantages to get his first opportunity at a World Championship final.
Semifinal: Nicholas Meregali vs Victor Hugo (watch here)
This was the most action-packed match of the day, a back and forth flurry of offense in which Meregali put his veteranship and tenacity on display. Victor Hugo did not go down easy. Drop what you're doing and go watch this match.
---
Quick Facts ahead of the finals
Three American males have made it to the finals so far, already the most since 2016.
Two American females will be in the finals later today.
There are 16 Brazilian men currently in the finals, as well as 14 Brazilian women.
The light featherweight division guarantees a first time champion.
Tainan Dalpra will be the first black belt to represent Art Of Jiu Jitsu in a Worlds final.
The super heavyweight winner will be a first-time World Champ.
Dream Art has cleared five athletes into the black belt finals in its first year as a team. Dream Art athletes are contending for seven medals.
---
Women's World Championship finals
Pessanha was first to pull guard, and initiated 50-50, where she and Soares exchanged grips. Soares found an angle toward Pessanha's back, but Pessanha escaped and nearly secured her own dominant position.
In the closing minutes, Pessanha received an inactivity penalty while on top inside Soares' guard, and she opened up, leaving space for Soares to try to sit up, but to no avail.
With a win over Yara Soares, Gabi Pessanha is a world champion.
Bastos was the first to come up after a series of stalemate double guard pulls. Bastos used her top position to invert to a crab ride, diving toward Dantas' back and climbing her grips. Bastos soon found the angle to set a twister hook, further elevating Dantas' hips, and eventually securing back control. After earning her points, Bastos poured on the attack, earning a choke victory with 6:06 elapsed.
Mayssa Bastos is a two-time World Champion, and adds nine points to bolster GF team's thin lead over Dream Art.
Ana Rodrigues pulled guard successfully, and locked closed guard around Musumeci. The full guard disintegrated into 50-50, and Rodrigues used it to sweep; but Musumeci scored back.
Rodrigues returned to the top with short time, and freed herself from 50-50, putting Musumeci in a position of desperation.
Rodrigues is now a World Champion, the first to represent Dream Art.
It's unusual for a featherweight match to have much wrestling, but match began with five minutes of standing. McComb shot for a single toward the edge of the mat; and finished on top as Basilio tried to counter with a tomoe nage.
Basilio wrestled back to her feet, but could not finish the sweep, and pulled guard instead.
The match returned to standing, until, in a moment of desperation, Basilio tried a flying armbar. It was unsuccessful, and McComb rode out the time to win her first World Championship.
This match was the slow, tactical battle you'd imagine from these two women, who have fought dozens of times thought their careers.
Mesquita was the first to take top position, and rode out her lead through the match. Mesquita took a huge risk in diving for a toe hold, but came back on top before Monteiro could score.
Mesquita earned her tenth world championship, the most of any woman ever.
Cintra dove on a tight footlock at the start of the match, but Ferreira attacked back with her dangerous toe hold, forcing Cintra to abandon the submission and take top position.
Ferreira scored a sweep, but Cintra swept back. Ferreira left the mat in Cintra's attempt conceding two points; and Cintra gained an edge on the scoreboard.
With short time on the clock, Cintra rode out her lead, securing her second world title.
Ana Carolina Vieira has proven she has the answer to Elisabeth Clay's game. She shut down any sign of offense from Clay for ten minutes, and pressured Clay throughout. The match was 0-0, but the winner was obvious.
Ana Carolina Vieira is now a four-time world champ.
Cueto built a lead early with two advantages, the picked up the pace, scoring a sweep, a pass, and a sharp submission, winning her first ever World title after recently switching to Alliance.
---
Men's Finals
Malfacine scored two advantages, coming to the top from a double guard pull and nearly passing. But Musumeci tangled his legs in a berimbolo position, and scored two points for momentarily achieving top position.
With six minutes left on the clock, Musumeci completed the back take, earning four points with strong finishing grips.
Malfacine freed himself from Mikey's control, but was down six points, and couldn't become mobile enough to beat his division rival.
Mikey Musumeci became a four time World Champion, pushing his record as the most successful American male in history.
Pato could not be stopped from achieving a fourth major title this year. He scored an early two points with a near berimbolo, then amplified the pressure, passing, securing mount and taking a katagatame with 6:06 remaining in the match.
It took only 1:05 for Fabricio Andre to snatch a triangle and get the tap over the former World Champ. Fabricio Andrey is a World Champion in his black belt rookie year.
Bahiense opened with a firey pace, but Dalpra secured his grips to slow Bahiense down, and put the first points on the board for a sweep from 50-50.
With the lead he'd built, Dalpra had a strategic edge over Bahiense, and he built on it as Bahiense got desperate in the closing seconds.
Tainan Dalpra became AOJ's first black belt World Champion.
In the opening 15 seconds, a guard pull, and a sweep directly to mount for Kaynan Duarte. Duarte took Azevedo's back, and though he never secured the points, he finished the match in just 2:21.
After being stripped of his title in 2019, Kaynan Duarte is officially a World Champion.
An early and aggressive show of passing pace and submission attempts put Erich Munis ahead on advantages. Andrew kept the points even, 4-4, but Munis sustained a lead which forced Andrew into desperation.
Too little too late for Fellipe Andrew, and Munis stayed ahead on the scoreboard, earning his first black belt World title, and the second ever Worlds gold for Dream Art.
Nicholas Meregali has been disqualified from the ultra heavyweight final. Victor Hugo will face Max Gimenis.
Hugo was positionally dominant from the onset, driving from the guard. He inverted to take a kneebar and finished with a toe hold, winning his first World title.
The absolute final has been cancelled. Meregali was disqualified for unsportsmanlike behavior. Pena wins the absolute title by default. Kaynan Duarte and Fellipe Andrew will still take third. No silver medal will be awarded.