Tezos Who's Number One: Craig Jones vs Pedro Marinho
Live Updates & Results | Tezos WNO: Craig Jones vs Pedro Marinho
Live Updates & Results | Tezos WNO: Craig Jones vs Pedro Marinho
Keep this page refreshed real time updates, results, stats and analysis from WNO: Craig Jones vs Pedro Marinho on FloGrappling on Friday, January 21.
Jan 22, 2022
by Corey Stockton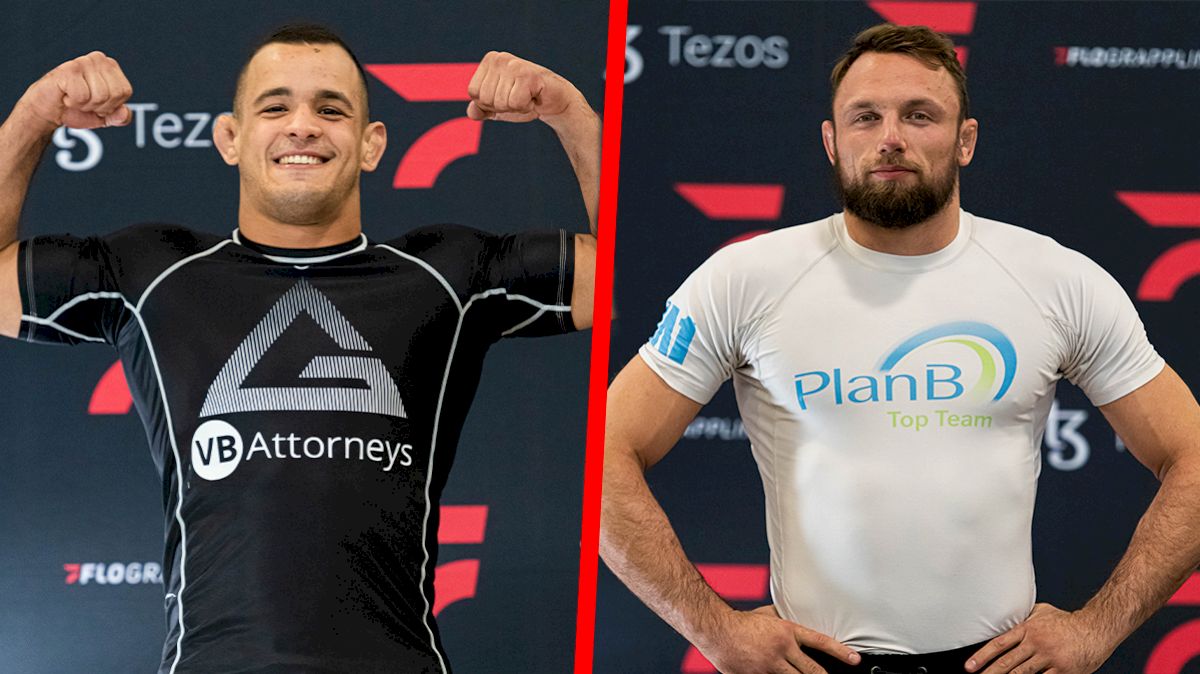 Two more WNO champions will be crowned tonight at Tezos WNO: Criag Jones vs Pedro Marinho. In the main event, Craig Jones (4-1) will try for his fourth submission victory on WNO as he fights to become WNO's first light heavyweight champion. He'll face Pedro Marinho, an IBJJF No-Gi World Champion making his WNO debut in the title shot.
In the co-main event, Levi Jones-Leary (1-0) will try to knock off the WNO Middleweight Champion, Tye Ruotolo (6-1), as they scrap for the vacant welterweight title.
Also on the card, Mikey Musumeci (4-1) will defend his bantamweight title against Estevan Martinez (0-1), and several undercard athletes will try to earn their ascension in the rankings.
Tune into this article throughout the event for real time updates, results, statistics and analysis.
---
The former Penn State wrestler, Geno Morelli, put his positional control on display against Anderson. Anderson pulled guard early after feeling Morelli's heavy hands, and attacked a leg lock.
Morelli used Anderson's aggression to begin pressure passing. He wore down Anderson with his positional awareness, enough to propel him to his first WNO victory.
Geno Morelli def Kemoy Anderson via unaimous decision
---
Michael Pixley was dominant when he got atop Cameron Reed, and he used his pace to get there almost instantly. Pixley rushed in and passed Reed's guard several times, starting quickly and then becoming more conservative throughout the match.
He tried several head and arm chokes, but lost his position as soon as he proceeded to set his attacks up.
Reed's best moment of the match: a gogoplata attempt against Pixley's bodylock pass attempt.
Michael Pixley def Cameron Reed via unanimous decision
---
Alexa Yanes went straight to attack on Crane's legs, toggling between toe holds for most of the first half of the match. As Crane pressured, Yanes got to her most secure attacking position, 50-50, but Crane used that as an opportunity to swing the leg battle in her own favor.
Crane attempted two significant heel hooks, applying immense torque to Yanes' legs. The second one earned the finish.
Jessica Crane def Alexa Yanes via inside heel hook (7:48)


---
WNO Bantamweight Title match
Mikey Musumeci kept a consistent cadence of attacks against Estevan Martinez in his first title defense. Musumeci flowed between the arm saddle, the k-guard and back attacks, hunting for armbars, "Mikey locks" and dominant control.
Martinez staved off each of Musumeci's deep threats, but couldn't mount any offense of his own.
It's rare to see Estevan Martinez tired, but Musumeci seemed to wear him to exhaustion.
Mikey Musumeci def Estevan Martinez via unanimous decision, retains WNO bantamweight title
---
Jacob Couch was aggressive from closed guard for most of the match, attacking the upper body but not finding an angle to get his offense going.
Garmo got free of the closed guard, starting his offense but also giving Couch the room he needed to open his leg attacks. A false reap kani basami to an inside heel hook for the submission victory.
Jacob Couch def David Garmo via inside heel hook (7:52)
---
A back and forth exchange of vicious-looking leg lock attempts, Brianna Ste-Marie vs Tubby Alequin was packed with action from the jump.
Ste-Marie's toe holds seemed more significant, and that may have earned her the favor of the judges in the split decision victory. Ste-Marie called for a title shot against Ffion Davies after her victory.
Brianna Ste-Marie def Amanda Alequin via split decision
---
Heavy collar ties and strong hand-fighting colored the first five minutes of this match. But as both of these explosive wrestlers got loose, Nick Rodriguez started to take the lead, though several of his takedown attempts culminated off the mat.
Cruz became more and more aggressive with his collar ties, which leg to some of his best angles of the match.
The final three minutes escalated to a shootout of spearing shots, bloodying the mouth of Rodriguez and running both Rodriguez and Cruz to exhaustion.
Elder Cruz def Nick Rodriguez via split decision
---
WNO Welterweight Title match
This welterweight title bout was a whirlwind of attack from start to finish. Ruotolo flowed through variations of his leg pin passing, and countering Jones-Leary's leg attacks with berimbolo entries. Jones-Leary continued to engage and bringing forward the berimbolo battle that Ruotolo promised.
As the scramble ensued, Ruotolo found a heel hook, and went quick on attack, securing the submission, and his second WNO belt.
Tye Ruotolo def Levi Jones-Leary via heel hook (5:41), becomes WNO Welterweight Champion
---
WNO Light Heavyweight Title match
Jones and Marinho traded aggressive hand fighting for ten minutes to no avail before Jones finally sat to guard.
As he sat, Marinho pushed the pace and achieved a pass, but Jones soon recomposed.
They returned to wrestling through the end of the match, and Marinho continued to maintain the edge for a unanimous decision victory.
Pedro Marinho def Craig Jones via unanimous decision, becomes WNO Light Heavyweight Champion