Tezos WNO: Who's Next Finale
Full Card Released For The Tezos WNO: Who's Next Finale
Full Card Released For The Tezos WNO: Who's Next Finale
Kyle Chambers vs Izaak Michell & Gordon Ryan vs Pedro Marinho headline the WNO: WNX Finale card, which includes 6 undercard matches featuring the WNX cast!
Jun 27, 2022
by Corey Stockton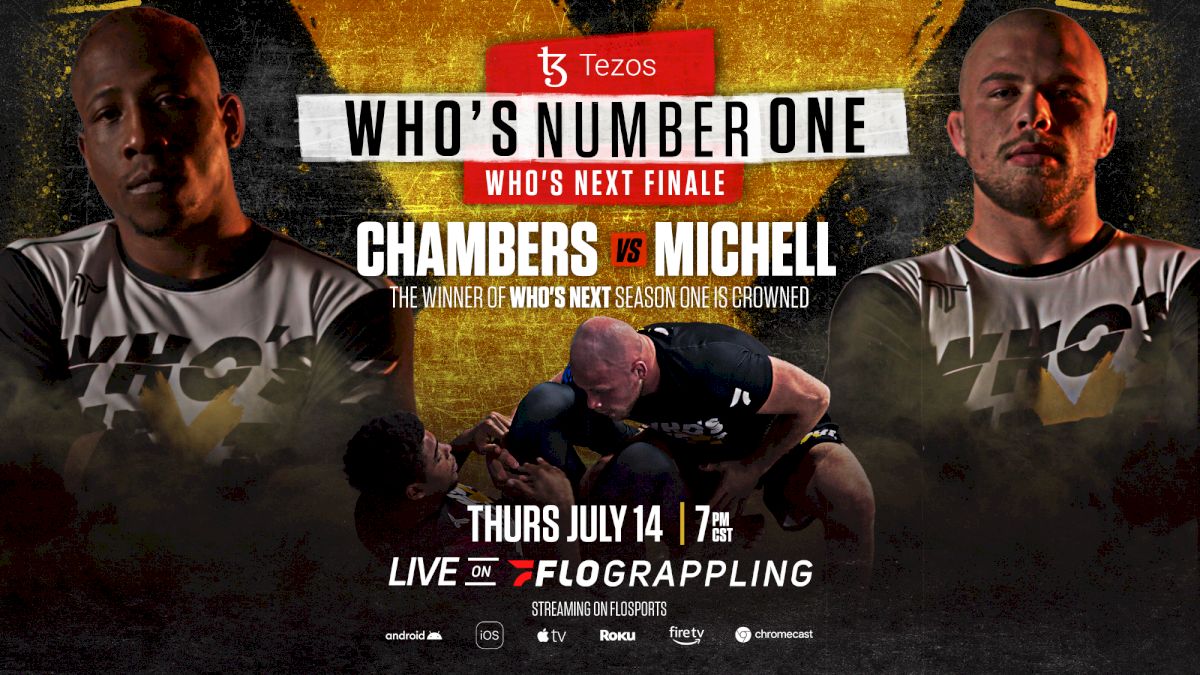 The season one final for Who's Next: Submission Fighter Challenge presented by Tezos has been decided, and on Thursday, July 14, the two finalists will square off in the main event of Tezos WNO: Who's Next Finale presented by Fat Tire.
Plus, in the co-main event, Gordon Ryan will take on the WNO Light Heavyweight Champion, Pedro Marinho in a 30-minute match, part of his summer double-header which was announced earlier this month.
---
Kyle Chambers and Izaak Michell climbed to the top of the Who's Next reality show tournament for the red team and blue team, respectively. Chambers caught a string of three leg locks, showing off his impressive guard and gutting out a lengthy match against Andrew Tackett to win his final match. He's been sidelined of late due to a hand injury, but will try to capitalize on his opportunity to win $10,000, a WNO contract, and the title of WNX Season 1 Champion in his WNO debut.
He'll face the red hot Izaak Michell, who's coming off of a nearly flawless run at the ADCC Oceania & Asia Trials, where he submitted three of four to punch his ticket to ADCC. Michell has clearly been developing his wrestling, to add to his arsenal of vicious leg locks and excellent top control. Michell collected two leg locks and a rear naked choke on the show to earn his spot against Chambers. There's so much at stake for the winner of this no time limit, submission-only bout. It's the chance of a lifetime; and the matchup should deliver a battle fitting of the opportunity.
Behind on the Who's Next series? Watch every episode here!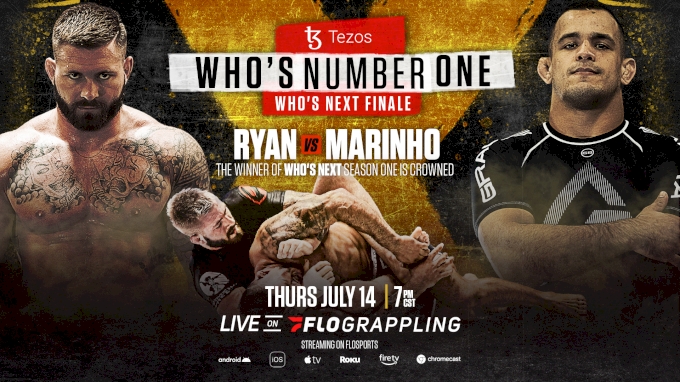 Pedro Marinho was a fresh brown belt last time he took the mats against Gordon Ryan. That match, in the opening round of the 2019 ADCC absolute division, went decisively Ryan's way; Ryan won by heel hook. But Marinho has arrived since their last encounter. Marinho took double gold at No-Gi Worlds in 2021, defeating a who's who of opponents. He then went on to beat Craig Jones for the WNO light heavyweight strap.
The reigning 205 lb WNO champion will look to rely on his wrestling, headlocks and passing to pressure Ryan, who hasn't been beaten in nearly 50 matches. If recency tells us anything about the king's approach, Gordon Ryan will try to draw out the match, looking to experiment with positions before setting up a predetermined finish.
Andrew Tackett and Rene Sousa had some of the most viewer-friendly jiu-jitsu of anyone on the WNX reality show. Tackett, the only WNO veteran on the WNX roster, relied on his nonstop pace to defeat Fabian Ramirez, then outpaced the giant Dan Manasoiu before falling in a battle against Kyle Chambers.
Rene Sousa became known as a buggy choke specialist, defeating Jacob Rodriguez with the strangle in the opening round, and trying his best to fit it in against Jansen Gomes. Sousa has gone on to demonstrate a phenomenal use of the submission at ADCC Trials and elsewhere, and has also flourished with lower body submissions.
Don't blink during this one. It's shaped to be full of scrambles, traps, and unorthodox grappling.
Nicholas Meregali stepped in as a late replacement for injured teammate Luke Griffith to take on the Legion AJJ athlete who lost in the opening round of Who's Next to Big Dan Manasoiu.
Jay Rod was originally scheduled to take on the West Coast Trials 77 kg runner up, but he's now faced with the East Coast Trials 88 kg champ. That pits ADCC Trials winner vs ADCC Trials winner, and B-Team athlete vs New Wave athlete. Both of these men have outstanding wrestling and phenomenal wrestling. Jay Rod has shown some deficiencies in his leg lock defense, something Bodoni may look to exploit. But if Jay Rod's buggy choke history is any indication, he'll soon become an expert at not only defending, but also attacking, his opponents' legs.
Bodoni is a black belt No-Gi Pans champion, and recently secured a decision victory over Jay Rod at Subversiv. But Rodriguez has an opportunity in the WNX finale to follow in his brother's footsteps, and once again affirm himself as a "black belt slayer."
---
Free Prelims:
A rematch of one of the wildest matches from the opening round of WNX
The two lower belt upset machines from Who's Next are set for a scrap. New Wave's Manasoiu used his leg lock abilities to take down Breylor Grout in the opening round of Who's Next before falling to Andrew Tackett. The 270 lb guard player had immediate success after the show, taking second at the 2nd ADCC North America Trials then winning the 2nd Europe Trials. He's deceivingly versatile in his guard for a big man, and that makes him dangerous against any opponent.
Tristan Overvig impressed in his sole match on WNX, enduring a three-hour battle with Adam Bradley and putting on a flurry of attacks before ultimately losing via arm lock. If the Pedigo Submission Fighting athlete can keep the same composure against Manasoiu, we're in for another battle of attrition.
Two rising talents in the EBI-rules format