2022 ADCC World Championships
Standouts, Shutdowns, Submissions, & More: the Best Matches from ADCC Day 1
Standouts, Shutdowns, Submissions, & More: the Best Matches from ADCC Day 1
The first day of the ADCC 2022 World Championships is officially in the books. Here's a recap of some of the most iconic matches of Day 1.
Sep 18, 2022
by Erica Zendell
The first day of the ADCC 2022 World Championships is officially in the books. Here's a recap of some of the most iconic matches of Day 1, featuring highlight-reel submissions, "wars for score," and nail-biting decisions.
Highlight-Reel Submissions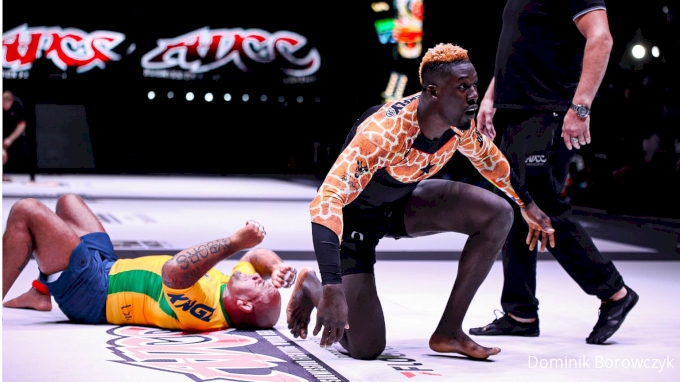 Haisam Rida vs Cyborg Abreu (99+ kg): Armbar
Off of a fast opening scramble from Cyborg's takedown attempt, Haisam finds an armbar and shocks the division, knocking out the decorated 41-year-old ADCC vet in just over one minute.
Nicholas Meregali vs Henrique Ceconi (-99kg): Kimura
After a clinical slam from Ceconi, Meregali recovers his offense and finds a winning kimura lock in transition.
Craig Jones vs Joao Costa (-99kg): Choi Bar
Jones made fast work of Costa with a choibar within the first eighteen seconds.
Mason Fowler v Alexandre de Jesus (-88kg): Guillotine
Fowler lands a takedown for points and capitalizes on de Jesus' attempt to return the takedown. Fowler uses de Jesus' forward motion to finish him with a guillotine.
Eoghan O'Flanagan vs Mason Fowler (-88kg): Heel hook
After upsetting the legendary Xande Ribeiro to reach the quarterfinals, O'Flanagan shuts down Mason Fowler with a rolling heel hook.
Giancarlo Bodoni vs Matheus Diniz (-88kg): Triangle Armbar
After an aggressive back-and-forth from the feet and assertive passing attempts on the ground, Bodoni takes out the reigning champion of the division with a winning triangle armbar and 50 seconds remaining on the clock.
Mateusz Szczecinski vs William Tackett (-77kg): Foot Lock
One of the biggest upsets of the division, Szczecinski goes from unassuming division alternate to one to watch. He lands a debilitating heel hook on Tackett in the opening minutes of the match.
Mica Galvao vs Renato Canuto (-77kg): Armbar
Galvao starts the action off hot with an early trip to back take attempt. Canuto shrugs Galvao off his back, and, from the ground, Galvao enters shin-on-shin to single leg X to initiate a heel hook attempt. The submission that wins him the match, however, is an armbar in transition at the second minute of the match.
Kade Ruotolo vs Roberto Jimenez (-77kg): Foot lock
In a dynamic, scrambling ~2 minutes of action, Ruotolo secures Jimenez's leg for a brutal foot lock finish.
Kade Ruotolo vs Lachlan Giles (-77kg): Armbar
After shutting down a slew of leg attacks and working his way through Giles' guard, Ruotolo nails a transition to a slick armbar against the 2019 Absolute Bronze Medalist
Kendall Reusing vs Giovanna Jara (+60kg): Rear Naked Choke
Jara comes out hot with takedowns that land the usually-dominant-from-the-feet Reusing on the mat, leaving Reusing defending from turtle until Jara transitions to closed guard.
After spending most of the first portion of the match defending the back, Reusing stands to break Jara's guard and racks up the scoreboard, passing and mounting Jara for a 6-0 in the final few minutes.
Wars for the Score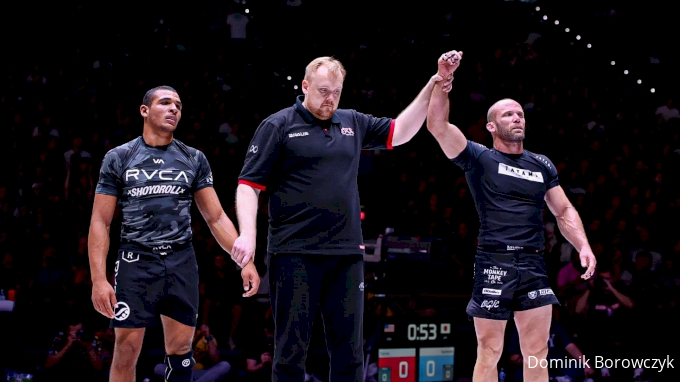 Josh Hinger v Tye Ruotolo (-88kg): (3-2)
Taking Hinger to the mat via kimura trap attempt off the feet, Ruotolo dictates the pace and starts out with heavy offense in passing and chasing the back. An Atos teammate shootout, Hinger edges out Ruotolo by points (3-2) after transitions to the back and defense of a last-second d'arce.
Renato Canuto vs Nicky Ryan (-77kg) (5-0)
In a wrestling scrap that has the two athletes going toe-for-toe in the first ten minutes, Canuto scores a takedown and back take in overtime to outscore Ryan 5-0.
Gabriel Sousa vs Ruan Alvarenga (-66kg) (5-0)
In a killer matchup that could have gone in either fighter's direction, Sousa scores a takedown and back control in the final minutes to defeat Alvarenga.
Sam McNally vs Garry Tonon (-66kg): (3-0)
Finding the back to score after a back-and-forth match, McNally lands one of ADCC's biggest upsets against the decorated Garry Tonon. Starting off the match with an attempted snap down guillotine, Tonon defends the choke and pressures McNally's guard off the pull. From the feet, Tonon lands a trip and chases the front headlock at the 3:45 mark, coming close to taking McNally's back. McNally regains guard and uses an attack Tonon's legs to scrambleand take the back to score. Tonon tries to finish McNally with a heel hook in the last thirty seconds, but McNally defends and beats Tonon by score.
Brianna Ste-Marie vs Elvira Karppinen (-60kg): (3-0)
Ste-Marie answers Karppinen's sit to guard with immediate dominance from top position. Midway through the match, Ste-Marie throws on an armbar attempt that has Karppinen's arm look nauseatingly close to breaking (and inspiring a collective gasp from the crowd). Hunting submissions until the very end against the flexible 10th Planet Black Belt and ADCC veteran, Ste-Marie wins on points 3-0.
Amy Campo vs Elisabeth Clay (+60kg): (6-0)
Clay asserts herself with vicious leg attacks, with Campo spending the first portion of the match extricating her legs from Clay's control. Campo eventually finds her offensive rhythm, piecing together her top transitions and putting passing pressure on Clay's guard.
Campo consolidates a guard pass to mount, but in hunting the armbar, almost gets leglocked again by Clay. Campo snatches victory from the jaws of defeat in defending Clay's last-minute bite on her foot.
Nail-Biting Decisions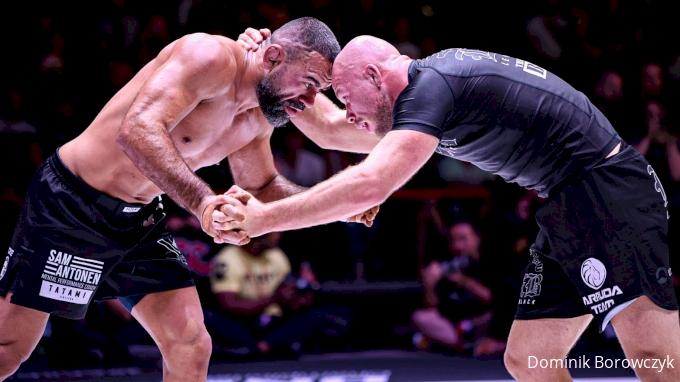 Vagner Rocha vs Pedro Marinho (-88kg)
After numerous instances of driving each other off-the-mat, hunting for takedowns, Rocha came on top with a second decision win after a fifteen-minute scrap with Pedro Marinho.
Vagner Rocha vs Izaak Michell (-88kg)
Grinding out the full fifteen minutes with takedown attempts and dynamic defenses, Rocha edges out a decision win after continuous collar ties, scrambles, and breathless back-and-forth charges at the back.
Yuri Simoes vs Luke Griffth (-99kg)
A battle from the vet and the New Wave wunderkind from South Africa, Simoes goes the distance for fifteen minutes against Griffin and comes away with a hard-fought win by decision.