ADCC
New Blood: 12 ADCC First Timers Took The Podium In 2022
New Blood: 12 ADCC First Timers Took The Podium In 2022
Half of all ADCC medals in 2022 went to newcomers to the event, another sign that the next generation of grapplers has arrived.
Oct 5, 2022
by Liam Stein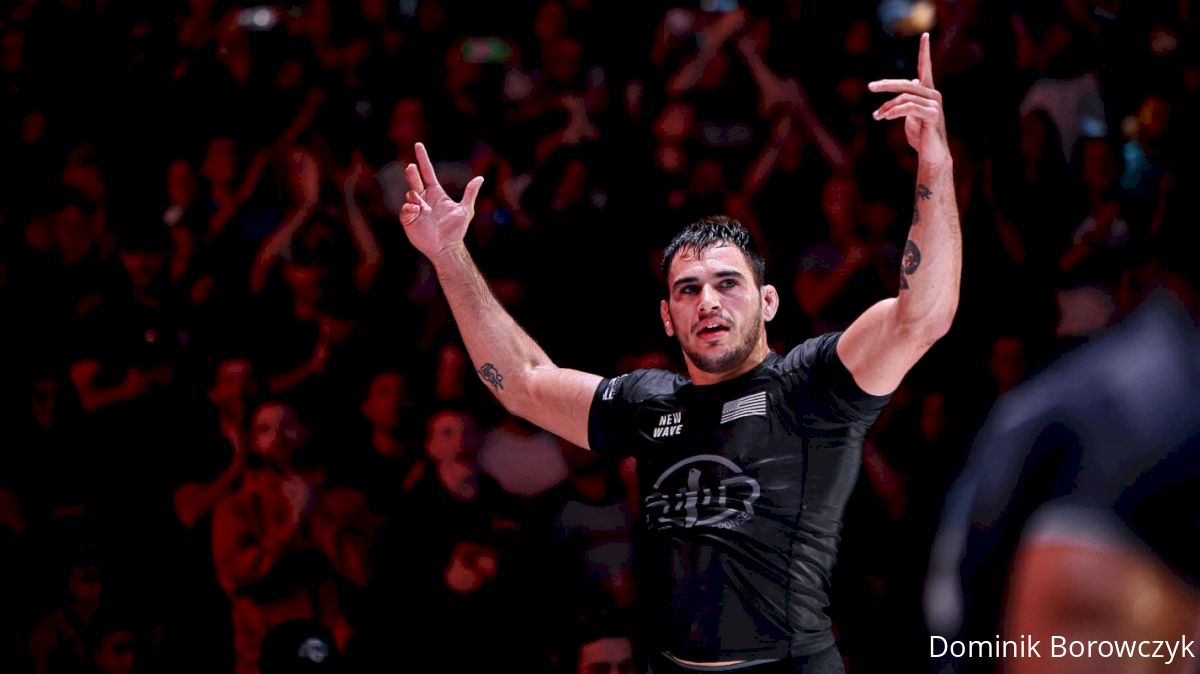 Fourty-eight of the 96 competitors invited to ADCC this year had never previously competed on the biggest stage in submission wrestling. Those ADCC rookies came in numbers, and took the lionshare of the reward. Of the 24 available medals available across the eight divisions, half went to ADCC debutants, while two more went to ADCC veterans who had not previously won a medal.
66kg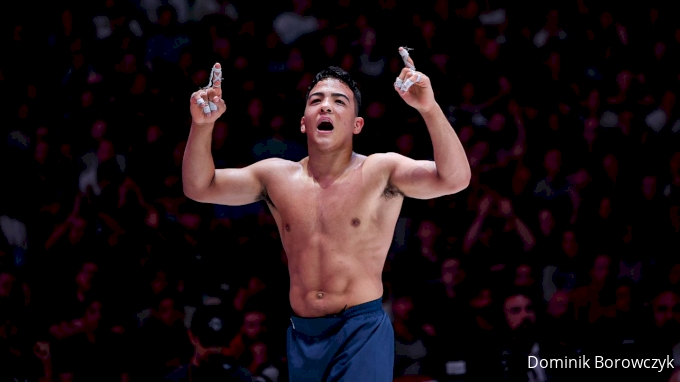 All three of the featherweights who reached the podium did so amid their first chance at ADCC. Additionally, all three medalists represented Brazil, adding to the nation's hefty collection of 66kg divison ADCC medals.
Champion Diogo Reis defeated Ashley Williams, teammate Fabricio Andrey, Josh Cisneros, and Gabriel Sousa to earn his title as ADCC Champion. Each of Diogo's fights went the distance, including one trip to overtime in the quarterfinals. Fighting out of Fight Sports Manaus under Melqui Galvao, Reis is an emerging star.
Finishing with a silver medal at ADCC was Gabriel Sousa of ZR Team. An avid competitor in both gi and no-gi, Sousa defeated Ruan Alvarenga 5-0, submitted Jeremy Skinner, and won a referee's decision in overtime over bronze medalist Diego "Pato" Oliveira to make the finals. ADCC organizers announced in March 2022 that Sousa would make his ADCC debut. He's maintained a top-5 ranking for more than a year.
Bronze medalist Diego "Pato" Oliveira submitted Keith Krikorian and Kennedy Maciel back to back before falling to long-time rival Sousa. In the bronze medal place bout, Pato edged out Josh Cisneros in overtime. Pato was invited to ADCC following an injury at the South American Trials. And with submission wins over two ADCC veterans, he has proven he belongs.
77kg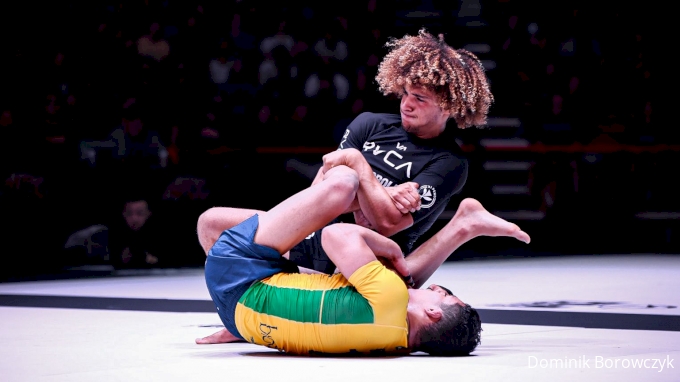 77kg also saw two ADCC newcomers become medalists. Champion Kade Ruotolo also became the youngest ADCC Champion in history in a division in which three different nations were represented on the podium.
In his history-making run, Ruotolo submitted each of his opponents, besting returning absolute medalist Lachlan Giles by armbar, Roberto Jimenez by inside heel hook, PJ Barch by armbar, and winning the gold with a heel hook victory over Mica Galvao. The teenager is on a win streak that dates to early 2021.
Opposite Ruotolo in the finals was Mica Galvao, the phenom from Manaus representing Fight Sports. En route to the finals, Galvao defeated Oliver Taza, Renato Canuto, and Dante Leon, submitting Canuto via armbar, and taking victories over Taza and Leon by points. To get to ADCC, Mica submitted his way through the first ADCC Brazilian Trials. Galvao was riding a 40+ fight undefeated streak heading into ADCC before falling in the final. Had he won, he would have set the record which ultimately went to Ruotolo.
88kg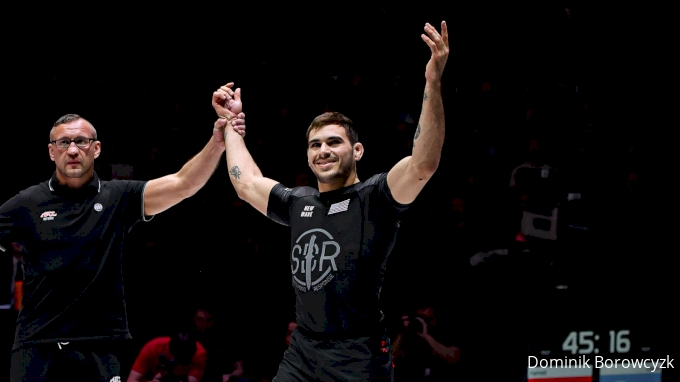 The breakout star of ADCC 2022, Giancarlo Bodoni had one of the most impressive showings of the tournament, seemingly growing stronger as the tournament progressed. After a first-round victory over Isaque Bahiense, Bodoni rattled off three straight submission victories over returning champion Matheus Diniz, Eoghan O' Flanagan, and returning medalist Lucas Barbosa. Also competing in the absolute division at ADCC, Bodoni submitted Haisam Rida in the opening round before falling to teammate Nicholas Meregali in the quarterfinals. In his gold medal run, he became the second ADCC champion coached by John Danaher
-99kg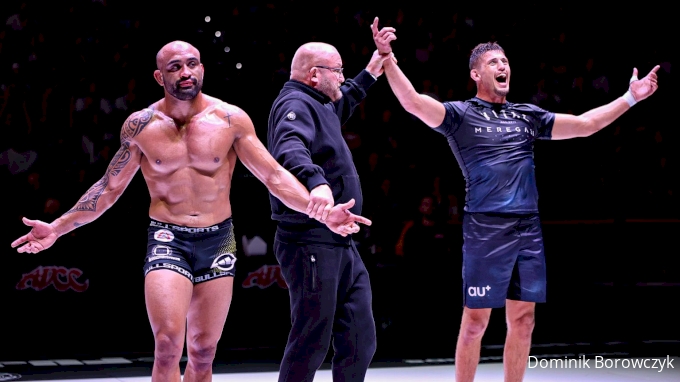 Proving his no-gi chops, Nicholas Meregali entered the ADCC World Championships with three total no-gi matches to his name and left Las Vegas with a -99kg bronze medal. After mere months of training with New Wave, the multiple time IBJJF World Champion scored a sub-five-minute submission over Henrique Ceconi in the opening round, then took out former ADCC Champion and eventual ADCC Absolute Champion Yuri Simoes in the quarterfinals before falling in a fifteen-minute decision to Craig Jones. To earn his spot on the podium, Meregali bested multiple time ADCC veteran Rafael Lovato Jr. after Lovato received a negative point for passivity in overtime.
+99kg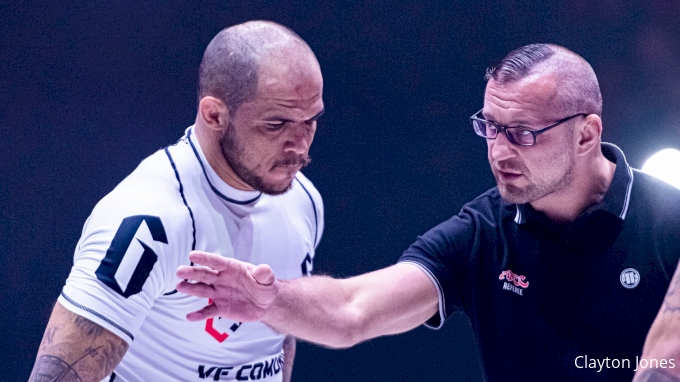 Another dark horse who stormed his way to the podium, Roosevelt Sousa impressed in his ADCC debut. Qualifying through the first ADCC Brazilian Trials, Sousa submitted each of his four opponents to gain entry to ADCC. After securing a kneebar finish against Joao Rocha, Sousa defeated Haisam Rida 2-0 to make the semifinals. Sousa fell to Gordon Ryan in the semis, then took default bronze after Pena withdrew from the bracket.
Absolute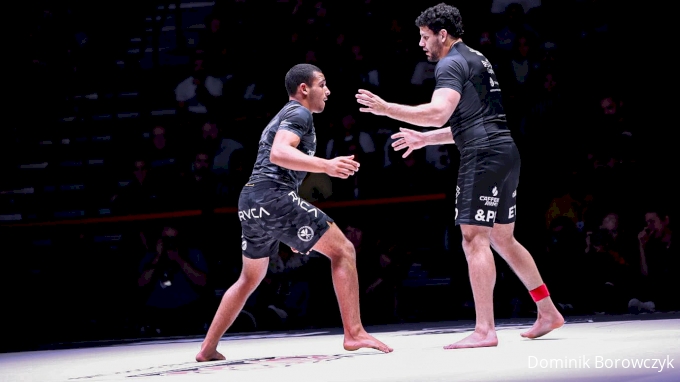 A bronze medalist in the -99kg division, Nicholas Meregali went on to further solidify his place amongst the elite no-gi grapplers of the modern day by taking home the silver medal in a 0- -2 battle against fellow -99kg competitor, Yuri Simoes. En route to the finals, Meregali defeated Vincius Trator, Giancarlo Bodoni, and Tye Ruotolo—the latter being one of the most entertaining bouts of the tournament. Meregali was the only ADCC newcomer to secure two medals at the tournament, and one of just two athletes throught the entire tournament to do so. The other was Meregali's New Wave teammate Gordon Ryan.
Tye Ruotolo fell short in the 88kg division but bounced back with his shocking run in the absolute bracket. Submitting Pedro Marinho with short time remaining in the opening round, Ruotolo went on to defeat former champion Felipe Pena 0- -1 in a thrilling back and forth fight. In the semis, Ruotolo clashed with Nicholas Meregali and fell in a razor-thin referee's decision. Due to injury, Ruotolo's bronze medal match opponent, Roberto "Cyborg" Abreu, was unable to fight and Ruotolo stood on the podium as the bronze medalist of the 2022 ADCC Absolute division. He's the youngest ever athlete to medal in the absolute division.
-60kg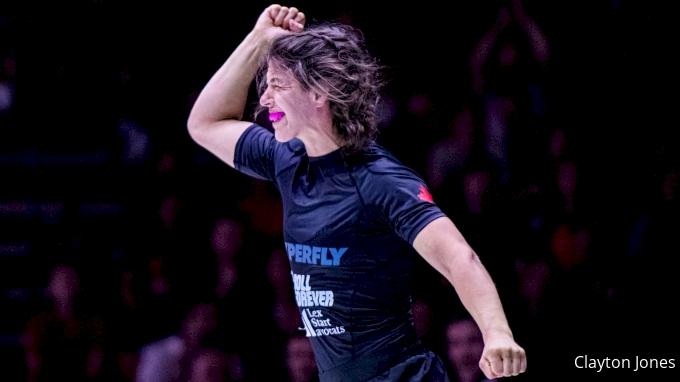 Brianna Ste-Marie ran the gauntlet to make it to the big stage; she had 11 total wins at the ADCC East Coast and West Coast Trials with six victories by submission. At ADCC, Ste-Marie had a stellar debut, defeating Elvira Karppinen and returning Champion Bia Basilio. Colliding with Ffion Davies in the finals, Ste-Marie came up short against the Welsh grappler to bring home a silver medal to Canada. She and Dante Leon became the first-ever Canadian ADCC medalists this year.
+60kg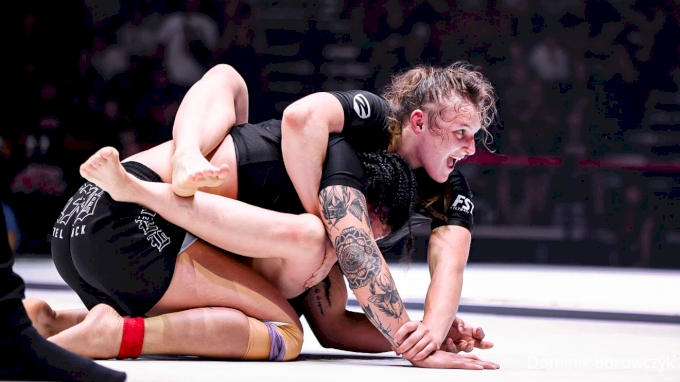 Zenith's Amy Campo was one of four first-time competitors to win a gold medal at ADCC 2022. After defeating Elisabeth Clay in the opening round, Campo overcame four-time ADCC champion Gabi Garcia. She scored late on Garcia and nearly clinched an armbar off the mat space as the clock wound to zero. To take home gold, the 22-year-old edged out Rafaela Guedes in a narrow 3-2 victory, scoring a back take in the final 30 seconds of the match.
Despite never competing in the ADCC format previously, Atos' Rafaela Geudes was a favorite entering the 60+kg division. After taking out Eleftheria Christodolou 3-0 in the opening round, Guedes won by injury default over Kendall Ruesing in the semifinals. After commanding the lead for much of the fight, Guedes conceded a backtake to Campo in the waning seconds. She collected a silver medal for her efforts.