2022 Pan IBJJF Jiu-Jitsu No-Gi Championship
By The Numbers: Female Submission Rates At No-Gi Pans
By The Numbers: Female Submission Rates At No-Gi Pans
More than 50% of women's matches ended in submission at No-Gi Pans. Lis Clay, Rosa Walsh, Sophia Cassella & Alex Nguyen were among the top finishers.
Oct 25, 2022
by Beatrice Jin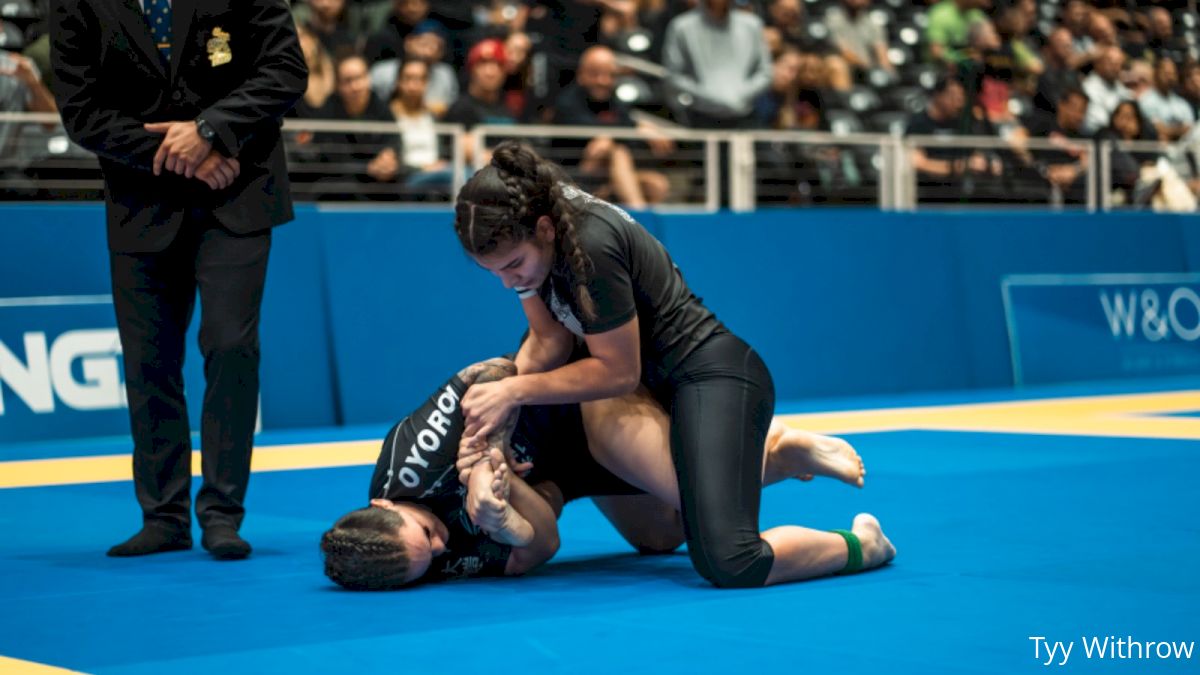 Last weekend no-gi competitors once again showed the true nature of jiu-jitsu, a hunt for the submission, the most decisive way to win a match against another grappler. The women in the arena were no exception. Out of 66 brown and black belt matches, there were 42 submissions, an almost two-thirds submission rate. Almost no division was spared at least one win by submission, and many were overpowered by champions who submitted their way through their entire brackets.
---
Overall submission rate of female competitors at IBJJF No-Gi Pans
In 2021, IBJJF began allowing heel hooks in the brown and black belt adult no-gi divisions, and it looks like competitors are taking full advantage of this new freedom. Seven out of 15 leglocks finished at Pans were heel hooks, and six were inside heel hooks.
That's not to count out other types of submissions. There was a fairly even spread of attacks to the whole body -- 10 armlocks, 15 leglocks, and 16 chokes. The most popular submission was the rear naked choke, which constituted almost a third of all the submissions.
Submissions from female competitors at IBJJF Nogi Pans
A couple athletes walked away from their divisions with a 100 percent submission rate.
In the brown belt divisions, Sophia Cassella captured a kneebar, an inside heel hook and a rear naked choke to finish off the featherweight division. She put on both leglocks in less than a minute.
Amanda Bruse hit two Aoki locks and an anaconda on her way through the light division, on top of a rear naked choke and knee bar in open class. Her matches displayed decisive wrestling and transitions in passing and guard. Of the brown belts, she hit the most submissions -- five -- on Friday.
Rosa Walsh threw out two of her signature armbars after some quick scraps. In her semifinals match, she rolled out an inside heel hook from backside 50/50.
Deise Leonanjo also finished an inside heel hook, and then won the medium-heavy finals match with her well-known closed guard armbar.
In the black belt divisions, Alex Nguyen found her way to the back of both of her opponents and applied two successful rear naked chokes.
Elisabeth Clay claimed all submissions in middle weight and open class, except for finals of the open weight, where the opponent forfeited due to injury. She made quick work in the middle semis, climbing on the back of her opponent almost immediately and securing a rear naked choke before the minute was over. She also got two more rear naked chokes and a signature gogoplata.