Tezos WNO: Ste-Marie vs Bastos by Fat Tire
From Midland, TX To Tezos WNO: Emily Fernandez Is On The Rise
From Midland, TX To Tezos WNO: Emily Fernandez Is On The Rise
WNO may be her biggest win yet, but the brightest days of Emily Fernandez are still ahead of her.
Nov 14, 2022
by Erica Zendell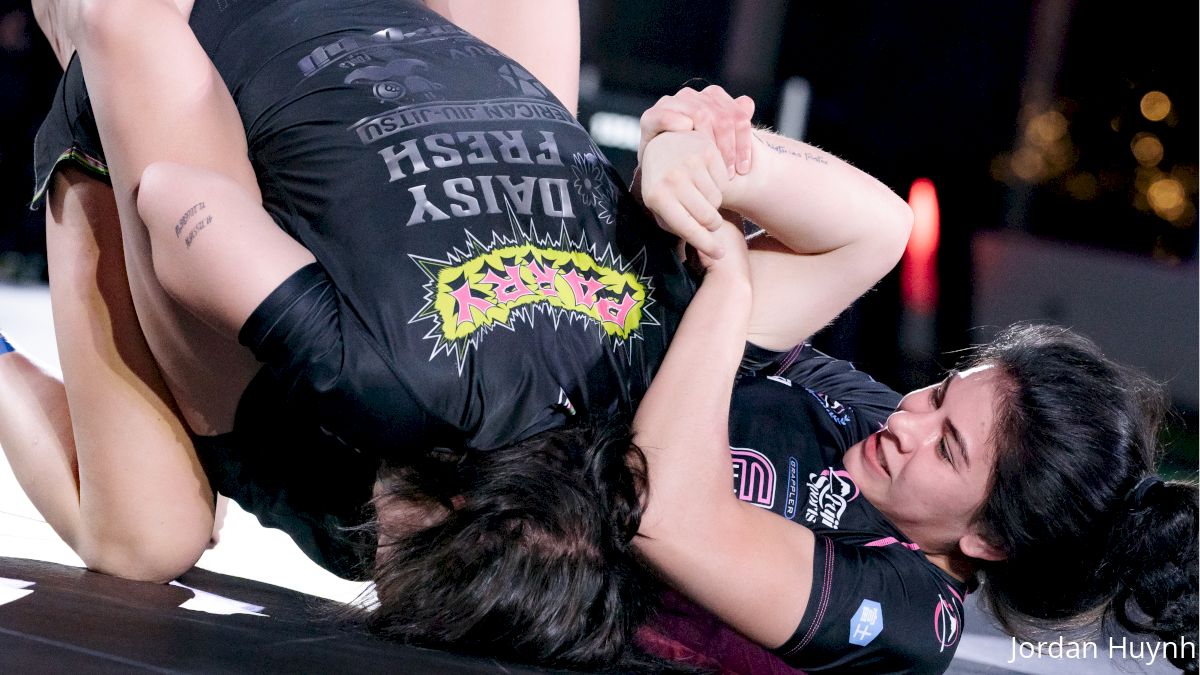 With a stellar record preceding her and a dominant debut at Tezos WNO, there's reason to believe Bruno Bastos' homegrown rookie black belt is just getting started.
A frequent competitor through the kids and juvenile age divisions, Emily Fernandez only made her debut in the adult divisions two years ago. After she topped the podium in the juvenile divisions at Worlds in 2018 and 2019, she entered her first tournaments in the adult division in 2020. Since then, Fernandez has placed, if not won, many a major tournament in the lightweight division. Winning American Nationals 2020 and No-Gi Pans 2021 as a purple belt, and making the podium at both Pans 2022 and Worlds 2022 as a brown belt (bronze and silver medals, respectively), Fernandez punctuated her colored belt career with plenty of hardware and no shortage of submission wins from her patient, precise, and devastating closed guard.
Fernandez's most recent match against Rosa Walsh at WNO was a highly-methodical textbook representation of the young competitor's old school game. Fernandez gravitates towards a body triangle closed guard to slow down opponents' offensive movement. She threatens kimura and armbar attacks to launch bona fide submissions or sweeps. When not submitting from closed guard, she uses muscle and hip bump sweep variations to off-balance her opponents into losing top position, or forcing them to rebalance themselves back into a submission. While Fernandez finishes most of her opponents from closed guard, her match against Walsh shows that Fernandez can be forceful from other positions, showcasing a strong mount and series of tight, assertive back attacks to complement her dominant, guard-based game.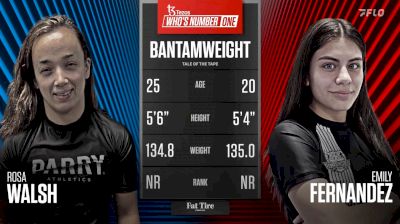 Unlock this video, live events, and more with a subscription!
Get Started
Already a subscriber? Log In
At 20 years old, Fernandez has a bright future with plenty of killer matchups ahead of her. Her WNO win over the scrappy and increasingly-established Rosa Walsh is likely Fernandez's biggest triumph since receiving her black belt from Bastos in June 2022, but her first matches in IBJJF black belt competition have already put her up against some of the toughest competitors in the game. In the last two months, Fernandez battled two-time World Champion Ana Rodrigues and stalwart contender Elisabeth Clay at No-Gi Pans, and went head to head against IBJJF Grand Prix winner Janaina Lebre at Jiu-Jitsu Con.
Given her position in the lightweight division — arguably the most stacked division in women's jiu-jitsu — and her competitive ambitions, we can expect even bigger challenges ahead for Fernandez. At the end of her Tezos WNO match, Fernandez specified her desired next match against whichever of WNO's first-ever female headliners won the main card. If Fernandez has ambitions of fighting the main card winner, Brianna Ste-Marie, whose similarly classic style could be an interesting match against Fernandez's own, No-Gi Worlds registration remains open, and could be fertile ground for Fernandez to face the Canadian sensation and a firing squad of a black belt lightweight division. The division currently includes fellow rookie black belt (but far from rookie competitor), Jasmine Rocha, Medusa 3 Champion and 2022 No-Gi Pan silver medalist, Claire North, and the 2022 IBJJF World Champ Bianca Basilio, who is looking to seize her first black belt IBJJF No-Gi Worlds title.
Fernandez's next confirmed competition is hot on the heels of Tezos WNO — and halfway around the world — at Abu Dhabi World Pro this week. Fans should keep an eye out for a potential finals face-off against Fernandez's burgeoning rival Julia Alves, whose previous matches against Fernandez in IBJJF Worlds 2021 and 2022 were barn-burners. A rematch between the two, whether at World Pro this week or Worlds next year, would be an instant must-watch for a dynamic clash of styles.
No matter what comes next for Fernandez, she's proven herself as a promising contender among the up-and-coming female black belts and a tough cookie among the rookies. With more than half a year left in her first black belt season and a full career ahead of her, Fernandez stands ready to make more waves in the months and years to come.