2022 World IBJJF Jiu-Jitsu No-Gi Championship
Amanda Bruse Looking To Polish Off Breakout Year At No-Gi Worlds
Amanda Bruse Looking To Polish Off Breakout Year At No-Gi Worlds
One of Atos HQ's brightest prospects at the colored belts, Amanda Bruse has had a breakout year in 2022. No-Gi Worlds win would cap off her best year yet.
Nov 29, 2022
by Erica Zendell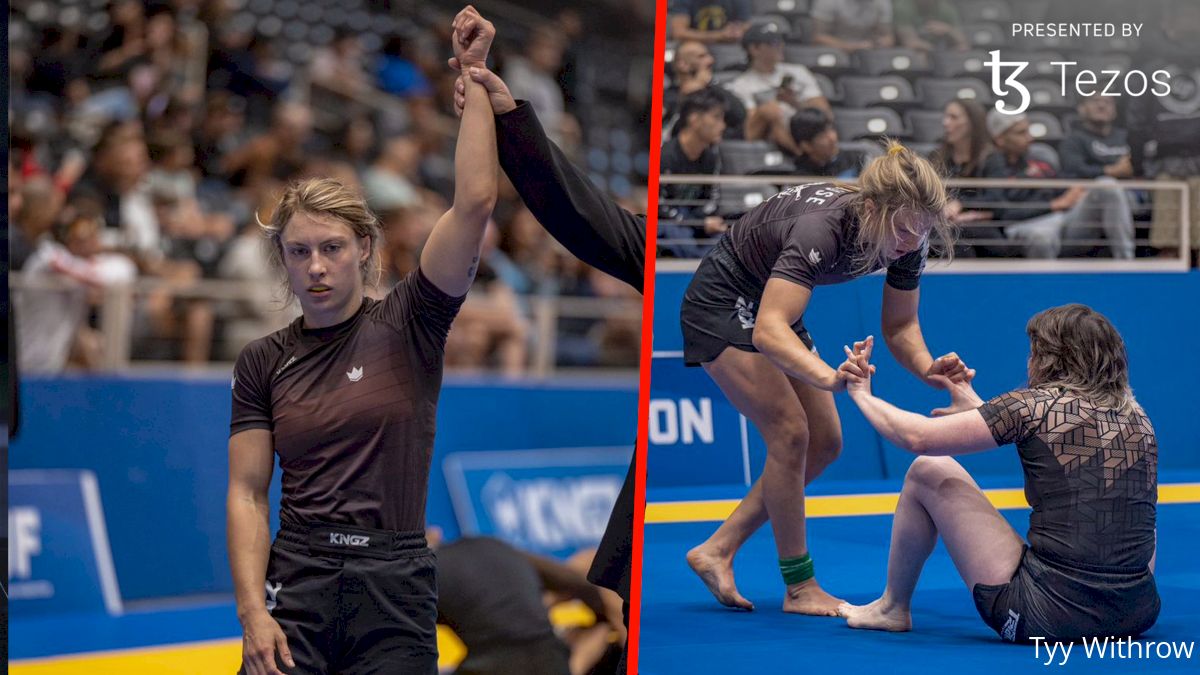 Though 2022 has raised Amanda Bruse's profile, her consistency and tenacity in no-gi competition at the highest levels are nothing new. She plowed through the featherweight division at purple belt No-Gi Worlds in 2019, submitting four of her five opponents (including Jessie Crane in the final) and only conceding two points in her entire run in her weight class—which she answered with a choke from the back.
Bruse's star has steadily risen since 2019. In 2021, she finished with silver medals in the brown belt featherweight division at both No-Gi Pans and No-Gi Worlds, cleanly outpointing Bre Stikk in the semi-finals and falling narrowly to Alex Enriquez in the finals of both events.
Face-offs against accomplished up-and-comers like Stikk (the recently-crowned Medusa 3 Flyweight CJJ champ) and Enriquez (now a black belt No-Gi Pans champ) don't shake Bruse. If anything, she thrives against them, and her 2022 season is the proof.
In the last year, Bruse racked up massive wins against both rising stars and established names in two of the most competitive tournaments in the grappling world: ADCC West Coast Trials and IBJJF No-Gi Pans.
Bruse's road to the semi-finals of the 2022 ADCC West Coast Trials was one of the strongest showings in the densest -60kg division in history. She shut down a firing squad there:
2022 Brown Belt No Gi Pans Champ Sophia Casella
decorated Team USA freestyle wrestler Victoria Anthony
ADCC Open absolute champ Morgan Black
ADCC veteran and multi-time Gi and No Gi World Champion Tammi Musumeci
Her only losses at Trials came against Jasmine Rocha via decision and Tata Ribeiro in a brawl.
Bruse's 2022 No-Gi Pans run was one for the books, concluding with a gold in her weight class and silver in the absolute. Bruse moved up from her usual featherweight division to the lightweight division and won authoritatively, submitting all three of her opponents, including Nicole Mathew and Morgan Black. But her most eye-catching match, perhaps, was her open class finals match against ADCC veteran and heavyweight hotshot, Giovanna Jara. Looking ahead to No-Gi Worlds, Bruse said, "I would love to go against Giovanna Jara de Souza again. I love the challenge of facing someone a lot bigger who's been to big tournaments like ADCC. There's a lot of other great girls at brown belt [for No-Gi Worlds] and I think the open weight will be stacked."
Bruse's proudest performance of the year–so far–also happens to be an open class rematch, a different one that was three years in the making. Bruse had last faced Maria Ruffato as a purple belt at No-Gi Worlds in 2019 and lost the match by points. A few months ago in the brown belt open class semi-finals at No-Gi Pans 2022, Bruse avenged the loss with a submission against Ruffato.
"I was extremely proud of my semi-finals match in the open class at Pans," Bruse said. "I was losing in the exact same way as I was before but managed to pull out a kneebar in the end. I was proud of how I kept fighting and I'm always looking for submissions until the last second."
Watch: Amanda Bruse vs Maria Ruffato | 2022 No-Gi Pans Brown Belt Open Class Semifinal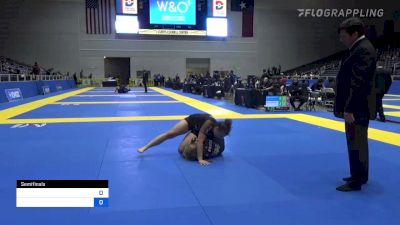 Unlock this video, live events, and more with a subscription!
Get Started
Already a subscriber? Log In
Ready to cap off a killer year at No-Gi Worlds next week, Bruse is excited. Instead of dropping down to featherweight, as she did between 2019-2021 for IBJJF no gi competition, Bruse has decided to remain at lightweight, where she found success at No-Gi Pans. "I had fun at Pans and enjoy the dynamic in the heavier weight class," Bruse said. "I feel like I like to use a lot of speed in matches, and the Lightweight division is slower and stronger. I'm excited to compete against girls I maybe haven't faced before at featherweight."
As of November 29, the Brown Belt Lightweight division has only one possible rematch for Bruse: Nicole Mathew. The rest would be fresh matchups for her. Notable registrants in the division include Nadia Frankland (2022 ADCC Asia and Oceania Trials -60kg Finalist), Peyton Letcher (ADCC European Trails winner), and Emily Pakulski, one of Unity's most active and accomplished competitors at the colored belts. The most decorated competitor in the division within the IBJJF ruleset, Pakulski won both Gi and No-Gi Worlds in 2021 at purple belt lightweight. After claiming her first gold medal at a Gi Major at brown belt this year (Pans 2022), she is looking to claim her first No-Gi Major title. Both Pakulski's flexible guard and the Letcher's leglock game would make for intriguing clashes against Bruse's pressure and submission-hunting, especially if Bruse ends up working from a top position.
"I've definitely been working on developing a well-rounded game," Bruse said regarding her preparation for No Gi Worlds. "I've been trying to focus on creating a more dynamic game and adding pressure where I need to. I want to make sure I can hunt for submissions from top or bottom."
Those who have watched her previous performances will notice that Bruse is already dangerous from most positions. She's comfortable on the feet, able to hit clean trips and single-leg takedowns in competition. From the top, she's an agile passer who can lay on the pressure, frequently threatening (and finishing) darce and anaconda chokes from half-guard and front headlock positions. From guard, she has a vicious arsenal of heel hooks, kneebars, and toe holds. Whether on top or on bottom, she's quick to exploit a scramble and make her way into crucifix transitions and chokes from the back.
2022 has also been an exciting year off the mats for Bruse, sharpening her swords and becoming well-rounded in areas outside of training and competition, as well. She recently started her psychology degree at UCSD and a women's jiu-jitsu apparel company, Kimono Boutique. "I'm trying to help women get more on the forefront of business in jiu-jitsu," she says, balancing the growing business alongside her college degree and her grappling career.
Bruse's future looks bright, and she will be one to watch in Anaheim next Friday, December 9, when the brown belts take the mats at the 2022 No-Gi World Championships. Tune in for all the action at No-Gi Worlds from December 8-11, 2022 only on FloGrappling.