Vote for the Best Male Grappler, Best Female Grappler, Best Breakthrough Grappler, Best Match and Best Submission of 2021. Click here to cast your vote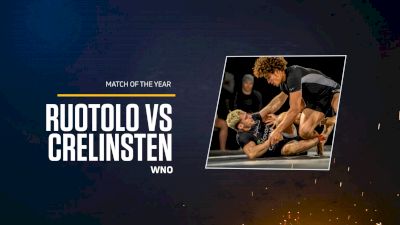 Kade Ruotolo vs Ethan Crelinsten | 2021 FloGrappling Match of the Year
Jan 22, 2022
Kade Ruotolo defeated Ethan Crelinsten in their first encounter in 2020, but was the underdog coming into the rematch. Both athletes had something to prove. The first 90 seconds was an open scramble, a furious exchange of positions and submission attempts.
Three minutes into the match, Ruotolo attempted a darce and turned it into a vicious armbar, which Crelinsten remarkably endured and escaped.
After six more minutes of relentless activity, Crelinsten sat up, giving Rutolo his darce position once again. Crelinsten demonstrated his grit, trying to fight out. But the choke eventually earned a tap.