GrappleFest returns to FloGrappling on September 7 for more exciting submission-only action! Featuring both Paulo and Joao Miyao in action, PLUS Masakazu Imanari vs a 10th Planet standout.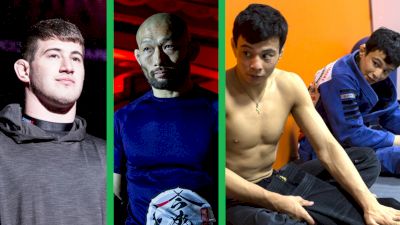 The Ever-Evolving Miyaos vs The World at Grapplefest 6
Sep 3, 2019
Paulo and Joao Miyao will take on tough opponents in Kamil Wilk and Frank Rosenthal at Grapplefest 6, while leglock pioneer Masakazu Imanari faces off with 10th Planet standout Ben Eddy.
September 7 | Liverpool, UK | Click for more
---
Miyao riding momentum into Rosenthal match
Joao Miyao is coming into the match with Rosenthal off a hot performance at the recent KASAI Pro 6 135lb tournament, where he showed a developed system of leg attacks that is evidence of his training with Eddie Cummings. Rosenthal was there to witness Miyao in action firsthand and paid close attention to Miyao's evolving use of the leg game.
"I've been watching [the Miyaos] for a very long time, probably since I was a blue belt. And [KASAI Pro 6] was very interesting, Joao competed against a lot of guys that I've competed against. It was kind of a good measuring tool and it was interesting to see how his game has evolved. He's definitely evolved in the last couple of years, especially breaking into the sub-only scene, it was very interesting to see him in this format and his game looks impressive as always. It should be a good scrap in a few weeks."
"He's definitely more heavy into the leg entanglements and using them to go into submission holds, he's always been very talented at using them to score and get to the back but I think now what you're seeing is a hybrid of scoring methods and getting into good ashi-garamis and attacking the legs. It'll make for a fun exchange, especially being that's a sub-only match. Kind of let us go at each other."
Renzo Gracie black belt Rosenthal is a member of the Danaher Death Squad and one of the best-known lightweight competitors from the team, though he has yet to have his big break. He's picked up points wins over a number of 10th Planet members including Geo Martinez, Marvin Castelle, Ricky Lule and Rey de Leon.
Currently ranked no.17 in the 66kg no-gi ranking, a strong performance versus no.4-ranked Miyao would propel him into the upper echelons of the 66kg division.
Miyao takes on top European grappler
Paulo Miyao's opponent will be 2017 ADCC veteran Kamil Wilk of Poland. Wilk reps Zenith, who have a sizeable network in the Eastern European country, and is a regular competitor in both points and submission-only events all over the continent. He will make his Grapplefest debut against Miyao, who will be just 20 days out from the ADCC World Championships. It's a tall task for the Pole, who will face the no.2-ranked 66kg grappler in the world.
Imanari the Innovator vs Eddy the Unorthodox
Tow extremely innovative grapplers will clash when leglock pioneer Masakau Imanari (of the famous Imanari roll) will meet a 10th Planet standout in Ben Eddy, who has popularized a choke called the Hindutine, which needs to be seen to be believed.
A guillotine variation that involves the use of the rubber guard, it is a visually spectacular submission that is pure 10th Planet, check it out below: