Eddie Cummings is a jiu-jitsu black belt from New York known as a leg lock specialist. A two-time EBI Tournament champion at 145lb, Cummings received his black belt from John Danaher and was one of the first representatives of the "Danaher Death Squad". He left the Renzo Gracie Academy to train at Unity Jiu-Jitsu.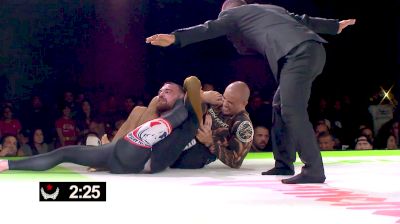 MUST SEE: One Of The Craziest Subs Of The Year
Dec 4, 2017
Wow! What a night in Burbank, California!
With big names such as Nicky Ryan, Eddie Cummings, Talita Alencar, and more in action on Friday, we knew Fight to Win Pro 56 was going to be a special event, but I don't think anyone expected just how crazy it would be.
With almost two-thirds of the matches ending in submission, F2W Pro 56 will go down as the most submission-heavy event to date for the traveling jiu-jitsu show.
And on top of the quantity of submissions, viewers were treated to one of the absolute wildest submissions of the year. In a brown belt match between Jeremiah Vance and Cooper Gibson, Vance's modified shoulder lock with his opponent's leg hooked over his head still had us squealing! Watch it now!
These are the top five submissions from Fight to Win Pro 56.