2022 World IBJJF Jiu-Jitsu No-Gi Championship
Live Updates & Results | IBJJF No-Gi Worlds Black Belt Eliminators
Live Updates & Results | IBJJF No-Gi Worlds Black Belt Eliminators
Cyborg vs Ceconi, Clay vs Campo in tomorrow's absolute final. Weight category prelim rounds are live now!
Dec 10, 2022
by Corey Stockton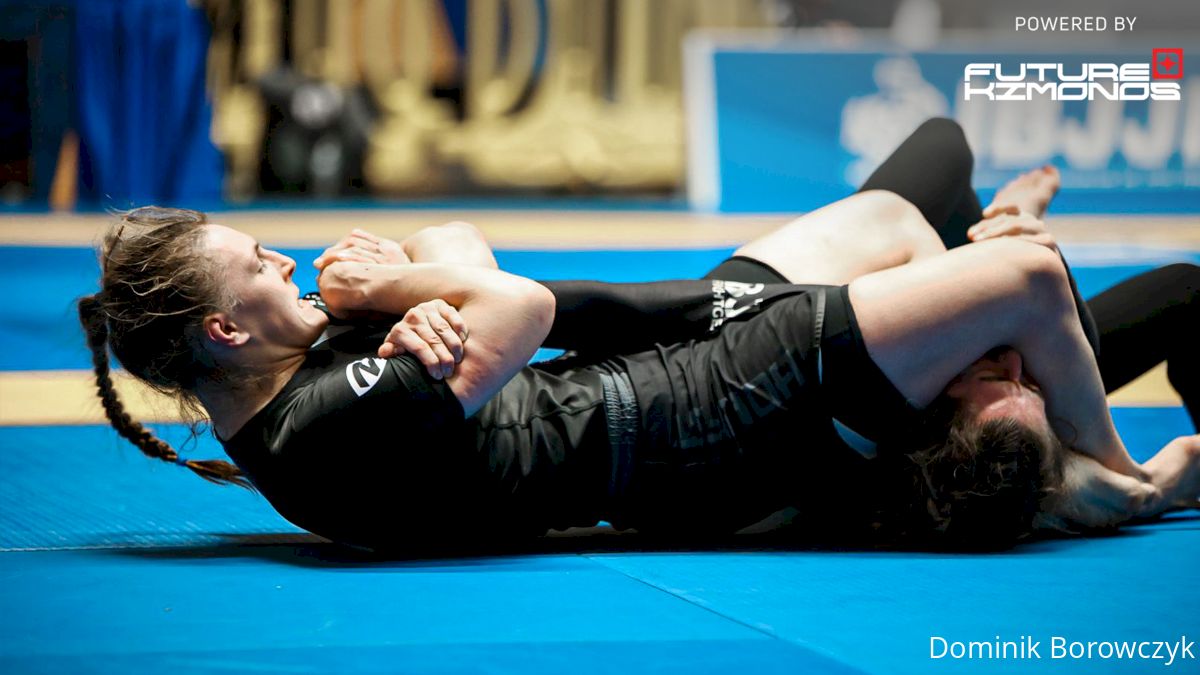 The first phase of the black belt rounds at the 2022 IBJJF No-Gi World Championships are underway. Today, the absolute finalists in the male and female divisions will earn their spots, as will the final eight athletes in each of the men's divisions, and the finalists in the women's divisions.
Stay tuned all day to find out who pushes through to the final day of No-Gi Worlds, and what's in store for them.
---
Men's Absolute
Round 1
Gianni Grippo def Jackson Douglas via points (2-0)
Carlos Henrique def Clay Mayfield via inside heel hook
Frederic Grosgone def Austin Baker
Bryan Peterson def Charles McGuire
Cassio Felipe Costa def Calon Sabino
Thomas Bracher def Charles Murdock
Francisco Lo def Jhoannan Vielma
Roosevelt Sousa def Elliot Kelly
Round 2
Quarterfinals
Henrique Ceconi def Hunter Colvin
Roosevelt Sousa def Francisco Lo
Victor Hugo def Francisco Cuneo
Roberto Cyborg def Mike Perez
Semifinals
Roberto Cyborg def Victor Hugo
Henrique Ceconi def Roosevelt Sousa
Women's Absolute
Round 1
Elizabeth Mitrovic def Marcia Figuerido
Amy Campo def Eleftheria Christodoulou
Julia Maele def Jordan Patrick
Ane Svendson def Erin Johnson
Joana Dineva def Isa Bruno-Reiber
Luciana Mota def Vanessa Griffin
Quarterfinals
Fernanda Mazzelli def Elizabeth Mitrovic
Amy Campo def Julia Maele
Luicana Mota def Joana Dineva
Elisabeth Clay def Ane Svendson
Semifinals
Amy Campo def Fernanda Mazzelli via armbar
Elisabeth Clay def Luciana Mota via heel hook
---
Women's Divisions
Roosterweight
Jhenifer Aquino submitted Mariana Rolszt with a kimura, and Giulia Gregorout defeated Amber Freitas. They'll face off in the final tomorrow.
Light Featherweight
Alex Nguyen submitted Andreza Sousa, and Jessie Crane edged out Nina Navid. They will both get their first berths in a black belt No-Gi Worlds final tomorrow.
Featherweight
Tubby Alequin submitted Tabatha Ricci before falling to Alex Enriquez. Jasmine Rocha defeated Enriquez, and will face Tammi Musumeci — who scored two victories earlier in the day — in the featherweight final.
Lightweight
Brianna Ste-Marie scored back to back submissions, and will face Nicole Sullivan in the final tomorrow.
Middleweight
Elisabeth Clay and Vanessa Griffin pushed through to the final. Clay defeated rookie black belt Rachel Ranschau while Griffin bested ADCC veteran Julia Maele.
Medium Heavyweight
Amy Campo will meet Melissa Cueto in the final; both women defeated two opponents today to earn a spot in the final.
Heavyweight
Thalyta Lima defeated Tara White to earn her spot in the final.
Super Heavyweight
Luiciana Mota and teammate Leticia Cardoso both earned a spot in the final, leading to a likely close out in the heaviest weight category.
---
Men's Divisions
Roosterweight
Tadiyah Williams will face Estevan Martinez tomorrow after his armbar victory over Antonio Villiatora.
Hernique Rossi earned a rematch tomorrow against Osamah Almarwai with his win over Italo Bonfim.
Nobuhiro Sawada defeated Chris Tran, and will face Coco Izutsu tomorrow.
Light Featherweight
Bebeto Oliveira defeated Huthayfah Penney, and David Terao defeated Larry Ruiz, putting them on a collision course for the opening bout tomorrow morning.
Cleber Sousa defeated Pedro Serrano and will face Willis Nunes tomorrow.
Junny Ocasio submitted Rene Lopez, he'll face Leonard de Sousa tomrrow.
Featherweight
Danny Maira finished an Estima lock over Dennis Pressey; he'll face Ash Williams tomorrow.
Gavin Corbe earned a first round submission; he'll rematch Adam Benayoun, who defeated Richard Alarcon.
Anthony Oliveira defeated Suraj Budhram, he has Tom Halpin in the opening round on Sunday.
Lightweight
Carlos Henrique defeated Fabio Caloi; he will face Johnatha Gomes in the opening round tomorrow.
Kieran Kichuk defeated Josh Murdock via heel hook. On Sunday he'll face Ellis Younger, who outscored Mike Perez in the opening round.
Danilo Moreira and Deandre Corbe each earned first round submissions. They'll match up in the quarterfinals on Sunday.
Dante Leon put a pace on Alika Villiatora. He'll face Gabriel Ferreira first tomorrow.
Middleweight
Italo Moura defeated Alan Sanchez and Matheus Galvao, matching him up with Marco Queiroz in the quarterfinals.
Andy Murasaki defeated Charles Murdock to earn a Sunday berth against Eduardo Carvalho.
Johnny Tama submitted Servio Tulio, and will face Igor Feliz on Sunday in the quarters.
Francisco Cuneo outscored Rolando Samson. He'll face John Combs in the quarters.
Medium Heavyweight
Felipe Cesar Silva defeated Shane Fishman; he'll face Thiago da Silva in the quarterfinals on Sunday.
Francisco Lo defeated Clay Mayfield. He has Johnatas Gracie on Sunday. Gracie defeated Gabriel Arges to earn his path to Sunday.
David Garmo will face Bruno Matias on Sunday, after Garmo won a DQ over Thiago Andrade.
Miha Perhavec outscored Benji Silva, and Sebastian Rodrigues defeated Oliver Taza, pairing them up in Sunday's quarterfinals.
Heavyweight
Vagner Rocha earned a submission in his opening round; he'll face Bryan Peterson on Sunday.
Devhonte Johnson submitted rookie Calon Sabino to earn a Sunday berth.
Andre Porfirio will face Pedro Rocha on Sunday, as they both won their opening matchups.
Santeri Lilius will face Rafael Vasconcelos; each of them won their sole Saturday matchups.
Super Heavyweight
Felipe Costa and Elliot Kelly will match up in the quarters. Costa defeated Thomas Bracher.
Frederic Vosgrone defeated Jackson Douglas and will face Henrique Ceconi on Sunday.
Fellipe Trovo defeated Lucas Norat; he'll face Diego Ramalho on Sunday in the quarters.
Ultra Heavyweight
Roosevelt Sousa defeated Helton Jose, and Austin Baker defeated Javier Zaruski, narrowing down the ultra heavyweight division to the final eight.