Tezos WNO Pena vs Rodriguez
Tezos WNO Betting Lines: Odds & Prop Bets For Ryan vs Pena & More
Tezos WNO Betting Lines: Odds & Prop Bets For Ryan vs Pena & More
See the betting lines and extensive prop bets for Tezos WNO: Gordon Ryan vs Felipe Pena II on February 25.
Feb 17, 2023
by Corey Stockton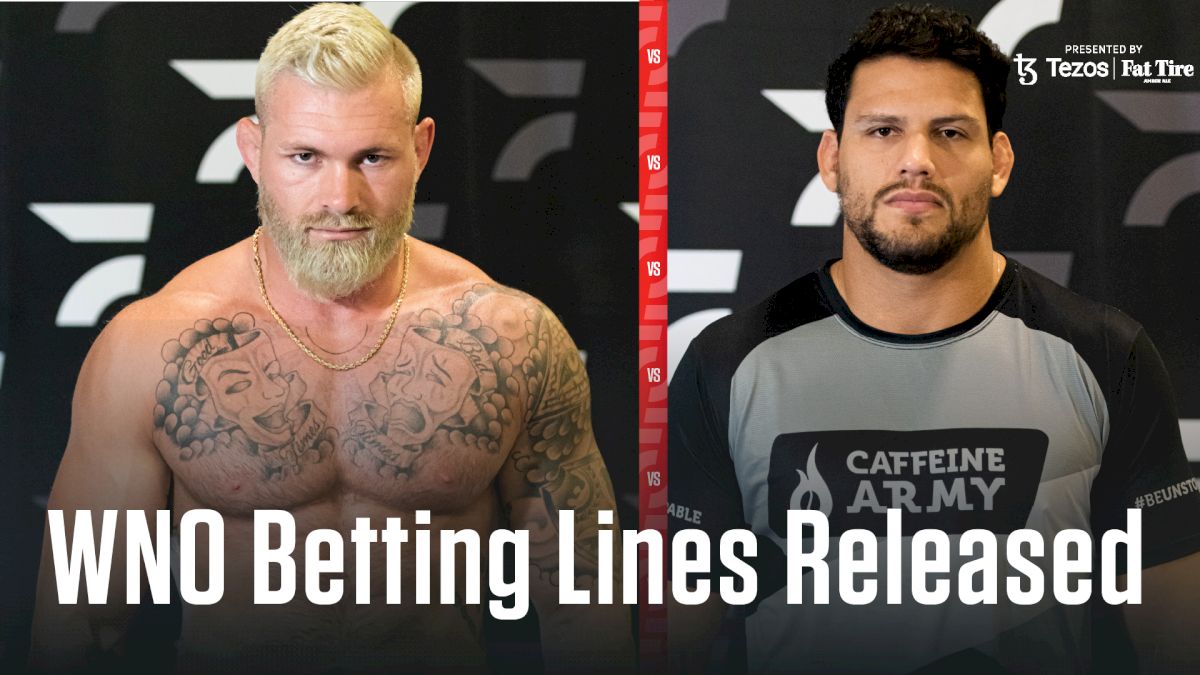 The oddsmakers have set opening lines for the main card of the upcoming Tezos WNO: Ryan vs Pena II.
The February 25 event will consist of five 15-minute bouts and one no-time limit superfight between the titular Gordon Ryan and Felipe Pena.
Naturally, that leaves room for several compelling prop bets.
Here are the opening lines for each of the matches — and the prop bets — at Tezos WNO: Ryan vs Pena II.
Subscribe To FloGrappling For Gordon Ryan Vs. Felipe Pena

---
Heavyweight title bout (no time limit)
Gordon Ryan (favorite) to defeat Felipe Pena: -1300
Felipe Pena (underdog) to defeat Gordon Ryan: +675
Props
Match to last 15 minutes or more: -600
Match to last 30 minutes or more: -300
Match to last 45 minutes or more: -161
Match to last 60 minutes or more: +160
Match to last 90 minutes or more: +375
Match to end within 15 minutes: +425
Match to end within 30 minutes: +240
Match to end within 45 minutes: +131
Match to end within 60 minutes: -200
Match to end within 90 minutes: -500
---
Light heavyweight title bout
Pedro Marinho (underdog) to defeat Giancarlo Bodoni: +360
Giancarlo Bodoni (favorite) to defeat Pedro Marinho: -460
Props
Match to last 10 minutes or more: -300
Match to end within 10 minutes: +240
---
JT Torres (favorite) to defeat Magid Hage: -450
Magid Hage (underdog) to defeat JT Torres: +350
Props
Match to last 10 minutes or more: -325
Match to end within 10 minutes: +250
---
Amanda Bruse (favorite) to defeat Jasmine Rocha: -150
Jasmine Rocha (underdog) to defeat Amanda Bruse: +120
Props
Match to last 10 minutes or more: -400
Match to end within 10 minutes: +300
---
Oliver Taza (favorite) to defeat Jonnatas Gracie: -300
Jonnatas Gracie to defeat Oliver Taza: +240
Props
Match to last 10 minutes or more: -200
Match to end within 10 minutes: +160
---
Kieran Kichuk (favorite) to defeat Rene Sousa: -285
Rene Sousa to defeat Kieran Kichuk: +225
Props
Match to last 10 minutes or more: -285
Match to end within 10 minutes: +225