Tezos WNO Pena vs Rodriguez
Breaking: Nicky Rod Replaces Gordon Ryan In Felipe Pena Match
Breaking: Nicky Rod Replaces Gordon Ryan In Felipe Pena Match
Illness has sidelined Gordon Ryan in his scheduled bout against Felipe Pena. But Nick Rodriguez has stepped up to challenge Pena on WNO in a 30-minute bout.
Feb 24, 2023
by Corey Stockton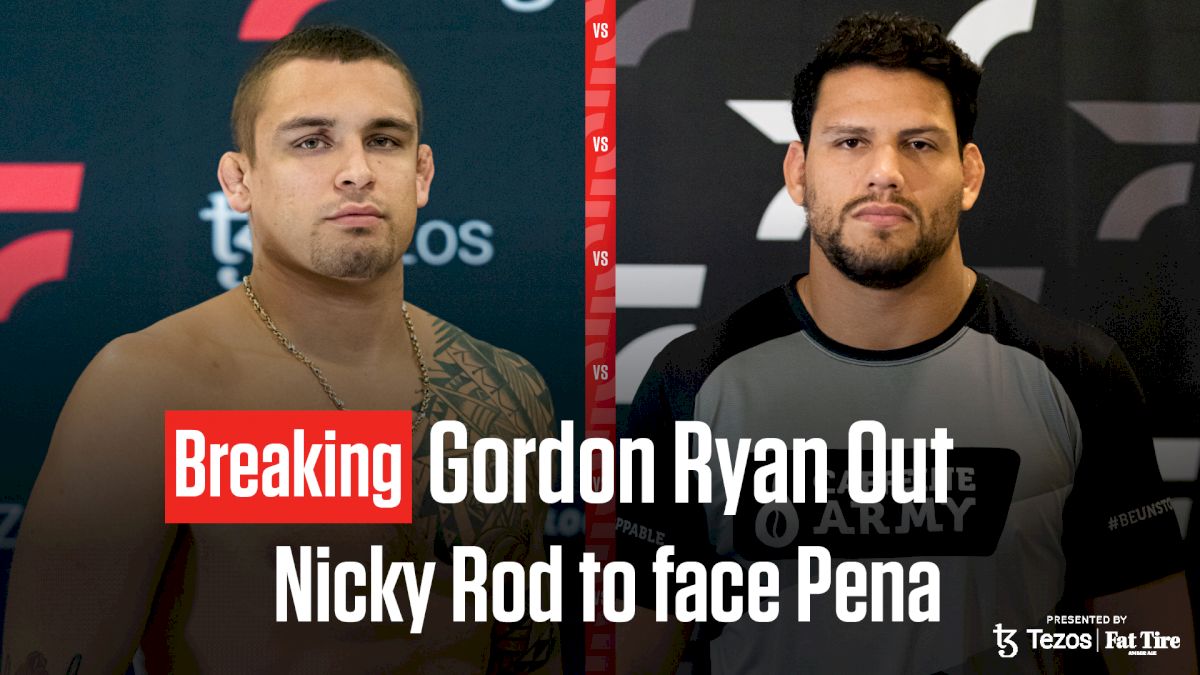 Gordon Ryan has pulled out of his scheduled match against Felipe Pena at Tezos WNO on February 25, citing health issues.
"This is one of the tougher decisions I've ever had to make, but it's the right one," Ryan said in his apologetic statement.
"Not really sure where to start, so I'll start by saying that I can't compete on Saturday. As much as I want to even the score, my body is giving me some issues. Last Wed, after hard rounds for my peak, I got home and developed severe body aches and a migrain. I slept almost straight from Wed afternoon until Friday night, running a 100-102.5 fever while not being able to eat anything and sweating with the chills."
Ever the professional, Ryan personally notified his would-be opponent about his withdrawal from the match.
"I did everything I could to get there but ultimately John and I decided that the professional thing to do was call it and give Pena and the team time to figure out next steps. I have messaged Pena directly to relay this as well as my apologies."
Ryan added in his statement that he plans to attend the event to interact and take photos with fans.
Read Gordon Ryan's full statement at the bottom of this article
Nick Rodriguez, "Nicky Rod," has stepped up to replace his former teammate in a 30-minute match against Pena.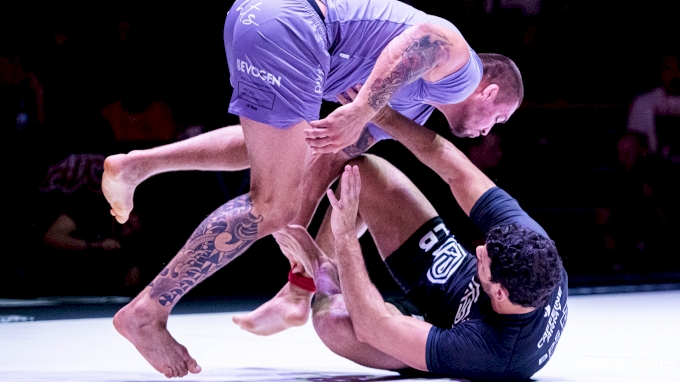 B-Team's Rodriguez accepted this match on just three-days notice, taking on a decorated and well-prepared opponent, ensuring that the fans — and Felipe Pena — the opportunity for a thrilling matchup.
Pena also deserves praise for making this matchup happen. He has been preparing for a no-time limit match since late last year. Adjusting to a new opponent and a different time limit on short notice is no small challenge.
Tezos WNO: Felipe Pena vs Nick Rodriguez presented by Fat Tire
Nick Rodriguez and Felipe Pena are no strangers to one another.
They first competed in the semifinal at ADCC 2022, where Rodriguez passed Pena's guard for victory, ultimately taking silver in the +99kg division.
That's to take nothing away from Pena, the 2017 ADCC absolute champion has upheld a stellar record in gi and no-gi competition alike, which includes two victories over Gordon Ryan, as well as the sole submission win over him.
The rematch between Felipe Pena — one of the most dangerous back takers in the game — and Nick Rodriguez — the steam rolling body lock passer — was bound to take place eventually.
Fans have been clamoring for this rematch since ADCC, when Rodriguez, the underdog, upset the favorite, Pena, to punch his ticket to the final.
With Nicky Rod's explosiveness and Preguiça's precision this is bound to be one of the best matches of the year.
And now it's headlining one of the biggest cards of 2023.
Tezos WNO: Pena vs Rodriguez will take place on Saturday, February 25 in Costa Mesa, CA. Tickets for the event are sold out. Stream it live on FloGrappling.
Earlier on the card, Tezos WNO light heavyweight champ Pedro Marinho will look to defend his belt against the reigning ADCC 88kg champion, Giancarlo Bodoni. The champ took the then-vacant strap last March in a match vs Craig Jones, passing the Australian's guard to solidify his victory. In late 2021, he earned double gold at No-Gi Worlds in his rookie black belt year.
But Giancarlo Bodoni, 1-3 on Tezos WNO, has made unparalleled improvements since his rocky start on Tezos WNO. That climb was best exemplified in his stellar ADCC run, where he submitted three men in his division — including the reigning champion — to win the 88kg title.
Also on the card, two-time ADCC champ JT Torres will make his WNO debut against Magid Hage, also an WNO first-timer.
See the full schedule and bout card below:
Tezos WNO: Ryan vs Pena II Presented by Fat Tire
Friday, February 24
3:30pm ET - Official Weigh-Ins (Live on Instagram)
Saturday, February 25
8:30pm ET - Pre-Show

9:00pm ET - Undercard begins (free on YouTube & Facebook)

Thien Luu-Nguyen vs Dominic Meija | 15 min
Stephen Martinez vs Calon Sabino | 15 min

10:00pm ET - Main Card begins | all main card matches 15 minutes unless otherwise noted

Rene Sousa vs Kieran Kichuk
Jasmine Rocha vs Amanda Bruse
Oliver Taza vs Jonnatas Gracie
JT Torres vs Magid Hage
Co-main event: Pedro Marinho (champ) vs Giancarlo Bodoni (light heavyweight title bout)
Main event: Felipe Pena vs Nick Rodriguez | 30-minute match
Gordon Ryan's full statement on his withdrawal from the match
This is one of the tougher decisions I've ever had to make, but it's the right one. Not really sure where to start, so I'll start by saying that I can't compete on Saturday. As much as I want to even the score, my body is giving me some issues. Last Wed, after hard rounds for my peak, I got home and developed severe body aches and a migrain. I slept almost straight from Wed afternoon until Friday night, running a 100-102.5 fever while not being able to eat anything and sweating with the chills. Saturday, my body came back online and I was able to do regular, low intensity things like a normal person and wasn't bed ridden anymore. My fever subsided but I still had a fuzzy head, headache, and body aches. I also started having severe diarrhea on Saturday but figured since my fever was gone I was getting better. Wed-sat I couldn't train and when I did a light round Sunday I was in terrible shape again on Monday. Monday I did a light session in LA and was in terrible shape again on Tues. On top of this, I spent the whole week not being able to eat and the last 5 days with severe diarrhea every 30 minutes. I did literally everything I could to be there for this match. I even scheduled a before hours appointment with my stomach doctor to see if there's anything he could do to help, but he said it was almost certainly viral and would just have to run it's course. I've also been taking 1 IV bag a day for the last 4 days to try to keep up with the loss of fluids but I'm still so severely dehydrated now that my legs are cramping from walking up a flight of stairs. This issue (unrelated to my chronic stomach issues) has completely drained my body over the last week and I've lost roughly 15 lbs. I did everything I could to get there but ultimately john and I decided that the professional thing to do was call it and give pena and the team time to figure out next steps. I have messaged pena directly to relay this as well as my apologies. I know how much time he put into this and I fully expected to have the best pena ever out there to compete against and giving him (or anyone) this version of me isnt an option. It's very frustrating because this was a very good camp. There were some speed bumps along the way but I was technically far better than ever. I have some things I've been working on and they all came together perfectly through the camp. I was also in the best physical condition I've ever been in as well, so to do this hard 8 weeks and feel better than ever and then having this happen is rough, to say the least. Of course, to the fans as well, I am very sorry. I will still be at the event to see everyone and say hello, take pictures, ect. I made the mistake of facing pena sick in our 1st match and I swore to never do that again. I have competed (2019 ADCC) with food poisoning (and a broken hand) that I came down with the day before hand but this one has been eating at me for a week and I simply have nothing left for a hard match at the moment. Michael Jordan had the luxury of being able to have a bad game without being too harshly criticized In a team sport. I unfortunately do not have that luxury. While this was a very tough decision, it was the correct one. I hate to be this guy and I am beside myself even having to write this, but sometimes it just is what it is. I will keep everyone updated here on what's next. Sorry again
-Gordon Ryan