Tezos WNO Pena vs Rodriguez
Updated Betting Lines | Tezos WNO: Felipe Pena vs Nick Rodriguez
Updated Betting Lines | Tezos WNO: Felipe Pena vs Nick Rodriguez
With Felipe Pena and Nick Rodriguez not at the top of the Tezos WNO card on Feb. 25, there are new betting odds. See the changes here.
Feb 25, 2023
by Corey Stockton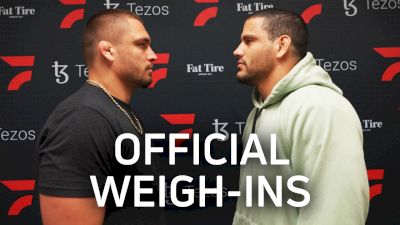 With a change in the main event comes a change in the stakes.
The oddsmakers have updated the betting lines for Tezos WNO on February 25 to reflect the new main event matchup: Felipe Pena vs Nick Rodriguez.
Plus, there are now betting lines for the prelims undercard, and some of the other lines have shifted due to betting volume.
Tomorrow night's event will consist of five 15-minute bouts and one 30-minute superfight between Felipe Pena and Nick Rodriguez.
Here are the updated lines for each of the matches — and the prop bets — at Tezos WNO: Pena vs Rodriguez.
---
Main event
Felipe Pena (underdog) to defeat Nick Rodriguez: +115
Nick Rodriguez (favorite) to defeat Felipe Pena: -115
Props
Match to last 15 minutes or more: -400
Match to last 30 minutes or more: +300
Light heavyweight title bout
Pedro Marinho (underdog) to defeat Giancarlo Bodoni: +365 (originally +360)
Giancarlo Bodoni (favorite) to defeat Pedro Marinho: -465 (originally -465)
Props
Match to last 10 minutes or more: -300
Match to end within 10 minutes: +240
JT Torres (favorite) to defeat Magid Hage: -400 (originally -450)
Magid Hage (underdog) to defeat JT Torres: +300 (originally +300)
Props
Match to last 10 minutes or more: -325
Match to end within 10 minutes: +250
Amanda Bruse (favorite) to defeat Jasmine Rocha: -130 (originally -150)
Jasmine Rocha (underdog) to defeat Amanda Bruse: +100 (originally +120)
Props
Match to last 10 minutes or more: -400
Match to end within 10 minutes: +300
Oliver Taza (favorite) to defeat Jonnatas Gracie: -290 (originally -300)
Jonnatas Gracie to defeat Oliver Taza: +230 (originally +240)
Props
Match to last 10 minutes or more: -200
Match to end within 10 minutes: +160
Kieran Kichuk (favorite) to defeat Rene Sousa: -285
Rene Sousa (underdog) to defeat Kieran Kichuk: +225
Props
Match to last 10 minutes or more: -285
Match to end within 10 minutes: +225
Prelims
Stephen Martinez (favorite) to defeat Calon Sabino: -155
Calon Sabino (underdog) to defeat Stephen Martinez: +125
Props
Match to last 10 minutes or more: -225
Match to end within 10 minutes: +185
Thien Luu-Nguyen (favorite) to defeat Dominic Meija: -125
Dominic Meija (underdog) to defeat Thien Luu-Nguyen: -105
Props
Match to last 10 minutes or more: -200
Match to end within 10 minutes: +160