Tezos WNO 20: Night of Champions
Diogo Reis Confident For WNO 20: 'I Wasn't ADCC Champion For Nothing'
Diogo Reis Confident For WNO 20: 'I Wasn't ADCC Champion For Nothing'
Ahead of the big night, Diogo expressed his expectations for the WNO 20 GP, which will also feature Gabriel Sousa, Ashley Williams, and Keith Krikorian
Sep 26, 2023
by Carlos Arthur Jr.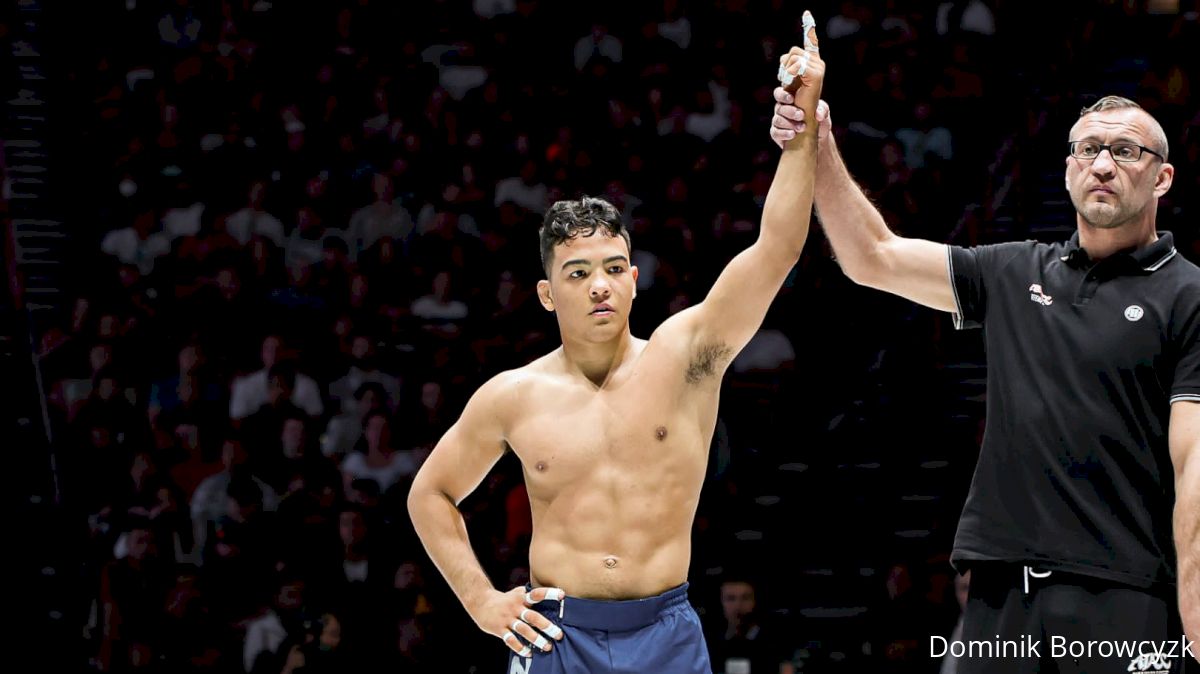 To his fans, he's Baby Shark. To his opponents, the Megalodon.
Diogo Reis has become a force to be reckoned with in no-gi bouts, and it is with this momentum that the athlete gets ready to compete in another edition of Tezos Who's Number One. On Oct. 1, Diogo steps up to Tezos WNO 20 and faces a GP stacked with other renowned fighters of his division.
The event, called 'Night of Champions,' will take place at the Bayou Music Center in Houston, TX, and will be headlined by the match between Gordon Ryan and Patrick Gaudio.
---
Ahead of the big night, FloGrappling spoke to Diogo to hear his expectations for the GP, which will also feature Gabriel Sousa, Ashley Williams, and Keith Krikorian. Baby Shark also talked about how he keeps his game fluid to make it easier to shift between gi and no-gi, ending the interview with an analysis of his evolution in the sport, which is bolstered by his wrestling training sessions. Check it out below!
---
FloGrappling: What was it like to receive the invitation to return to Tezos WNO and how do you feel about competing there?
Diogo Reis: I'm so happy to be back at Who's Number One. I thought it was an amazing event the last time I competed and I've followed every single card since then. It's impressive how WNO continues to improve with each edition. I'm excited about the GP against three great athletes: Gabriel Sousa, who fought in the ADCC final against me; Ash Williams, who was my first fight at ADCC; and Keith Krikorian, who is an excellent athlete. I can't wait to show my best version at the event. I want to do great fights and also provide a real show for the public.
FG:Of the three GP opponents, we have two that you have already beaten and an athlete from 10th Planet, specialized in no-gi. Which do you think will be more dangerous? The old rivals or the wild card?
DR: I believe that all three will do their best on the mat, but I also think that Ash Williams and Gabriel Sousa will be hungrier for the win, given that I defeated both and they'll be looking to get back at me. This motivates me even more because I know they're coming for me and I'll go above and beyond to show my skills at the tournament. I wasn't an ADCC champion for nothing, so if they're looking to beat me, they'll need to train a lot and be even more hungry for the win.
FG: After winning at WNO 14 in 2022 you conquered other big titles, such as ADCC 2022 and this year's Brasileiros. Given all these victories both with and without the gi, what can you tell us about the challenges you face as an evolving black belt?
DR: In each competition I participate in, whether I win or lose, my focus is always on evolution. ADCC 2022 was a milestone for me, it showed how far I can get, regardless of who it is I'm fighting or which tournament the match is taking place. In December, I'll complete my third year as a black belt and I'm becoming more experienced with each passing year. I also ask a lot of questions to more experienced athletes, those who have already reached the dream of making a living from the sport, to receive their knowledge and adapt it to my reality. I'm always searching for the best version of myself.
FG: What is it like for you to alternate between duels with and without the gi and what changes when training? Do you increase or decrease the intensity depending on which you'll be tackling?
DR: I find it quite easy to shift between gi and no-gi. My game is very similar in both modalities, so I just need to adapt details like grips and strength. Depending on how much time I have before a competition, I also like to stay physically prepared, to avoid changing the intensity of my training sessions. With or without the gi, the best-case scenario for me is having six weeks to prep, because I know it will help me reach the mats in top form.
FG: Luta-livre is also very strong in Manaus, with some of the specifics being very similar to Jiu-Jitsu. From your experience, what's the main difference between both martial arts and how do you apply your luta-livre knowledge to your no-gi style?
DR: The only difference I see between the two is the mentality. In luta-livre, the focus is always on submitting, with little regard for points or scoring. On the other hand, no-gi has a greater focus on scoring, stabilizing positions, and using your game to dominate the match. Our team likes to merge these two worlds because the different mindsets end up strengthening one another.