Unlock this article, live events, and more with a subscription!
Get Started
Already a subscriber? Log In
Leandro Lo is at a turning point. How he handles the challenge in front of him will likely dictate the future of his career.
It's never a good moment when a legend starts to falter, and Leandro Lo is very much one of the legendary champions of our sport. Since 2012 his name has been featured at the forefront of the game. We've become accustomed to seeing him hit the podium whenever he competes, but as late his results have not been as expected.
A black belt world champion in three different weight classes (technically four — we'll get into that in a minute) Lo has long been referenced as one of the best competitors of his era, and the stats certainly back that up. Lo is a six-time IBJJF World champion and has earned titles in four different weight classes. Technically, you could argue that he won five titles in three divisions – Buchecha gifted him the absolute gold in 2018 when Lo injured his shoulder and couldn't fight in the final.
But a look at the stats shows that time might be catching up with Leandro, who turned 30 this year. He's been increasingly less active, and his win ratio is at an all-time low.
| | | | | | | | | | |
| --- | --- | --- | --- | --- | --- | --- | --- | --- | --- |
| | 2011 | 2012 | 2013 | 2014 | 2015 | 2016 | 2017 | 2018 | 2019 |
| Total matches | 29 | 34 | 42 | 43 | 29 | 37 | 48 | 14 | 16 |
| Wins | 24 | 26 | 37 | 38 | 26 | 35 | 43 | 13 | 11 |
| Losses | 4 | 6 | 4 | 4 | 3 | 2 | 5 | 1 | 5 |
| Win ratio: | 82.7% | 76.4% | 88.0% | 88.3% | 89.6% | 94.5% | 89.5% | 92.8% | 68.7% |
Looking at his record (stats courtesy of BJJHeroes.com) we can see that Lo has had 292 black belt matches in his career. That's nearly double that of fellow legend Marcus "Buchecha" Almeida, who has 152, and still far more than the likes of prolific black belts Keenan Cornelius or the Miyao brothers, none of whom has more than 250 matches. In the last two years, he has competed less than ever – only 30 matches across 2018 and 2019. He averaged 37 matches a year from 2011 to 2017, with a peak of 48 matches in 2017.
The slowdown is due to a number of reasons. Lo dislocated his shoulder in the final versus Mahamed Aly in June of 2018, an injury that took him out for the rest of the year. He's become more selective of the events in which he chose to compete, preferring major tournaments such as Worlds and Pans and taking fewer superfights.
Lo is still top-tier wherever and whenever he steps on the mat. It takes a special kind of talent to beat him, but the list of opponents who have managed just that is growing at an alarming rate.
In 16 matches this year Lo has won just 11. He started the year off losing to adversary Nicholas Meregali in his first match back since his shoulder injury. A shock submission loss to Adam Wardzinski followed at Pans, as did a referee decision to Lucas "Hulk" Barbosa. Kaynan Duarte beat him in the final at Worlds, passing what was once considered a practically-impassable guard, and most recently former student Gustavo "Braguinha" Batista handed him a loss at BJJ Stars.
That's not to say it's been all bad for Lo. This year he still beat Keenan Cornelius, submitted Luiz Panza, and dealt losses to Vinicius "Trator" Ferreira, Rudson Mateus, Dominique Bell, and Jackson Sousa.
Lo isn't done, but the new generation of standout competitors has closed the gap, and Lo needs to evolve to stay ahead of the pack. Much of his game was built on a series of finely honed techniques, impeccable timing, a limitless gas tank and an ingrained ability to pull out the win when necessary. As Lo moved up in weight he retained some of his signature moves (including his deadly knee-cut pass) but began to rely more on wrestling than his notable sweeping sequences. Instead of evolving, it appears that his game has devolved to some degree – a handful of techniques that work, but that are predictable and therefore countered more easily.
Leandro competed at BJJ Stars 2, narrowly winning the opening match against Dimitrius Souza of Alliance before losing to Batista. This was in Lo's hometown of Sao Paulo, where he counts massive local support and has historically always performed well.
It seems Leandro is at a turning point in his career. He's so well-known that nothing he does is a surprise. People know his winning techniques inside-out, and his fabled explosiveness and athleticism aren't quite as potent as they used to be. An erratic work ethic in the gym coupled with a fast lifestyle has dulled his edge. The younger generation can match and even beat his physical talents, and they have the technical answers to his game.
It's time to evolve. All of the GOATs have had to do it. Look at Andre Galvao or Xande Ribeiro. Their styles are drastically different from when they were younger, but they were able to adapt and even improve their jiu-jitsu so that they remained at the world-class level past the age of 35.
It's a harsh reality for a professional athlete to admit they're getting older, but Leandro has to make some changes if he wants to stay relevant as we move into the 2020 gi season.
---
Results Recap:
Kaynan Duarte was superb in the main event of Fight 2 Win 128 against Nick Rodriguez. Find out more here.
BJJ Stars proved to be an eventful night, with Nicholas Meregali crowned champion of their Heavyweight Grand Prix. More about BJJ Stars here.
The most shocking news out of Rome and the IBJJF European No-Gi Championship was that Paulo Miyao went out in the quarterfinal of the featherweight division to Gabriel Sousa of ZR Team, who would go on to take gold.
All in all it was a good trip for Unity Jiu-Jitsu and the associated Cicero Costha team:
Jonas Andrade took gold at light-featherweight by beating Rodnei Barbosa
Jeferson Guaresi saw off Diego Ramalho for gold at middleweight
Devhonte Johnson won gold at super-heavyweight by defeating Helton Junior of Atos
Adam Wardzinski took double gold in the go at the IBJJF Rome Fall Open, winning both the heavyweight and absolute divisions. He should also get two medals: one for his flowing locks, and another for his sweet mustache. Rock on, Adam.
Matthew Leighton took gold in the absolute division of the IBJJF Twin Cities Open with a win over ultra-heavyweight Thomas McMahon of Alliance. The TAC Team black belt will appear on Fight 2 Win 129 in Chicago. He faces Mauricio Oliveira of GF Team.
There was a modest turnout at the IBJJF Houston Open, but the level was high. None of the men's black belt division had more than three entrants. The absolute was a face-off between ultra-heavyweight Guilherme Santos of Alliance and lightweight Lucas Valente of Gracie Barra, with Soares taking the win.
---
Quote of the Day
"It was one of the most heartbreaking things I've had to do."

– Gordon Ryan on having to face (and submit) Garry Tonon at ADCC
---
In Case You Missed It:
Gordon Ryan Guest Stars On Our Podcast
Three-time ADCC champ Gordon Ryan joined us for an hour-long discussion. Hear his thoughts on Galvao, Pena, his ADCC double gold, and more.
Chasing Greatness: Forging Mental Fortitude With JT Torres
We take a deep dive into JT's most recent ADCC performance, his personal history in the sport, wrestling vs jiu-jitsu, and more.
Lachlan Breaks Down How He Submitted Kaynan
You want to know just what Lachlan Giles did to tap out the fearsome Kaynan Duarte? Then see from the man himself exactly how he did it!
Whatever Happened To Eddie Cummings?
Where did the noted leglock specialist go, and what has he been doing? We caught up with Eddie Cummings in New York to check in on The Wolverine.
Dates & Locations For 2020 ADCC Trials Announced
We now know where and when the first European, North American and Asian ADCC Trials will take place.
---
Photo of the week:
No-gi grappling match or interpretive dance? You decide. Dancers Athletes: Jimmy Sauer and Nicholas Willey at Fight 2 Win 128, photo by Kyu Lee.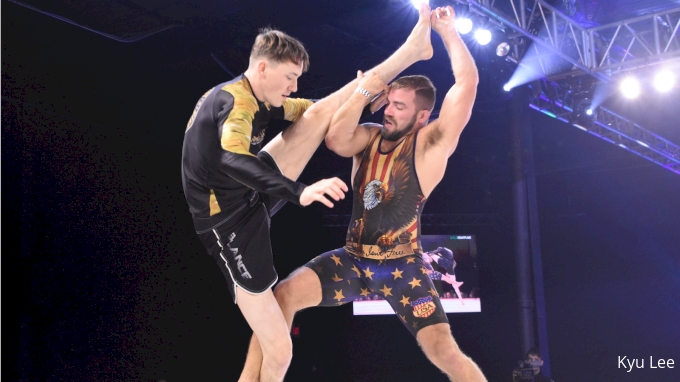 ---
Upcoming Live Events on FloGrappling:
Wednesday, October 23: The New Guard: Mikey Musumeci
Live premiere of our new documentary on October 23
Saturday, October 26: Fight 2 Win 129
F2W head to Chicago. Talita Alencar and Catherine Perret will face off in the main event in a champ vs champ bout.
Sunday, November 3: 2019 IBJJF Long Beach International Open
SoCal is the scene for this IBJJF tournament, one which historically always brings out plenty of local talent.
Saturday, November 23: Fight 2 Win 132, GrappleFest 7 & 2019 Spyder Invitational BJJ Championship Final
Three events all on one day! Luckily the time difference means the events shouldn't overlap.
December 12-15: 2019 World IBJJF Jiu-Jitsu No-Gi Championship
The last big event of the year, and a major IBJJF event that brings the no-gi season to an end.