2022 IBJJF FloGrappling Grand Prix
Live Updates & Results | IBJJF FloGrappling Grand Prix
Live Updates & Results | IBJJF FloGrappling Grand Prix
Follow along throughout the night for real time results, updates and analysis for both IBJJF FloGrappling Grand Prix brackets and all three superfights.
Oct 28, 2022
by Corey Stockton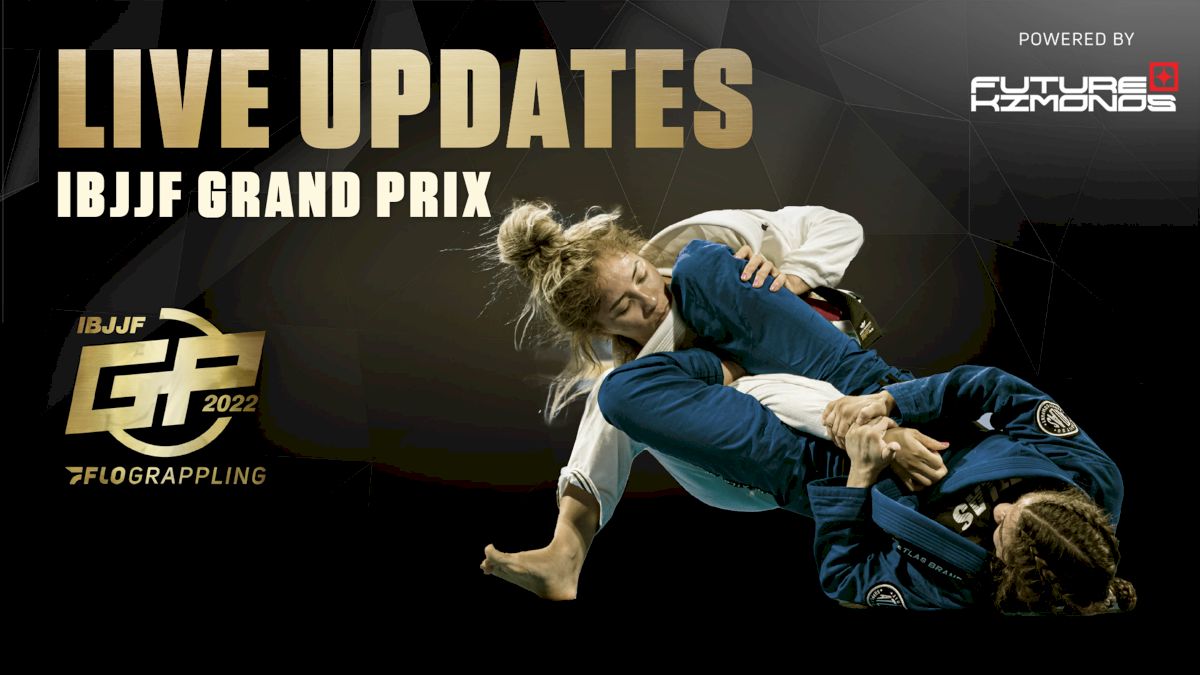 The athletes are weighted in and ready to go! Tonight, four men will square off to become the IBJJF FloGrappling medium heavyweight Grand Prix champion. Four women will take the mat trying to become the first ever female Grand Prix champion. The night also promises three high level superfights including many of the top ranked grapplers in the world.
Follow along here throughout the night for real time updates, analysis and results!
---
Male GP (Medium Heavyweight 195 lbs)
Andre Porfirio
Isaque Bahiense
Ronaldo Junior
Manuel Ribamar
Female GP ( Lightweight 141.6 lbs)
Mayssa Bastos
Anna Rodrigues
Janaina Lebre
Luiza Monteiro
Superfights
Johnatha Alves vs Mathias Luna
Tainan Dalpra vs Rodrigo Lopes
Fellipe Andrew vs Roosevelt Sousa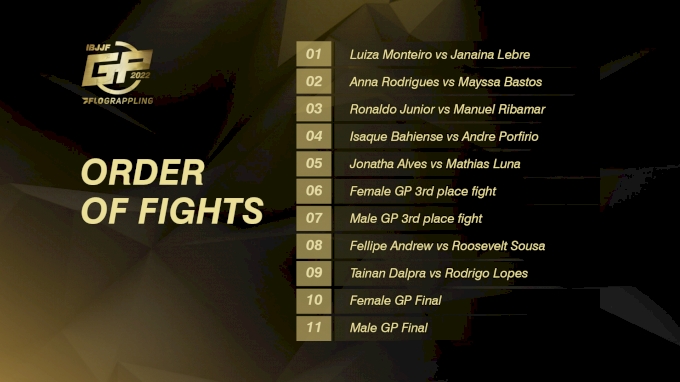 ---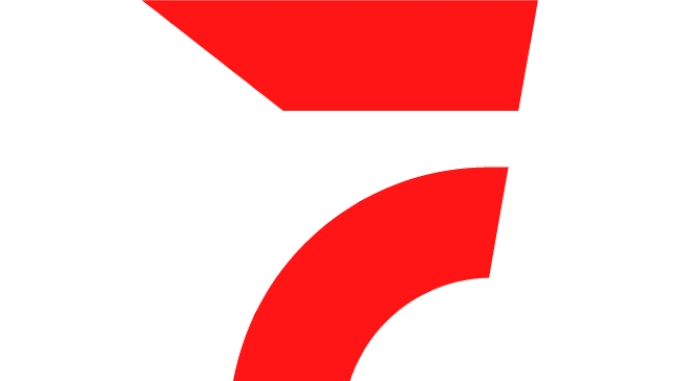 ---
Female Lightweight Grand Prix Round 1
Janaina Lebre's last minute decision making gave her a distinct advantage in the final two minutes of a close battle. Lebre utilized lapel guards for most of the match, sweeping from a deep lapel position for a go-ahead two points. As Monteiro returned to her feet, Lebre pulled guard again, sealing her spot in the final of the first ever female IBJJF GP.
Lebre def Monteiro via score (8-6)
Anna Rodrigues' fast guard pull put her on the forward foot against Mayssa Bastos. She won the race to guard on two occasions, and utilized 50-50 to sweep. Rodrigues had a good look at a pass late in the match, but the action went out of bounds.
Rodrigues def Bastos via score 4-0
Male Medium Heavyweight Grand Prix Round 1
One Flurry of attacks off a near takedown gave Manuel Ribamar the edge he needed against the ceaseless Ronaldo Junior. Ribamar got two advantages, which he rode out for the final moments of the match, paving his path to the final.
Ribamar def Junior 2-0
Isaque Bahiense got straight to work exhausting Andre Porfirio. He dropped pressure from the jump, scoring two on an early double leg. He took his time grinding through Porfirio's guard; when he finally got there, he went straight to attack on a kimura, which he finished after a few minutes of pummeling.
Bahiense def Porfirio via kimura (8:03)
Superfight
This match was fought entirely in lapel 50-50. The seesaw battle went to a decision after both men scored five sweeps.
Alves def Luna via unanimous decision
Third Place Bouts
Luiza Monteiro vs Mayssa Bastos
One advantage was the deciding factor in this match of near misses. Monteiro almost passed Bastos' guard. Bastos almost took Montiero's back. But the only advantage scored — the deciding one — went to Monteiro for coming up off of a double pull in the first exchange of the match.
Monteiro def Bastos via advantages (1-0) for third place
Andre Porfirio vs Ronaldo Junior
Utter and complete control from Ronaldo Junior throughout. Ronaldo pulled early and secured a lapel guard, which he used to sweep. In the final half of the match, Ronaldo turned the jets on, increasing his stacking pressure and passing velocity.
He scored two more points for a takedown before getting to Porfirio's back, where he set in a sliding collar choke in the final minute.
Junior def Porfirio via sliding collar choke for third place
Superfights
A clinical performance from Fellipe Andrew, who used his lapel guards to tie up and sweep the 50-lbs heavier opponent Sousa. He wrestled up to jump onto Sousa's back, then fell back to his guard. He sweeped again, took the back, and finished with a quick collar choke.
Andrew def Sousa via collar choke (8:15)
Tainan Dalpra's precision is a level above the rest. Three near passes forced Lopes to show his back. Dalpra took, then fell off, swept, and went back on a passing barrage. After putting up 14 points, he jumped on a cross side armbar and locked in the finish.
Dalpra def Lopes via armbar (4:22)
Finals
Janaina Lebre vs Anna Rodrigues
Lebre opened with an aggressive surge, attempting to jump over Rodrigues' guard pull. Lebre sprinted around the guard, forcing Rodrigues to show her back, then taking it.
That four point manuver was the difference maker in this match. Janaina Lebre becomes the first-ever IBJJF Female GP champion.
Lebre def Rodrigues via points (6-2), becomes IBJJF FloGrappling GP champion. Rodrigues takes second place
Manuel Ribamar vs Isaque Bahiense
Bahiense made the most of each of the scrambles in this medium heavyweight GP final. Although Ribamar started many of the scoring actions, Bahiense got the better of them. He never completely scored, but he established two advantages, enough to take home the $10,000 cash prize.
Bahiense def Ribamar via advantages (2-0), becomes IBJJF FloGrappling GP champion. Ribamar takes second place