2022 World IBJJF Jiu-Jitsu No-Gi Championship
4 Rising Stars To Storm The Women's Lightweight Division At No-Gi Worlds
4 Rising Stars To Storm The Women's Lightweight Division At No-Gi Worlds
Brianna Ste-Marie, Jasmine Rocha, Margot Ciccarelli, and Claire North, all recent champions in their own right, will square off for the lightweight crown.
Nov 28, 2022
by Beatrice Jin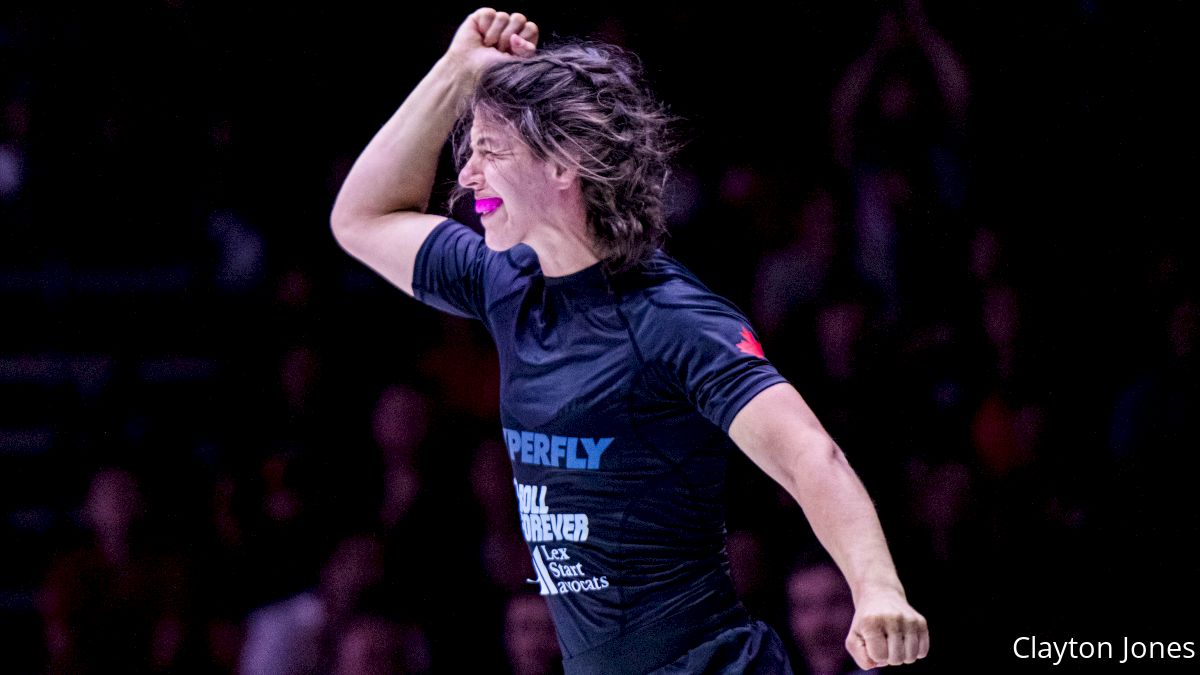 No-Gi Worlds is right around the corner and once again the black belts are looking to set the bar for professional jiu-jitsu a level higher. In the women's lightweight division, there are four top contenders, each stylistically different, vying for the number one spot.
Ste-Marie has been on a meteoric rise since the North American ADCC East and West Coast trials, becoming the first athlete to win both in the same season. She best black belt veterans like Raquel Canuto and Nathalie Ribeiro. Since 2021, Ste-Marie has held a record of 14-1, only losing in the ADCC finals to Ffion Davies. Ste-Marie specializes in half guard and closed guard, where she has swept and submitted some of the best in the game.
Ste-Marie started training jiu-jitsu when she was 19; she is now 26. With only seven years of competition experience, she's coming to Worlds with the fewest years but arguably the most success than the other grapplers in her bracket. She trains out of Brazilian Top Team Canada HQ in Canada.
Rocha, a rookie black belt but veteran competitor, will make her No-Gi Worlds black belt debut after placing third at No-Gi Pans this October. In 2022, Rocha participated in three ADCC trials, where she went 12-4, ultimately placing second in the North American West Coast Trials.
Rocha has displayed high level wrestling but also a strong open guard and leg attacks, which she showed in previous matches with women in this bracket, like Brianna Ste-Marie and Janine Mutton. Daughter of Vagner Rocha, the 20 year old has been training for 13 years and wrestled varsity in high school. She trains in Miami, Florida.
Claire North
The 29-year old North caught fans' attention in the past two months after winning the Medusa bantamweight championship over top seeds in the bracket, all by submission. That performance came shortly after an excellent showing at No-Gi Pans, where she played an aggressive guard to take silver behind Ana Rodrigues.
North is one of the only contenders this year that works a full time job outside of jiujitsu, as a pharmacist. She has shown that her double careers do not hold her back, as she is no stranger to the black belt podium in major IBJJF events. North trains out of Tipping Point BJJ in Iowa.
Ciccarelli, also 29 years old, is a fan favorite for her intricate guard, which she often relates to dance. She was a highly decorated colored belt competitor, champion in nearly every major tournament at purple and brown belt. This No-Gi Worlds will be only her third entry into a no-gi tournament at the black belt level.
Ciccarelli's style has often been described as "flow", as she plays primarily guard and specializes in berimbolos, crab rides, and lapel guards. It will be interesting to see how she has adapted her style without the gi. Ciccarelli currently trains out of Art of Jiu-Jitsu in California.
Others to watch
Morgan Black and Isa Bruno-Reiber are the newest black belts on the scene. Black just won double gold at the ADCC Open in September and earned No-Gi Pans silver at brown belt.
Janine Mutton, a black belt from Toronto, Canada, has seen success at IBJJF opens. She has strong passing and leg locks, and is may be the physically strongest athlete in the division.
Erin Johnson, from Colorado Springs, is no newcomer to the game. She has been training jiu-jitsu since 2003 and earned her way to the black belt No-Gi Worlds podium last year.