Tezos WNO Pena vs Rodriguez
Giancarlo Bodoni Vs. Pedro Marinho A High-Stakes Match For Tezos WNO Title
Giancarlo Bodoni Vs. Pedro Marinho A High-Stakes Match For Tezos WNO Title
"Dangerous" Giancarlo Bodoni is the favorite in a light heavyweight title shot at WNO. But reigning champ Pedro Marinho could defy odds.
Feb 23, 2023
by Erica Zendell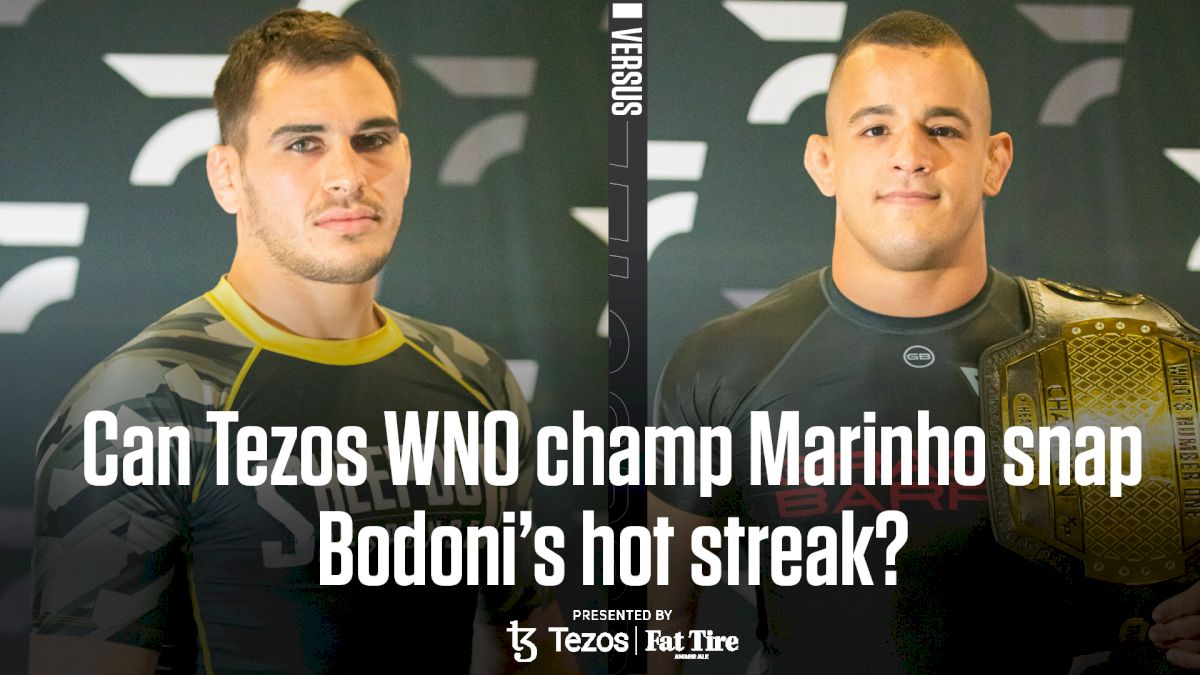 Despite a consistent podium presence on the competition circuit since 2018, Giancarlo Bodoni flew under the radar of grappling stardom until ADCC 2022.
Bodoni's performance as the dark horse winner of the 88kg division at the ADCC World Championships transformed and redefined his perception by fans and peers alike. Gone was the position-focused Bodoni, who had a clear weakness in leg entanglements. Here to stay was a submission-oriented, "dangerous" no-gi competitor, another project-turned-crown jewel in John Danaher's New Wave wrecking crew.
Subscribe To FloGrappling For Gordon Ryan Vs. Felipe Pena

For most professional jiu-jitsu athletes, winning ADCC is a career pinnacle. In Bodoni's case, it sets up the inevitable question: What next?
---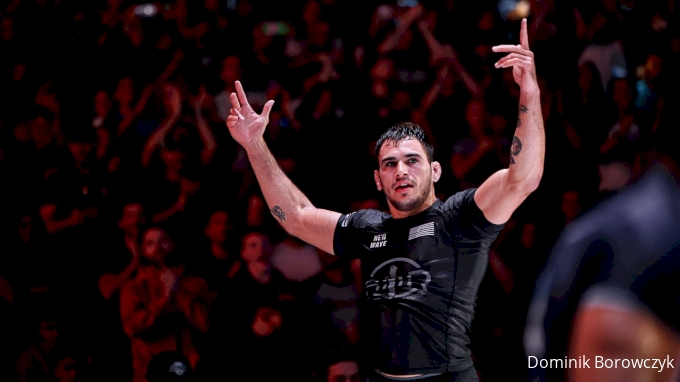 With ADCC 2024 lying farther in the horizon, Bodoni has the near-term proof point to reinforce how "dangerous" he has become in his return to the WNO stage. Bodoni's debut appearance on Tezos WNO was in the Heavyweight bracket at the Who's Number One Championship in September 2021, one month before his move to Austin and officially joined New Wave.
If fans are looking for a distinctive before/after of Bodoni's evolution as a no-gi grappler since joining New Wave, there's no better side-by-side than WNO Championship, where Bodoni faced Mason Fowler, Kaynan Duarte, and Haisam Rida on the same weekend.
In each match, Bodoni went the full fifteen minutes, but lost by decision. He performed formidably despite a weight disadvantage, lasting the durration with each opponent, but losing by decision in each matchup, spending much of the match in bottom position and caught in defensive cycles against his opponents' top pressure and offense.
Glimmers of the future Bodoni, however, are visible in his matchup with Rida, where Bodoni started to wrestle successfully and find flickers of offense against "the Giraffe." Bodoni would later avenge this WNO loss against Rida in the Absolute division of ADCC, stacking Rida, finding the back, and submitting him with a shoulder lock in under five minutes.
In light of his WNO past, the February 25 title bout offers a strong opportunity for Bodoni to improve his record on Tezos WNO, to compete in the event at his actual weight class, and, above all, to come home with a belt to show for it: this is Bodoni's first-ever WNO title fight.
While the betting odds are in Bodoni's favor, defending light heavyweight champion Pedro Marinho won't go gently into this matchup.
Marinho had a breakout performance of his own in his rookie black belt year, scoring double-gold at No-Gi Worlds in 2021. There, he earned hard-fought wins over esteemed competitors like Cyborg Abreu, Vagner Rocha, Adam Wardzinski and Victor Hugo.
With a win column that includes victories over newer prospects like Jay Rodriguez and more tenured names like Craig Jones (whom he beat to win his Tezos WNO title), Marinho is not one to crack under pressure or hype associated with an opponent's game or accomplishments. If anything, these circumstances stoke a fire in Marinho, leading to some of his best performances to date.
The matchup against Bodoni–which Marinho specifically requested after ADCC–gives Marinho a prime opportunity to reinforce his claim to the light heavyweight throne, pump the brakes on Bodoni's popular momentum, and show that he —and his legendary guillotine — are equally "dangerous."
The WNO stage will be the third time these athletes have matched up in competition, and in both of the previous instances, the matches ended by submission. Marinho's win is the more recent of the two, when he submitted Bodoni by guillotine in July 2021 at the Orlando Summer No-Gi Open.
Though both competitors have evolved greatly since they last matched, we can expect them to remain submission-hungry as they meet again for WNO. Marinho will likely be strong and insistent on the feet, looking to wrestle and achieve top position off of takedowns with arm drags and single legs–and, when the moment is right, attempt to snap on a signature guillotine. Given the improvements in his standup game witnessed at ADCC–especially in his matches against Diniz and Hulk–Bodoni may opt to wrestle with Marinho instead of sitting to guard. If Marinho finds himself on the mat, watch Bodoni look to chase and attack from the back as he did multiple times at ADCC (and as Gordon did in his own match with Marinho at WNO in July).
Tezos WNO: Gordon Ryan Vs. Felipe Pena II Card
Here's the complete card for the event:
Undercard:
Kieran Kichuk vs. Rene Sousa
JT Torres vs. Magid Hage
Amanda Bruse vs. Jasmine Rocha
Oliver Taza vs. Jonnatas Gracie
Co-main event:
Pedro Marinho vs. Giancarlo Bodoni
Gordon Ryan vs. Felipe Pena
How To Watch Ryan Vs. Pena
Gordon Ryan and Felipe Pena's fourth match will stream live on FloGrappling and the FloSports App. Click here to watch live.
Subscribe To FloGrappling For Tezos WNO: Gordon Vs. Pena II And More Jiu-Jitsu Events
Click here to subscribe to FloGrappling and FloSports.
A subscription unlocks the following:
Live events
Event replays
Original films and shows
Training and technique videos
Event results
Team and athlete rankings
Breaking news
Limited ads on videos
Subscribers can watch up to 12 streams in total on one or many devices connected to the same WiFi. For example, you can have one stream up on your iPhone, one on your Roku, and another on your laptop.