Fight 2 Win 114 was full of submission victories, upsets, and tests. Gabi Garcia was absent from Worlds two weeks ago due to a knee injury, but no one would have guessed she was fighting through adversity in an absolutely dominant F2W debut.
In one of the quickest main events the Fight 2 Win stage has ever seen, Garcia was able to leg trip Hillary VanOrnum directly into a technical mount where she secured a lapel choke to finish the match to win the women's heavyweight belt. It all went down in about a minute. With Pans double gold in the bag, the goal of ADCC later this year and an MMA career to build upon, Gabi Garcia's 2019 is looking good.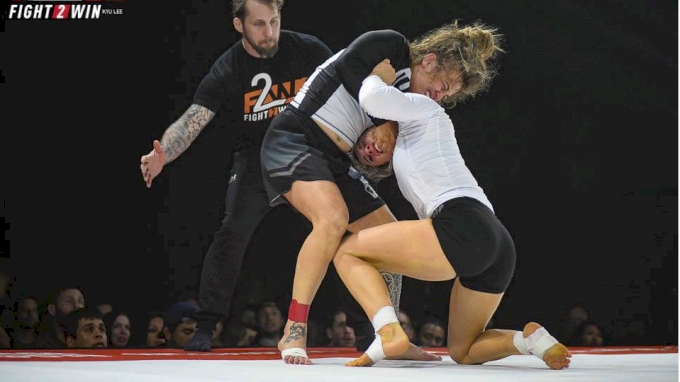 Catherine Perret scores the submission versus Ffion Davies
In the co-main event F2W presented one of their best match ups to date with a bantamweight no-gi title match between Catherine Perret (Checkmat) and Ffion Davies (East Coast Jiu Jitsu). Although Perret is the current bantamweight gi Champion, many would say that 2018 No-Gi World Champion Davies was the favorite going into this event. She quickly became jiu-jitsu's sweet heart winning Brasileiros, Europeans, Pans, and earning an invite to ADCC.
Davies was able to take the back and begin attacking early on in the 10-minute match. After two minutes defending the back and in an excellent displace of resilience and grit, Perret was able to escape and lock in a match-ending guillotine off of Davies' single leg attempt, proving that anything can happen in jiu-jitsu, and a match can turn upside down in a blink. The guillotine earned Catherine Perret the no-gi bantam weight belt, making her one of the few two division title holders with Fight 2 Win.
Ffion has had a non-stop competitive season so far with her first two significant losses coming in consecutive weeks at Worlds and now F2W. Praised for her mental fortitude, fans can look forward to seeing her come back for ADCC.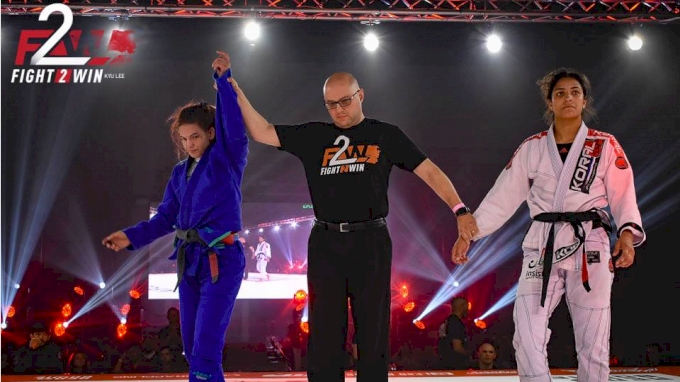 Val (blue) defeats Ferreira (white) via decision
Though not officially announced, it looked like the brown belt middle weight world champion, Thamara Ferreira, leveled up to black belt before her F2W debut against IBJJF #1 ranked black belt and three-time World Champion Claudia Do Val.
Quite the debut for a rookie black belt, but with combined brown/black belt division wins and a resume to impress, no one was better suited for the challenge. The back and forth match eventually ended in split decision in favor of Claudia Do Val. Although, not surprising, expect to see Ferreira back on the competition scene sooner than later making waves.