2022 ADCC World Championships
ADCC Record: Four 2021-22 Trials Winners Became ADCC Champions
ADCC Record: Four 2021-22 Trials Winners Became ADCC Champions
In the last two editions of ADCC, none of the Trials winners won gold. In every other past ADCC, no more than two had won. This year, that number doubled.
Sep 28, 2022
by Corey Stockton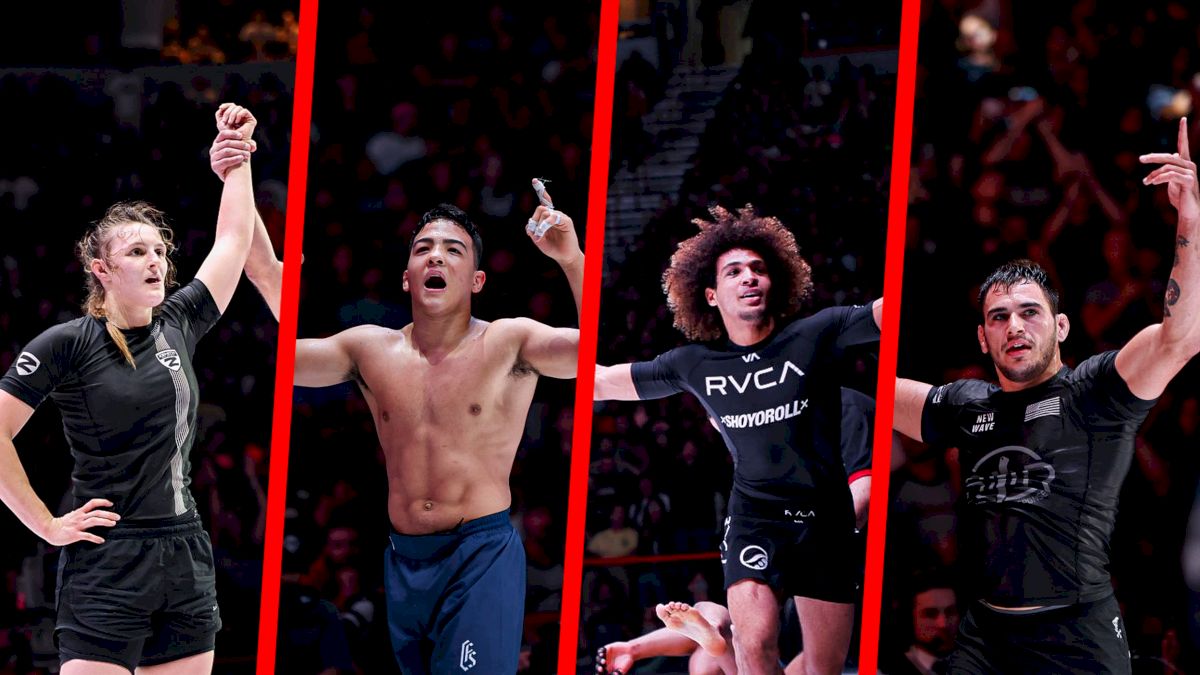 The 2022 ADCC World Championships made history at every turn. It was the most well-attended ADCC of all time, during which several records were broken. Kade Ruotolo became the youngest-ever ADCC champ, Gordon Ryan became the first to hold titles in three different weight classes, Ffion Davies became the first Welsh Champion, Brianna Ste-Marie and Dante Leon shared honors as the first Canadian ADCC medalists.
Among all that, a less obvious but equally important record was set among ADCC champions and medalists. This year, for the first time, half of all the gold medalists were-first time ADCC Trials winners earlier this season.
Of the eight athletes who earned division titles at the ADCC World Championships, four of them had won an ADCC Trials event in 2021 or 2022 to get there.
---
Athletes have two methods to qualify for ADCC, the premiere biannual event in submission grappling. Event organizers issue invitations to former champions, medalists and standout veterans, as well as widely renowned grapplers who have proven themselves in other events.
All other athletes who are not invited must qualify in one of ADCC's eight regional trials. Citizens of North American countries may qualify in one of the two North American Trials. There are two South American Trials, two for the European, African & Middle Eastern regions and — generally — two for the Asian & Oceanian regions.
Those trials produce 44 of the 96 athletes invited to compete at any given ADCC. Yet, despite accounting for 46% of the competitors, trials winners have seldom turned into champions. In most cases the trials winners who have eventually earned ADCC gold did not win on their first year at ADCC; instead, they impressed event organizers, earning an invitation to return in a following edition, during which they climbed the podium.
Prior to 2022, only seven ADCC Trials Champions went on to take gold at ADCC in the same year. Marcio Cruz and Dean Lister won in 2003, Roger Gracie won double gold after winning the trials in 2005, Rafael Mendes won in 2009, Michelle Nicolini in 2013, and Davi Ramos and Claudio Calasans in 2015.
Multiple trials winners went on to win gold in just two of those years: 2003 and 2015. On the other hand, none of the athletes who won trials in the 2017 or 2019 seasons took gold at the ADCC World Championships in those years.
The most successful trials winners over the previous five years had made it to the semis and finals, but had not won gold.
In 2017, Bia Basilio, Talita Nogueira, Vagner Rocha and Paulo Miyao each reached the podium after winning trials earlier that season; Basilio and Miyao were first-time winners, while Rocha and Nogueira had won trials for a return trip.
In 2019, Nick Rodriguez and Carina Santi took silver after winning their first trials. Josh Hinger took bronze after his first trials gold, while Lachlan Giles finally captured a bronze medal after three consecutive successes at the Oceania & Asia Trials.
Aside from the four trials winners who took ADCC gold in 2022, three more appeared on the podium, a feat in itself. Mica Galvao took silver at 77kg. Brianna Ste-Marie became the only Canadian North American Trials winner to earn an ADCC medal. Roosevelt Sousa became the most successful heavyweight trials winner of the year, taking bronze in the +99kg category. No other trials winner at -99kg or +99kg made the podium.
The number of trials winners to reach the ADCC podium — and to reach the top of it — had drastically increased this year. That seems to point to the growing level of competition both at ADCC and its feeder events.
In both 2021 and 2022, the North American Trials set record participation numbers. Many of the divisions at the 2nd North American Trials in Las Vegas in 2022 had to be capped at 256 participants, including ADCC veterans, former trials winners and teenagers.
Many of these athletes, like Kieth Krikorian and William Tackett, had been training for and competing in ADCC Trials for years before finally achieving victory. Along the way, they had become some of the most successful and accomplished grapplers on the planet.
It seems that in future years, there may be more stories like theirs. The average age of ADCC finalists and champions is trending downward. Younger athletes are becoming more successful at ADCC than ever before. This is not due to a lack of talent at ADCC, of course. Much the opposite; it points to the current and future potential of the newest generation of grapplers.