How My Plan To Pass Mikey's Guard Backfired!
How My Plan To Pass Mikey's Guard Backfired!
I asked "OK Mikey, ready to roll?" and he smiled at me with his big white teeth and rose from his iconic squat as if he was floating.
Feb 19, 2020
by Reid Connell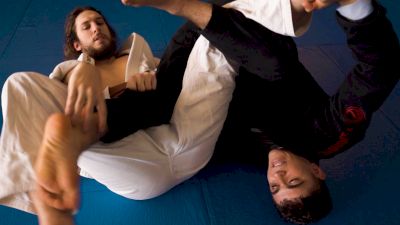 Unlock this video, live events, and more with a subscription!
Get Started
Already a subscriber? Log In
Unlock this article, live events, and more with a subscription!
Get Started
Already a subscriber? Log In
Whenever I travel to a new gym I seem to always get this question… what's it like training with (insert high level competitor here).
I've been lucky enough to have trained with a number of world champions throughout my time here at FloGrappling and can attest it's a unique and humbling experience to roll with someone at a truly elite level. So I thought I'd do my best to relate the experience of rolling with 3x World Champion Mikey Musumeci to you all. I hope you enjoy!
Watching Mikey train is very intimidating. The way he sees and breaks down the finest details of a technique leave me wondering if I actually even know any jiu-jitsu. I've been training for years, long enough to earn a brown belt and yet I'm completely out of my element on the mats with him.
One thing about traveling to a lot of gyms and competing all over the world is that it let's you know your place in the hierarchy of jiu-jitsu. I've won some competitions and trained at Atos and Gracie Barra Northridge as well as your average jiu-jitsu academy. I am very aware of the level of my jiu jitsu and where I fit in the big picture.
I didn't have any preconceptions of success is what I'm trying to say. I knew it was going to be a beating… I just didn't know how bad of a beating it would be.
Now I've gotten the chance to take a few classes with Mikey and his coach Caio Terra in the past so I'm very familiar with their level of technique but when the opportunity came up to do a little training with one of my jiu-jitsu heroes I sheepishly jumped at the opportunity. He's small and I'm big, what could go wrong?
Right now I'm walking around at about 205 pounds and for context Mikey won the IBJJF World Championships at rooster weight which is a weight limit of 127lbs. No need to do the math, I've got some weight on Mikey and I planned to use it to my advantage. I figured Mikey would be eager to roll with someone much larger than him as his new goals all seem to be attached to winning the open class at a major tournament.
In preparation I started working my over under pass and watched as many Bernardo Faria instructionals as I could. Double unders, stack passes, baiting futile triangles, I was brushing up on all the tried and true big guy moves.
On judgement day I tried to do a quick warmup while Mikey waited for me to give him the go ahead. But Mikey's corner squat was too intimidating and I ended up doing about fifteen jumping jacks and some half hearted arm swings. A classic white belt warmup.
Next I asked "OK Mikey, ready to roll?" and he smiled at me with his big white teeth and rose from his iconic squat as if he was floating. I knew this wasn't going to go well.
"Oss" we both said, slapped hands and started to roll. From there it's a bit of a blur.
One thing I learned right off the bat was that the berimbolo does indeed work... on me. Now Mikey's berimbolo has always been the exception to the rule but feeling how quick he was able to get underneath me and on my back was mesmerizing.
Another was the simple trick to negate the over under pass. Sometimes jiu-jitsu will blow your mind and all it will take is a uncomplicated grip adjustment that you've never seen before. Luckily Mikey was full of details and little adjustments for my game. Turns out I needed a lot of fixing.
It took a while for the embarrassment to wear off but once Mikey got into a rhythm of pointing out my major flaws, I started to relax. I realized that this is what jiu-jitsu is all about. An endless pursuit for jiu-jitsu enlightenment. This martial art is infinite and as long as you're still eager to learn jiu-jitsu will continue to teach.
After we wrapped up filming, Caio and Mikey started working through a familiar position. They were bouncing ideas off each other about what to do from a position that Mikey got stuck in at the IBJJF European Championships while fighting with the much larger Mahamed Aly.
Clearly this was a position that had been weighing on their minds as Mikey repeatedly asked his coach about the foot positioning. They went back and forth on which grip was the strongest and when the timing was just right to finish the technique. And then I realized that maybe Mikey and I weren't so different after all.
Sure, my jiu-jitsu is at a much lower level (much lower) than his but that doesn't mean he has all the answers. It's true he's got quite a lot of them but even an athlete as dedicated and talented as Mikey, he still wonders what to do occasionally. He still has questions and albeit rarely he still tastes defeat every now and then.
We're all human and we're all working towards a better jiu-jitsu game. To lose is to get better. So when people ask me what it's like to train with Mikey Musumeci I tell them it was a tough roll. So tough it felt like I forgot every jiu-jitsu move I've ever learned. So tough that it showed me how deep the rabbit hole goes (it's a long way down). So tough that it gave me even more motivation to get back into the gym.
So I encourage everyone to seek out the toughest black belts in your area or get on a plane and fly to the toughest gym you can think of. Rolling with world champions lets you take the blinders off and reinforces just how much you have to learn.
Afterwards when I asked Mikey what he thought I could do to improve, he gave a great piece of advice, "Keep going to the gym".