FloGrappling WNO: Craig Jones vs Luiz Panza
Grappling Bulletin: What's So Special About Micael Galvao? Everything
Grappling Bulletin: What's So Special About Micael Galvao? Everything
We haven't seen a buzz like this since Gordon Ryan broke through onto the world scene. Why is Micael Galvao so highly regarded?
May 10, 2021
by Hywel Teague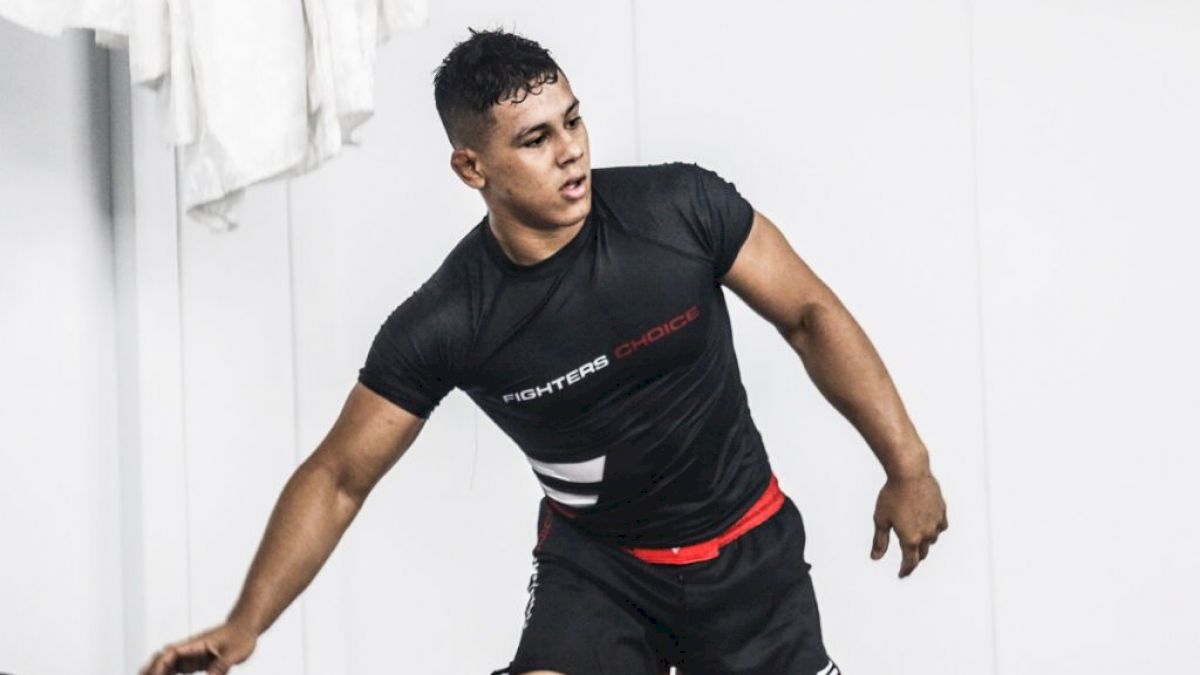 Don't forget to watch the Grappling Bulletin podcast, every Monday at 3:30pm ET. Watch it on FloGrappling.com or the app, or catch it LIVE on YouTube or Facebook.
Missed the live show? Catch up on the replays here.
---
How many times have you heard the phrase "the next big thing?" Whether talking about rappers, crypto currency or 'disruptive' overvalued tech companies offering a reinvented wheel as an "essential 2.0 personal transportation accessory", everybody wants to know what's next. People have an obsession with newness. The trick is knowing when hype is real or overblown. If you just listen to the online chatter you'll fall for anything, and before you know it your great hope has fizzled out and disappeared as fast as they came on the scene.
You need to be cautious and a little skeptical when coming across a NBT (next big thing). If you think you see one, do your research before going all in. Check their results against their social media presence and see if it stacks up. Sure, they may be holding a lot of gold medals and standing on the top of a lot of podiums, but how did they get there? Were those divisions loaded or did they just have to win one or two matches? Dive into the divisions and look to see if they've beaten opponents of note, or if they just ran wild through a bunch of nobodies.
One breakthrough talent that has all the hallmarks of being a legit NBT is Micael Galvao, the 17-year-old brown belt from Manaus, Brazil who has been tearing up the mats from a young age.
If you're reading this and you're Brazilian, you're probably thinking "What the hell, Mica has been a big name for years!" And that's absolutely true. If you're American, however, you're probably aware of his name but you may not know as much about his background or his accomplishments. So let's dive in and talk a little about – as the title of this article suggest – what makes him so special.
Born on October 8, 2003 in Manaus, Micael (aka Mica) comes from a jiu-jitsu family. His father Melqui Galvao runs Dream Art Manaus– a prominent academy in the jiu-jitsu talent-rich hotbed– where he trains future champions. Alongside his son Mica are athletes such as Diogo Reis, Luiz Paulo and more.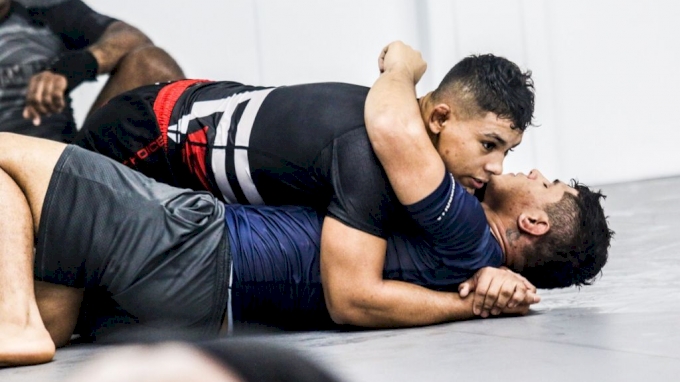 Galvao training at Dream Art Manaus.
Galvao currently has over 150k Instagram followers, which is a big checkmark for any NBT. The reason he has such a large following is because he's been absolutely crushing the competition since, well, forever. As a blue belt, Galvao achieved a double grand slam, winning gold in his weight division and the open weight class at Euros, Pans, Brasileiros, and Worlds. He was promoted to purple belt while still only 15 years of age after becoming IBJJF South American champion and submitting every single one of his opponents in a row. He recently cruised to victory at the Abu Dhabi World Pro, taking gold in the 77kg brown belt division and beating three of his four opponents by submission. In fact, submitting opponents is something of a trademark for young Galvao.
You see, Galvao really made his mark with a couple of high profile matches where he submitted black belts. The first happened when he was only 15 years old in a controversial superfight that many people disapproved of. Was happened was a local promoter put out a call among black belts asking for an opponent for Galvao, who was a blue belt at the time. The traditionalists decried such a move as it broke convention, but few would have predicted the result. Black belt Leandro Rounaud stepped up to face Galvao and was left nursing a broken arm after Galvao showed just how dangerous he was.
Fast forward to 2021, and Galvao kept up this trend by tapping South American No-Gi black belt champion Gustavo Telles in less than 60 seconds. He scooped up a match-ending choke with ease, showing that he is just as proficient in no-gi as he is in the gi.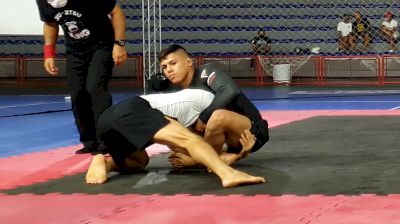 The world is about to get a good look at Micael Galvao. He recently arrived in the United States, where he based in Miami, Florida training at Fight Sports alongside Roberto "Cyborg" Abreu, Vagner Rocha and the rest of the crew. He landed just a couple of days ago and has already made his mark on the mats, being well-received by the powerhouse team thanks to his attitude and work ethic. Vagner Rocha explains:
"The first impression that I have of him is that he's very genuine, very humble. You can tell his dad has a huge influence in his jiu-jitsu. He's very, very submission-oriented. And very, very smooth. Strong, but not excessively strong. Loose, but not excessively loose. And pretty complete, good on bottom, good on top, good wrestling. Very, very well-rounded. Huge potential for growth, especially at the age he is."
The USA is often described as the land of opportunity, and that's why Viktor Doria of Fighters Choice brought him and his father here. Galvao is signed up for IBJJF No-Gi Pans where he'll make his brown belt debut on American soil, and then on May 28 he'll feature as one of the free prelim matches when he takes on the surging Andrew Tackett on WNO: Gordon Ryan vs Luiz Panza.
Few people are expecting Galvao to struggle at No-Gi Pans. He will have to take on opponents such as Austin Oranday, Igor Feliz and Sean Yadimarco. Should Galvao face Yadimarco it will be a good indication of what to expect on May 28. Tackett scored a dominant win over Yadimarco at WNO in March, beating him via decision in a high-paced 15-min match.
Tackett will be a tough test for Galvao. Though he lacks the big results, he has had his own fair share of success and holds multiple wins over black belts in no-gi matches (he says he can't even keep track of how many he's beaten). Tackett will have the hometown advantage as well, as he's based in Austin, TX and won't have to travel. Galvao will have his hands full, and a win over Tackett will help his name reach new heights outside of Brazil.
And that's not all– Galvao will be competing regularly while he's here in the USA. Who knows what challenges await him? (Spoiler: we know, and we'll be revealing an exclusive announcement on the live Grappling Bulletin podcast, so make sure to tune in.
Watch WNO: Gordon Ryan vs Luiz Panza on May 28. Mica Galvao vs Andrew Tackett will feature as one of the free prelims available to watch on the FloGrappling YouTube and Facebook pages.
---
IBJJF Pan No-Gi is Absolutely Stacked
We'll go into the divisions in the Grappling Bulletin, but just to give you a heads up… No-Gi Pans is loaded with talent, and the black belt divisions are looking really, really solid. Just take a look at the numbers.
Black belt Rooster 13
Black belt Light-Feather 12
Black belt Feather 19
Black belt Light 32
Black belt Middle 22
Black belt Medium-Heavy 25
Black belt Heavy 13
Black belt Super-Heavy 13
Black belt Ultra-Heavy 8
157 adult male black belt competitors
Black belt Light-Feather 5
Black belt Feather 4
Black belt Light 4
Black belt Middle 4
Black belt Medium-Heavy 4
Black belt Heavy 4
Black belt Super-Heavy 2
27 adult female black belt competitors
---
IBJJF New Orleans Results
By Corey Stockton
The IBJJF held the third annual New Orleans Open this weekend, including gi and no-gi divisions. The most noteworthy result of the tournament was the double-gold no-gi performance of Matheus Gabriel, who won the middle and open weight divisions, beating Diego Ramalho and Aaron Tex Johnson. A 2019 IBJJF World Champion, Gabriel generally competes at featherweight, and is ranked no.6 in the no-gi lightweight rankings.
Other notable results include:
Kieran Kichuk | Lightweight gold | Gi and No-Gi
Yago De Souza | Medium Heavyweight gold | Gi
Austin Baker | Ultra Heavyweight & Open Weight gold | Gi
Marvin Castelle | Featherweight gold | No-Gi
Janaina Maia | Lightweight & Open weight gold | Gi
---
The New No-Gi Rules Have Changed 50-50 Forever
We've already seen plenty of fresh faces come in and disrupt the no-gi scene now that the IBJJF legalized heel hooks in their tournaments. Stanley Rosa hit the historic first ever heel hook in IBJJF competition back at the 2021 IBJJF Dallas No-Gi Open. And this very weekend in "The Big Easy" a few key names took full advantage of the lower body attacks to further show that if you're not hip to the leg lock game, then you're in trouble.
Marvin Castelle showcased why the 50-50 position is the absolute last position you ever want to find yourself in if you're not completely dialed in to the leg lock game. He tapped Richar Nogueira in less than two and a half minutes with an inside heel hook, as you can see below.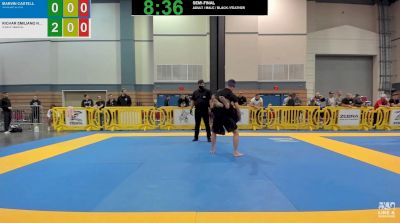 ---
Pro MMA Fighter Wins Finishers
Finishers Sub Only 13 went down on Saturday, May 8, featuring a 16-man absolute bracket and several black belt superfights in the EBI ruleset.
Balance Studio's Bassil Hafez, a professional MMA fighter, won the open weight tournament, collecting two submissions in regulation and winning his semifinal and final matches via ridetime in regulation.
Danaher Death Squad representative Frank Rosenthal, currently the no.10-ranked featherweight, won the main event superfight match against Gabe Tejada in overtime, securing a rear naked choke in the first round of OT.
Five of the 15 matches ended in submission inside of the 10-minute regulation period. Matteo Martinez, Alec Hooben, Bassil Hafez, and Daishi Goto each earned submissions in regulation. Several other matches ended via overtime submission.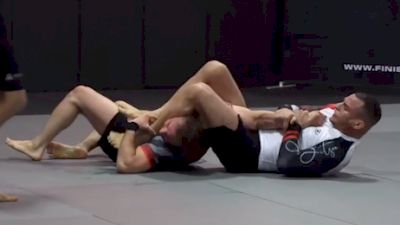 ---
Upcoming Events On Flograppling
2021 IBJJF Pan No-Gi Championships – May 15-16 | more info
WNO: Gordon Ryan vs Luiz Panza – May 28 | more info
Spyder Invitational BJJ Championship Purple/Brown Preliminary – May 28 | more info
EUG Promotions 170lb Tournament – June 12 | more info