2023 Tezos FloGrappling IBJJF Grand Prix Series
Results | Tezos FloGrappling IBJJF Grand Prix
Results | Tezos FloGrappling IBJJF Grand Prix
Tainan Dalpra & Isaque Bahiense are set to take the mats in a 30-minute bout, plus a men's lightweight GP and a women's heavyweight GP for $10,000 each.
Mar 4, 2023
by Liam Stein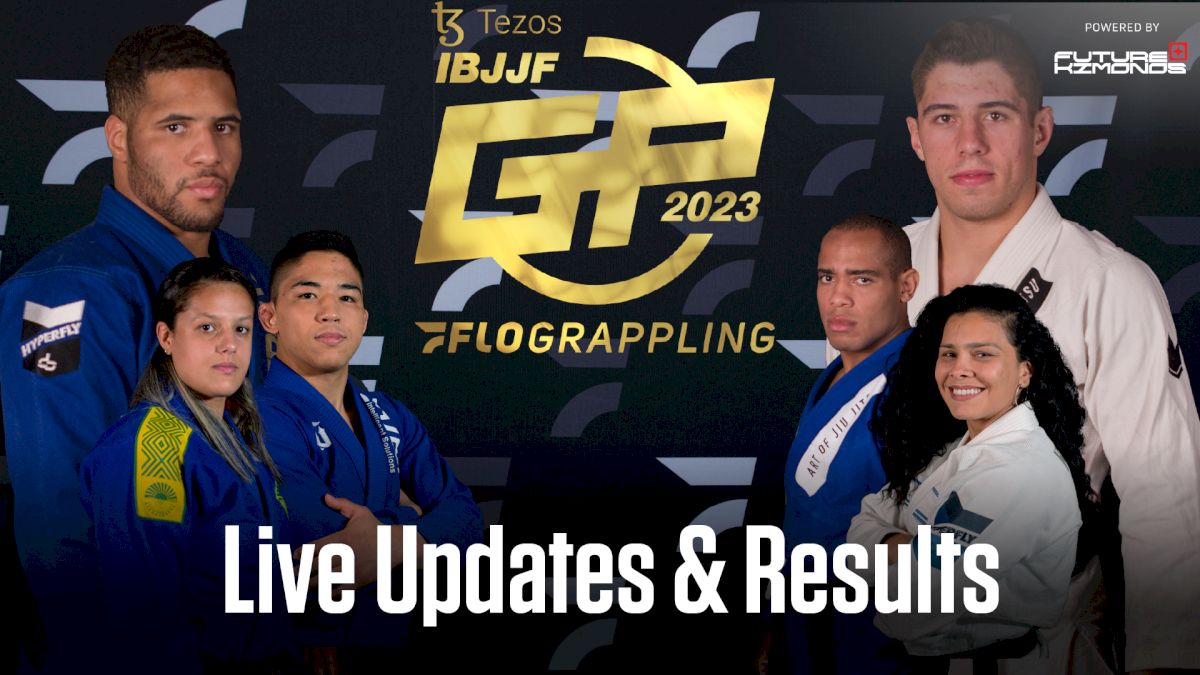 Follow along for real-time results, updates & more from the Tezos Flograppling IBJJF Grand Prix, live from Austin, Texas, on March, 3rd 2023. Packed with premier talent, grapplers from the men's lightweight and women's heavyweight will be battling for the title of champion!
Three featured superfights will be hosted alongside the Grand Prix tournaments, including a rematch between Tainan Dalpra and Isaque Bahiense!
---
FloGrappling IBJJF Grand Prix 2023
Live Updates and Results
Tainan Dalpra vs Isaque Bahiense | Main Event Superfight
From start to finish, this fight was all Tainan Dalpra. After an initial guard pull, Dalpra found a quick off-balance sweep and passed to side control. Maintaining positional dominance and subduing Bahiense's attempts to escape, Tainan continued to rack up points and advantages until time expired.
Tainan Dalpra def Isaque Bahiense via points (19-2)
Andy Murasaki vs Johnatha Alves | Men's Lightweight GP 1st Place
In a razor thin bout fought entangled in 50/50, both fighters were able to achieve a sweep from the position. However, this also led to both fighters being penalized for passivity. In the final moments, Alves attempted to find the back of Murasaki.
Johnatha Alves def Andy Murasaki via decision
Ana Carolina Vieira vs Nathiely de Jesus | Women's Heavyweight GP 1st Place
Neither fighter willing to give an inch, the pair fought from Nathiely's guard for much of the bout until forced to return standing due to passivity. Once reset, Nathiely pushed an extreme pace in an attempt to score, gaining an advantage from a near takedown. Keeping up the pressure until the matches end, Nathiely de Jesus emerged victorious.
Nathiely de Jesus def Ana Carolina Vieira via advantages (1-0)
Elijah Dorsey vs Carlos Henrique | Men's Lightweight GP 3rd Place
Fighting at an intense pace from the start, Dorsey and Henrique continually scrambled for position. Henrique scored first, sweeping from 50/50. Later, Dorsey began to gain momentum, passing to side control and eventually gaining knee on belly to extend his lead. Scrambling until the end, Henrique found his way to an armbar as the clock expired, but to no avail.
Elijah Dorsey def Carlos Henrique via points (5-2)
Andressa Cintra vs Melissa Stricker | Women's Heavyweight GP 3rd Place
In a back-and-forth guard battle, Stricker struck first, inverting from guard deep into a kneebar early in the match. Scoring an advantage, Stricker followed by landing a beautifully timed scissor sweep. Cintra scored an advantage of her own in a sweep attempt, then gained double sleeve control to score the sweep. Tied with seconds remaining, Cintra attempted to shoot and was forced to turtle before recovering guard as the clock expired.
Melissa Stricker def Andressa Cintra via decision
Ronaldo Junior vs Francisco Lo | Superfight
It came down to the fight's final seconds in a largely stalemated affair. With two advantages each and a minute remaining, Lo pulled guard in an attempt to turn the tides. Ronaldo Junior seized the opportunity to attack and unleashed a flurry of passing attempts, ending the fight on Lo's back looking for a choke.
Ronaldo Junior def Francisco Lo via advantages (5-2)
Janaina Lebre vs Nathalie Ribeiro | Superfight
Janaina Lebre put her pressure passing on display early, quickly flattening Ribeiro in half guard. After several minutes of battling in half guard, Lebre achieved side control and attempted an armbar. Ribeiro countered and nearly took Lebre's back in the ensuing scramble before returning to guard. Scoring a sweep with two minutes remaining, Ribeiro remained caught in Lebre's guard for the duration of the bout.
Janaina Lebre def Nathalie Ribeiro via points (3-2)
Andy Murasaki vs Carlos Henrique | Men's Lightweight GP
Beginning the match with an intense scramble, Henrique appeared to be looking for the takedown when he pulled guard. Once grounded, Murasaki relentlessly attacked Henrique's back, leaving no room for Henrique to escape. Eventually taking Henrique's back and locking in a body triangle, Murasaki scored the opening submission of the night with a choke!
Andy Murasaki def Carlos Henrique via bow and arrow choke (7:29)
Ana Carolina Vieira vs Melissa Stricker | Women's Heavyweight GP
After an early guard pull from Stricker, Vieira slowly worked to pressure pass. Breaking through, Vieira nearly took Stricker's back but failed to gain full control and was awarded two advantages. Stricker scored the opening points, sweeping from reverse De La Riva guard with little time remaining to take the lead. Wasting no time, Vieira countered with a wrestle-up sweep of her own to win the fight.
Ana Carolina Vieira def Melissa Stricker via points (2-2)
Johnatha Alves vs Elijah Dorsey | Men's Lightweight GP
Ramping up as the fight continued, Alves scored an early sweep before finding himself stalemated in Dorsey's guard. With three minutes left, Alves poured on the pressure, unleashing a wave of guard passes to seal his ticket in the Grand Prix finals!
Johnatha Alves def. Elijah Dorsey via points (15-0)
Nathiely de Jesus vs Andressa Cintra | Women's Heavyweight GP
Kicking off the night with a bang, Nathiely de Jesus rallied for a final-minute comeback to defeat Andressa Cintra. After exchanging sweeps early in the match, with one minute left the score was 4-4 with Cintra winning by advantage. In a wild scramble, Nathiely swept Cintra and avoided a near back take to claim victory!
Nathiely de Jesus def. Andressa Cintra via points (6-4)
Catch up on all of the biggest news before the card kicks off:
Headlines:
Media Highlights