Tezos WNO 18: Meregali vs. Marinho Presented by Fat Tire
Will Alex Enriquez Triumph Over Tubby Alequin In Tezos WNO Debut?
Will Alex Enriquez Triumph Over Tubby Alequin In Tezos WNO Debut?
Enriquez looks to continue her momentum and showcase her growth in Tezos WNO debut against longtime opponent and WNO Veteran, Amanda 'Tubby' Alequin.
May 16, 2023
by Erica Zendell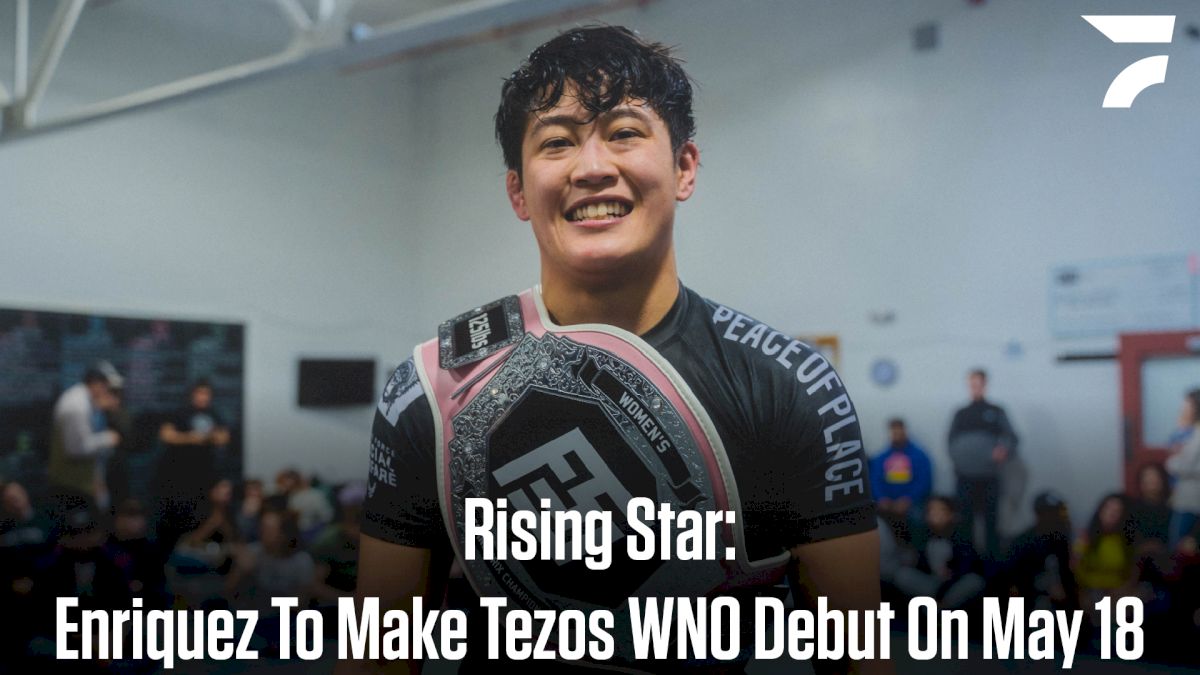 Alex Enriquez, already one of the brightest stars in women's no gi jiu-jitsu, is looking to establish her footing and put her stamp on the 125-lb division in her Tezos WNO debut–but to do it, she'll have to overcome a longtime opponent and Tezos WNO veteran in Tubby Alequin.
Tickets are on sale now to watch Tezos WNO 18: Meregali vs Marinho presented by Fat Tire live at the Criterion in Oklahoma City. Get them here.
Tezos WNO 18, on Thursday, May 18, will not be the first time Enriquez has matched up against Alequin; they've competed as recently as last December at No-Gi Worlds 2022, and their competitive history extends back as early as 2016 to a Metro Atlanta promotion called The Kakuto Challenge.
When Enriquez and Tubby first competed against each other at Kakuto, Alex was a teenage blue belt, Tubby was a brown belt, and the odds were against Alex, in age, strength, and experience.
"I always ended up losing to [Tubby] via toehold, so it wasn't really much of a rivalry, it was just her beating me up. I would get into some good positions at the very end or in overtime, but I would end up losing because my leg lock game was pretty much nonexistent or lacking at the time," Enriquez told FloGrappling.
But Alex looks back with appreciation on her loss column against Tubby at Kakuto and the opportunity to face someone of Alequin's competitive caliber at such a young age. "The times I faced [Tubby] as a teen were vital in propelling my jiu-jitsu to the next level. It provided me with a standard of what the "high level" was and the goals to reach."
Around the time she faced Enriquez circa 2015-2016, Alequin was having a breakout season; she took double gold at Worlds as a brown belt, won ADCC North American Trials, and made her ADCC debut–holding her own through a second-round match against an ADCC legend in Gabi Garcia. Six months into her black belt career in 2016, Alequin won No-Gi Worlds.
Seven years later, Enriquez is chasing many of the goals that Tubby has already achieved — a No-Gi Worlds title, an ADCC debut and championship title — while amassing other accomplishments of her own along the way. In 2022, her rookie year at black belt, she won her first No-Gi Pans title and both won and defended the 135lb belt in the Finishers Sub Only promotion.
Building on her momentum from 2022, Enriquez has had an especially hot start to 2023: she submitted her way to a Flyweight CJJ title at Medusa 4, and, perhaps most notably, won the Finishers Grand Prix in January, where she upset "the silent assassin" Grace Gundrum in the finals.
"I feel like I've been taking the right steps in my BJJ career and winning the right matches so that I've earned the opportunity to compete at this prestigious event," Enriquez said of her debut at WNO after racking up wins at other competitive formats and promotions. "I'm really thankful for the opportunity to compete at arguably the most watched and biggest superfight production in no gi jiu-jitsu with its inaugural gi match headlining the card."
Alequin is a Tezos WNO veteran with no shortage of highlight-reel moments on WNO that have made her a frequent and worthy presence on the promotion. Her most dominant showing was in the 115 lb tournament in September 2021, when she hit a buzzer-beating kneebar on Alex Nguyen and hit one of the fastest submissions in Tezos WNO history with a 42-second hold on Jessa Khan. Tubby's most recent appearance on WNO was in January 2022, where she engaged in a fifteen-minute, sub-hungry scrap against Briana Ste-Marie.
Enriquez intends to make a splash of her own at Tezos WNO 18: Meregali vs Marinho presented by Fat Tire on May 18, holding nothing back against Tubby and improving on her most recent clash against her at 2022 No-Gi Worlds: a 0-0 match that Enriquez won by advantages. "I was hesitant and too cautious," she says, reflecting on their bout in December, unsatisfied with her performance. "I view myself as a very mentally-tough individual, but because it was kind of set in me when I was younger that I had always lost to this person, it made me more wary of the match."
Despite her tentativeness in the match, facing Tubby for the first time as an adult at No-Gi Worlds–and winning–gave Enriquez confidence: confidence that she has built on since December and throughout the course of her camp in preparation for Tezos WNO.
"Professor Bruno [Frazatto] and I set up a great camp for this match," which included 15- to 20-minute rounds, shark tanks of rotating partners, and simulations of situations Enriquez is likely to encounter in her matchup.
"We have a lot more recent film on Tubby [than on other recent opponents], and when we were training some of the transitions that we'd seen Tubby doing, I was able to shut down those positions against people of various sizes and strength. It made me feel confident as the camp progressed."
Frazatto said he feels confident in Alex's preparation and her future as a no-gi athlete, extending well beyond her Tezos WNO debut, into an eventual title run. Outside of ADCC ambitions, which are on a longer timeline, Tezos WNO 18 is the biggest near-term priority for the coach-athlete team: "[This WNO match] is a step she needs to showcase her jiu-jitsu, show how good she is, and move up in the rankings, but the [WNO] title is the goal," Frazatto said. "It's just the first fight, but we're not going there to play. We're going there to chase the title."
Fans can expect to see a technical, submission-oriented fight from both competitors, with Tubby looking to enter the legs and hunt signature lower-body attacks and Alex pouring on the pressure from top to find her openings.
"I'm more than ready to go 15 minutes, pedal to the metal if I have to. [Tubby] isn't going to be making a lot of big mistakes, so it's going to be me putting the pressure on her guard constantly, cooking her, making her fatigued, so she'll make a mistake or an opportunity arises where I can finish the match. I didn't feel like Tubby was able to fully experience my technique, my power, my level, and what I believe I am capable of [at No Gi Worlds in December]. I plan to showcase that progress and capability on May 18."
Main Event: Nicholas Meregali vs Pedro Marinho - Heavyweight Gi
Co-Main Event: Rafael Lovato Jr.vs Elder Cruz - Light Heavyweight
Tubby Alequin vs Alex Enriquez - Women's Flyweight
Jacob Couch vs Izaak Michell - Middleweight
Dante Leon vs Ruan Alvarenga - Lightweight
William Tackett vs Francisco Lo - Middleweight