Grappling Bulletin: 2021, A Year of Jiu-Jitsu & Grappling in Review
Grappling Bulletin: 2021, A Year of Jiu-Jitsu & Grappling in Review
A wildly eventful and erratic year, 2021 delivered big matches, bust-ups, electric events and so much more that you may struggle to remember all of it.
Jan 4, 2022
by Hywel Teague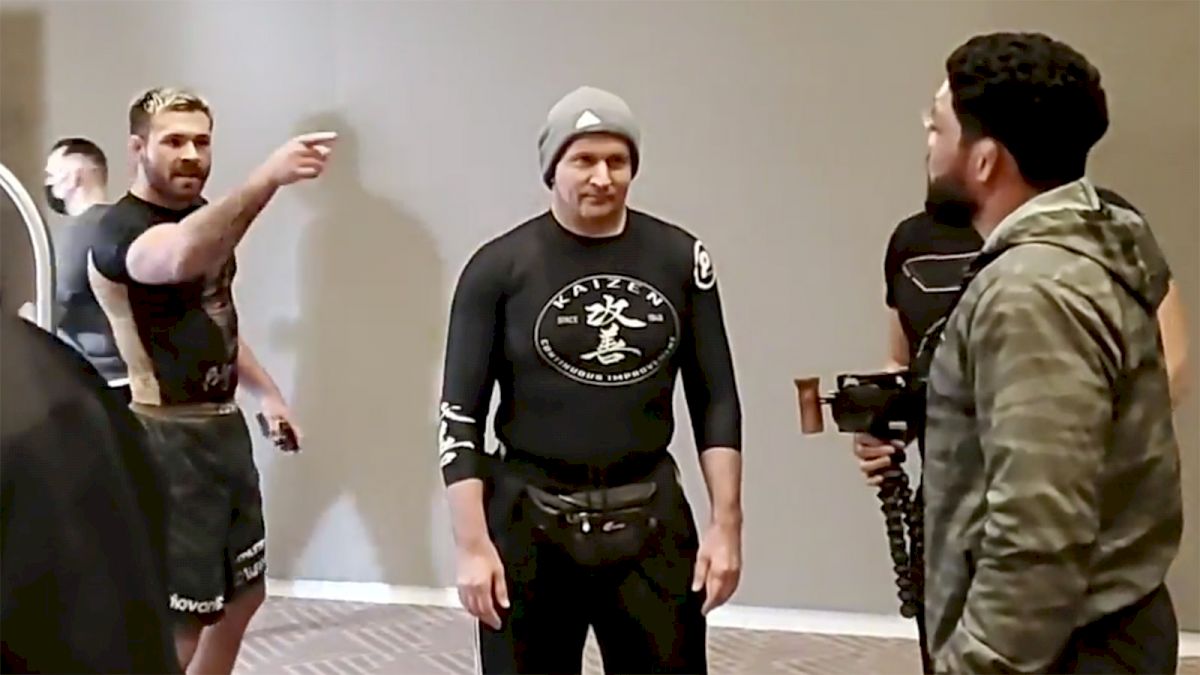 The return of Worlds, the growth of WNO, and the emergence of a new generation of champion grapplers– just a handful of the high points of a rollercoaster 12-month period that rarely took its foot off the gas pedal. Of course, there were also less positive happenings; confrontations, team splits, and more.
With so many events ranging from tournament to superfights we were given plenty of material to work with for the end of year FloGrappling Awards, which we will announce soon. We're counting on you to vote, so join us as we review a truly memorable year in grappling history.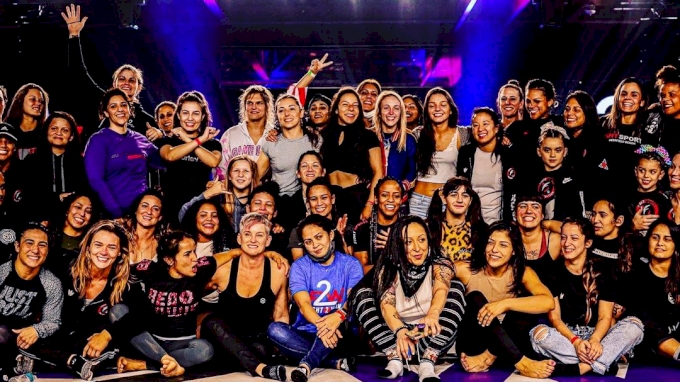 January
There is no true off-season in jiu-jitsu, as events take place year-round. January of 2021 eased us into things with only a handful of superfight shows, with sub-only stalwart Fight to Win getting things started with a month-long residency in Miami.
January of 2021 saw Fight to Win host their first ever all-women's event, showcasing over 45 matches featuring grapplers from blue to black belt, with no less than six black belt world champions toward the top of the card. Not only were the competitors all women, but so were the referees, the judges and even the commentary team.
Rafaela Guedes beat Ana Carolina Vieira via decision in a chippy main event match to take the 155lb no-gi title, and Amanda "Tubby" Alequin def Nathalie Ribeiro via decision to become the 135lb nogi champ. This event also saw then-unknown Erin Harpe come out of nowhere to soundly beat Maggie Grindatti.
See the best matches from Fight to Win 162 here.
January also saw Ralph Gracie present himself for a six-month jail sentence following the 2019 assault of Flavio Almeida. Gracie was also fined $50,000, and made to attend anger-management classes. He served around three months of his sentence and was released the following April.
Notable results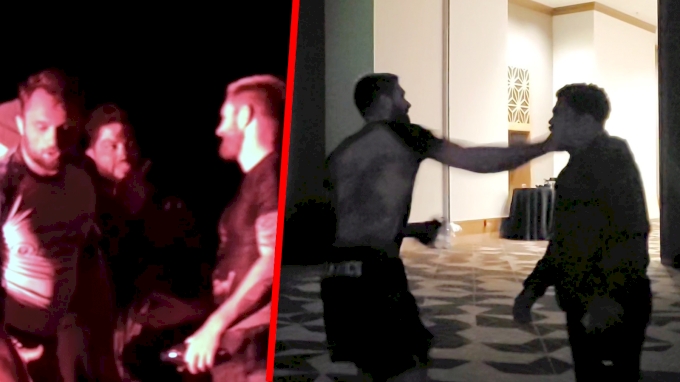 February
An unforgettable time in grappling history, February witnessed one of the most shocking and wide-reaching incidents of the year, and it didn't even happen on the mat. Tensions between Gordon Ryan and Andre Galvao boiled over and resulted in a backstage scuffle at WNO that was caught on camera.
Galvao and Gordon had been schedule to face off in the ADCC superfight since September of 2019 when Ryan won the absolute division. Galvao took offense at Gordon's online remarks and followed him backstage moments after Craig Jones's match with Ronaldo Junior. Gordon had not long competed against Roberto Jimenez, and was walking through a darkened corridor to do his post-match interview. Trailing him, Galvao would shove Gordon, who responded with a series of open-hand slaps.
Grappling fans called it "The Slappening", and news of the scrap tore through the community like wildfire. The exchange was quickly turned into a succession of memes, big names in the community took up for one side or the other, and a few months later Joe Rogan would even play the entire video on his podcast. Galvao later apologized to the jiu-jitsu community (but he notably did not apologize to Gordon). It threw the ADCC 2022 superfight into doubt, although we would later get confirmation from Andre that he will 100% defend his title against Ryan.
The slap heard around the world looms large in our memories but we shouldn't let it overpower some other big stories that happened around the same time:
Notable results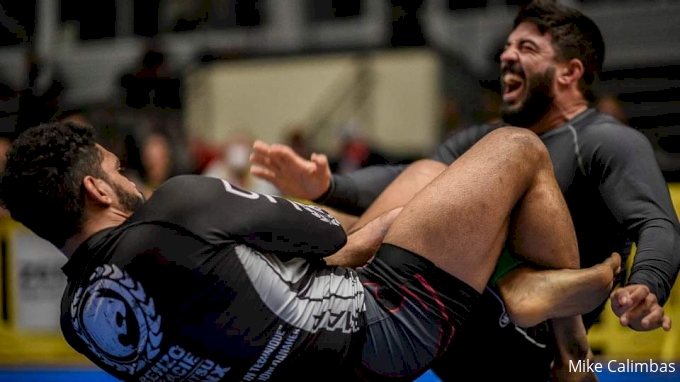 March
After a tumultuous February, March saw a return to (somewhat) normalcy. While far less shocking there was no shortage of news so buckle up because there's a lot to cover.
Stanley Rosa secured the first-ever IBJJF-legal heel hook in a no-gi event. We couldn't quite believe it when the IBJJF confirmed in late 2020 that they were changing their rules to permit heel hooks in no-gi tournaments. Rosa confirmed his place in the history books at the Dallas No-Gi Open, pacing the way for countless others to follow suit throughout 2021, which we dubbed the "Year of the Heel Hook".
The podiums haven't changed as much as some observers were expecting (or had hoped) but we saw a big difference how competitors would strategize for matches. The biggest development is that the 50-50 guard has been all but eliminated from IBJJF no-gi tournaments as a scoring (or stalling) position, and is now a deadly attack position. Some people found that out the hard way.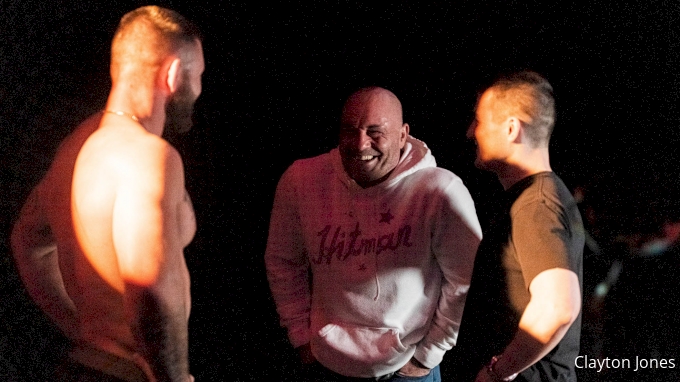 Joe Rogan attended our WNO event with Lex Fridman, and they both really liked it. They got to see Mikey Musumeci's first no-gi match since 2016, and Gordon Ryan calling his shot against Vagner Rocha. Ryan returned after his dust-up with Galvao in February for a showdown with the veteran Rocha. He deposited an envelope on my table moments before the match began with the words "open me after" written on it. Upon submitting Rocha by triangle, the envelope was revealed to contain a drawing of a triangle – Ryan had called his shot in secret and confirmed it in dramatic fashion.
Marcus 'Buchecha' Almeida's MMA debut was expected to take place in April but it fell through just a few weeks out. Gi events started up again in Brazil with the IBJJF Rio International Open over half a year after the USA had opened back up for open grappling tournaments.
Texas-based grapplers Pedro Marinho and William Tackett were both promoted to black belt, and Gordon Ryan signed a deal with ONE Championship that has still not materialized in any MMA or grappling matches as promised, possibly due to Gordon's ongoing health condition (which was only revealed later in the year).
Notable results
The IBJJF Orlando Open saw Andre Porfirio win super-heavyweight gold, a preview of a successful year to come. Pedro Marinho won the no-gi heavyweight division in his first IBJJF showing as a black belt, defeating both Diego Ramalho and Giancarlo Bodoni via guillotine.
Fight to Win saw a flurry of high profile matches in March: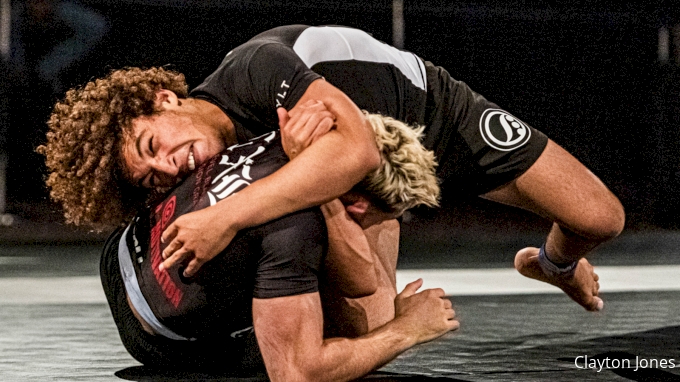 April
Our third WNO event in as many months saw Gilbert Burns meet Rafael Lovato Jr. in the main event, a battle between a UFC title challenger and a former Bellator middleweight champion. Burns was able to snatch the decision win with a late blitz that resulted in him taking the American's back. https://www.flograppling.com/events/6936478-flograppling-wno-rafael-lovato-jr-vs-gilbert-burns
On the same event, Tye Ruotolo and Kade Ruotolo continued their ascendancy through the ranks with significant wins over top opponents. Tye went up in weight and handily outworked the game William Tackett to win by decision, while Kade subbed Ethan Crelinsten in one of the best matches in WNO history.
The UAE has always been a leader in global jiu-jitsu, and they were able to host their first major tournament of the year in April. Much like how the 2020 Olympic Game took place in Tokyo midway through 2021, the rescheduled 2020 edition of the Abu Dhabi World Pro took place four months into 2021. Adam Wardzinski captured his first world title by winning the -94kg category, and 77kg champ Pablo Lavaselli became the first Argentinian to win a black belt gold medal.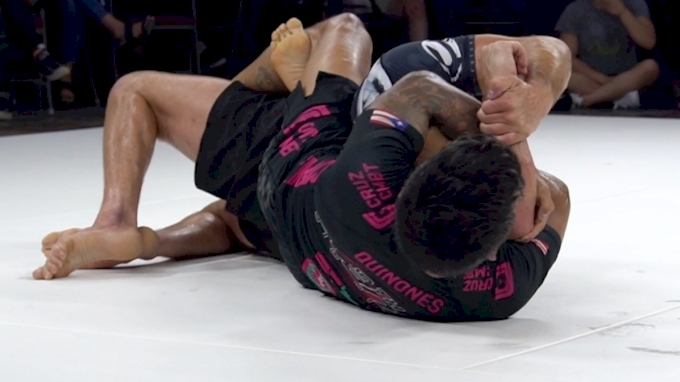 Have you ever heard of the thunderlock? 10th Planet brown belt Luis Quinones opened our eyes to this unique submission at Emerald City's debut event, submitting Frank Rosenthal with this shoulderlock. He even demonstrated it for us.
At the same event PJ Barch tore through the competition to win the 16-man bracket, submitting four in a row.
In another invitational tournament Andy Murasaki made his black belt debut with a stunning run at EUG Promotions, submitting Gianni Grippo and beating Kennedy Maciel and Matheus Gabriel along the way.
Notable results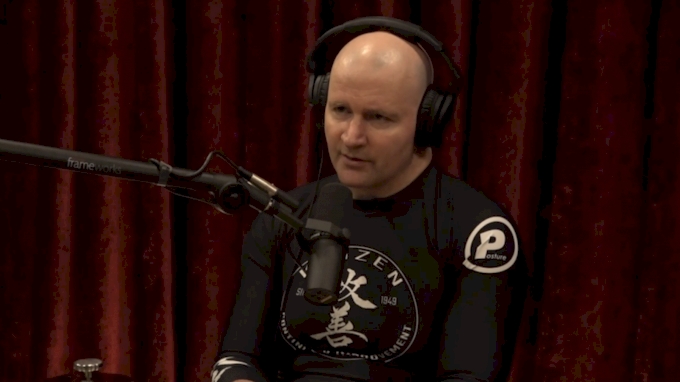 May
Love him or hate him, there's no doubt that Joe Rogan is the best ambassador for jiu-jitsu on planet earth. His role in educating the masses started with his UFC commentary and continues today on his podcast. The month of May saw three high profile figures appear on his show in quick succession; Gordon Ryan joined him at the start of the month, while Craig Jones and John Danaher entered his studio a few weeks later.
This was of course while things were still good, at least on the surface, in the now-defunct Danaher Death Squad. Gordon spoke about how the DDS planned to dominate ADCC 2022, and spoke at length about the training habits and practices. More than ever, Gordon described the ongoing stomach issues that had affected his training. He spoke about his difficulty in finding suitable treatment for his issues, although nobody predicted that they would worsen and force him out his May 28 WNO match with Luiz Panza.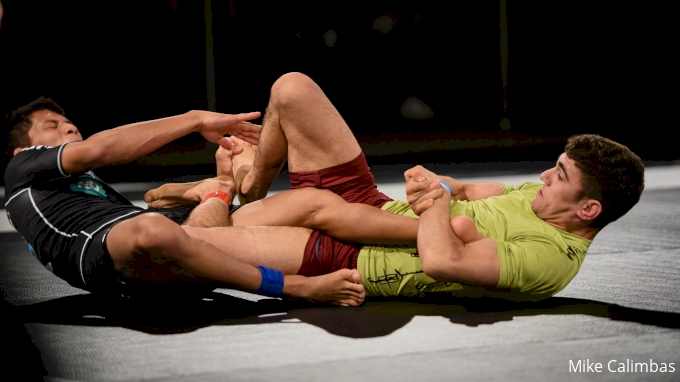 The May WNO event was memorable for both good and bad reasons. The good: Craig Jones stepped in for Gordon and made short work of Panza, scoring what was at the time the fastest WNO submission of 2021, only 46 seconds. Mikey Musumeci continued his no-gi success with an 86-second heel hook win versus Lucas Pinheiro. The event also featured the WNO debut of Mica Galvao, who went head to head with Andrew Tackett in a terrific 15-minute scrap. The bad: the interminably boring match between Vagner Rocha and Josh Hinger, a 15-min game of mercy that never went down to the mat. It will forever be remembered as the worst match in WNO history.
Diego "Pato" Oliveira introduced the grappling world to a leglock entry called the false reap when he won the featherweight division of the IBJJF Pan No-Gi Championships. Ripping on a kneebar against Josh Cisneros, Pato clued us into a relatively exotic position that would go onto become widely practised among no-gi practitioners.
Other big winners at No-Gi Pans included Elisabeth Clay, winning double gold with a terrific submission in the final. Matheus Gabriel moved up to middleweight and beat a world champion in Hugo Marques in his final, and Mica Galvao made his IBJJF brown belt debut. Victor Hugo won the ultra-heavyweight division but ended up in the hospital after due to a nasty staph infection, while Oliver Taza was DQ'd for a smother choke known by some as the muffler– a textbook example of how you're not allowed to cover your opponent's face during an IBJJF match.
Notable results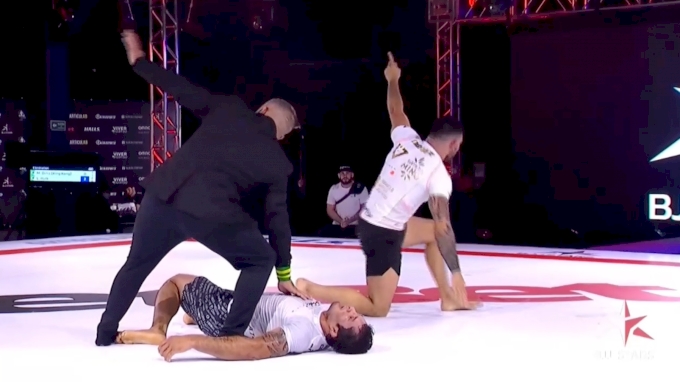 June
In one of the most bizarre moments we've ever seen, Matheus Diniz came within seconds of victory but wasn't declared the winner even though he left Lucas "Hulk" Barbosa unconscious in the middle of the mat following their no-gi match on BJJ Stars VI.
The Hulk-Diniz chokeout controversy stemmed from the fact that the referee did not stop the match after the clock had reached zero. Through no fault of his own Diniz kept applying choking pressure until Barbosa went out, but after careful video review the officials deemed Hulk to have won as he was ahead of points when time expired. It's the first time we've ever seen somebody get their hand raised after being choked out cold, but Hulk took it in stride and was even able to joke that he won the match with his eyes closed.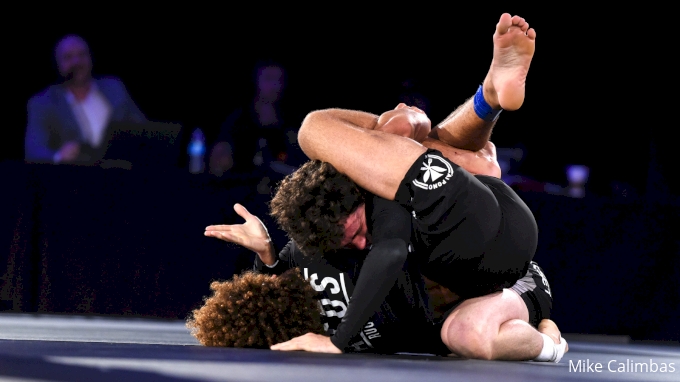 The buggy choke was unleashed on WNO when Kade Ruotolo used it to submit Cole Franson in spectacular fashion. On the same event, Kade's twin brother Tye Ruotolo took on his greatest challenge to date in the main event of WNO. The 18-year-old faced off with the bigger, more experienced Craig Jones in a 15-minute match the Australian won via decision. Keenan Cornelius was meant to face Haisam Rida on this event but out with a back injury, setting up Haisam vs Miha Perhavec. Rida dispatched his opponent in only 36 seconds and hit the second fastest sub in WNO history.
Andre Galvao confirmed that he would defend his ADCC superfight title in 2022, regardless of who the opponent is, possibly setting up a match with Gordon Ryan.
It was a rollercoaster month for Micael Galvao, who along with his father and coach Melqui Galvao, announced he was joined Fight Sports. Mica continued his surge through the ranks by beating Oliver Taza via decision at WNO. The very next night he won the 3CG tournament with three subs against black belts, tapping John Combs, Pedro Rocha and Pedro Marinho. His only loss was a second place to Johnatha Alves in the final of the EUG Promotions 170lb tournament, but not before he handed Tainan Dalpra his only loss of 2021.
Mo Jassim confirmed the dates for the 2022 ADCC World Championships in Las Vegas, and Gordon Ryan revealed his unorthodox treatment plan for his stomach complaint.
Notable results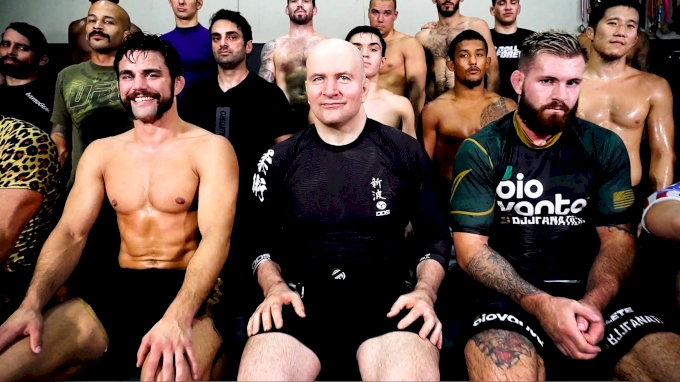 July
July marked the end of an era in no-gi grappling as the super group known as the Danaher Death Squad split into two factions. John Danaher announced the split of his team in an Instagram post on Sunday, July 25 and it caught people by surprise.
Danaher cited "a combination of factors revolving around disagreements in physical location of a future school, personality conflicts, conflicting values and an inevitable tension between the team brand and the growing individual brands of members". The core squad members all made their own individual statements but notably kept details of what was rumored to be a very acrimonious split to themselves. Even until today, few details have emerged around what precipitated the split other than what Danaher had cited.
We held the FloGrappling Road to ADCC superfight show, a co-production between ourselves and ADCC in which we showcased a number of true ADCC-rules superfights. Kaynan Duarte blew Matheus Diniz out of the water in the main event. The 2019 +99kg champ took out the -88kg champ with a leglock in just over two minutes with a cloverleaf, shocking fans and analysts with his dominant performance.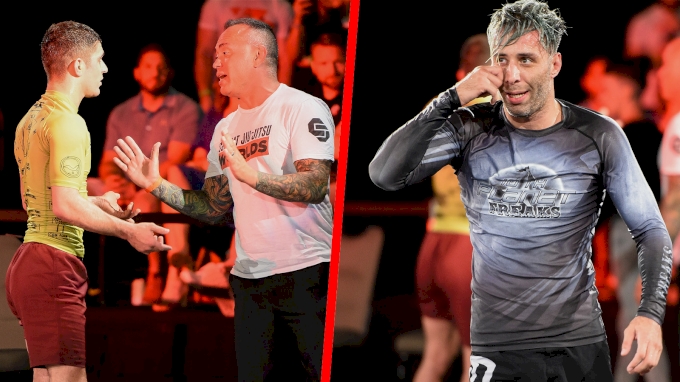 The match between Mikey Musumeci and Geo Martinez started with a handshake but ended with a war of words and no love lost. The normally reserved Musumeci blasted the 10th Planet black belt for poor sportsmanship, while Martinez called Musumeci "fake".
Nicky Ryan competed for the last time in 2021 on the event, due to the knee injury he sustained in his match with Dante Leon. Ryan has spent the rest of the year slowly returning from meniscus surgery.
The IBJJF announced the return of the World Championships, and added both Heavyweight and Middleweight Grand Prixs to the 2021 calendar. Worlds was scheduled for December and marked the first time in over a decade that the event would not take place at the iconic Walter Pyramid in Long Beach, CA.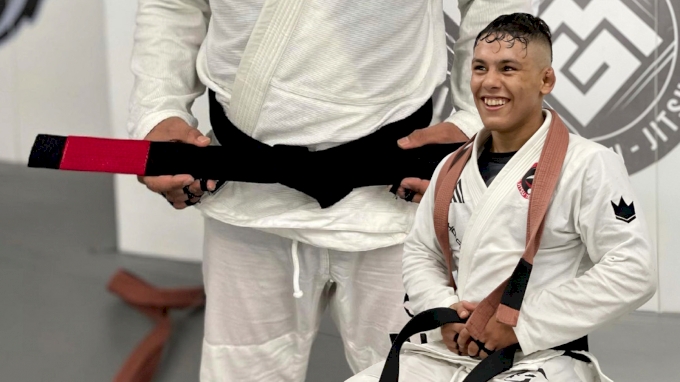 Mica Galvao became one of the youngest ever jiu-jitsu black belts after being promoted to the rank at age by 17. His father Melqui tied the belt around his waist following his series of standout performances against black belt opponents the previous months, although the move prevented Galvao from competing in IBJJF competitions until 2022 due to age requirements.
July also saw us announce the WNO Championship and reveal the line-up for the 155lb division.
Notable results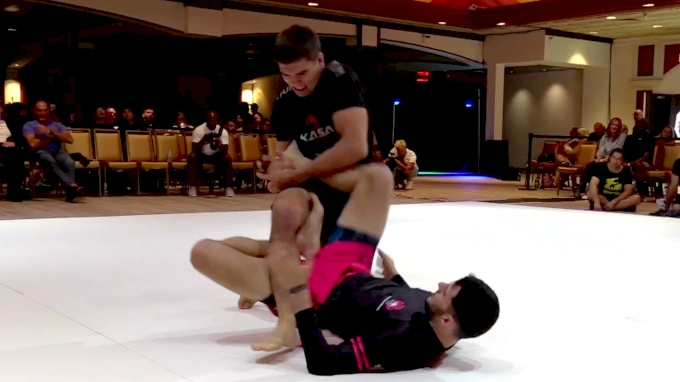 August
Gianni Grippo's heel hook is certain to enter the discussion for one of the most brutal submissions of 2021. The terrifying heel hook he nailed en route to winning the 16-man Emerald City Invitational tournament saw him dubbed "Gianni Rippo" as a result. While it sparked plenty of discussion about the ethics of ripping on submissions in a pro tournament, the incident reminded people not to leave their feet hanging free in the 50-50 guard. Listen to Grippo break down the match here.
Mica Galvao's black belt debut did not go according to plan, as he lost a 2-0 match versus Mauricio Oliveira of Dream Art in the opening round of the BJJBet middleweight grand prix. It was a night of surprises and upsets and Atos black belt Lucas "Hulk" Barbosa emerged the winner of the loaded tournament after slamming Leandro Lo on his head and choking him in the final.
Yvonne Duarte made jiu-jitsu history by becoming the first woman to be promoted to coral belt (black and red). Duarte is widely considered to be the first woman ever promoted to earn the black belt in Brazilian jiu-jitsu and is therefore the most experienced and senior female practitioner alive today.
Checkmat co-founder and team leader Leo Vieira announced on Friday, August 20 that Jackson Sousa had been removed from the team. The move came after London-based Checkmat black belt Samantha Cook publicly accused Sousa of sexual harassment.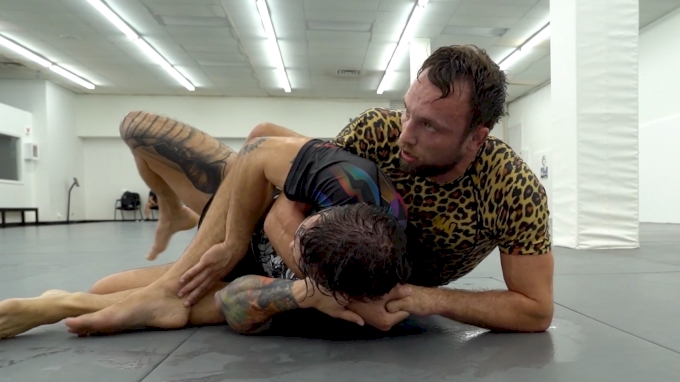 The "B-Team" arrived in Texas following their departure from Puerto Rico. Craig Jones and Ethan Crelinsten were the first ex-members of the Danaher Death Squad to set up shop at an Austin gym. They were followed by Nick Rodriguez, who tore his bicep in a wrestling practice in New Jersey and had to miss the WNO Championship in September. Nicky Ryan was recovering in Florida following his knee surgery.
Lucas Rocha, nephew of ZR Team founder Jose Olimpio, aka "Ze Radiola", claimed family issues compounded with a disagreement in business practices were responsible for him leaving the team.
Two-time ADCC vet and MMA fighter-turned-social media personality Dillon Danis was spotted wearing a knee brace and sleeve on his right leg, the same limb he injured in 2019. Celebrating his 28th birthday at his Manhattan apartment with friends, Danis could be seen sat on a sofa with his leg in a fixed position with a pair of crutches next to him. It was later revealed that he required surgery to repair a botched first operation, and no time frame has been given until his return.
Notable results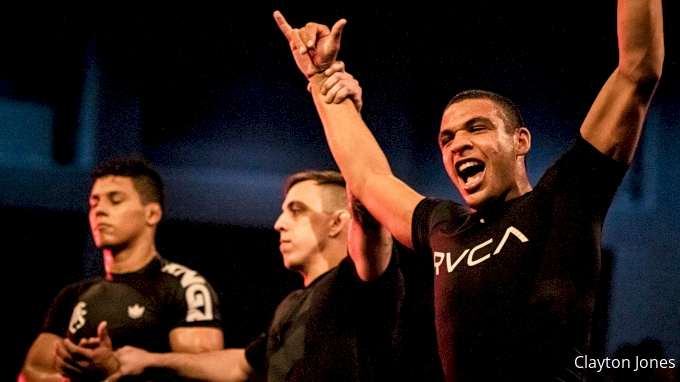 September
The WNO Championship will go down as one of the most memorable events of 2021. In a landmark moment for no-gi grappling we paid out $262,000 in prizes to first, second and third place winners across five divisions.
There were stunning submissions, incredible upsets and no small amount of shocks and surprises. Five champions were crowned, being Kade and Tye Ruotolo (155lb and 185lb champs, respectively) and heavyweight champion Tim Spriggs. Mayssa Bastos and Rafaela Guedes claimed the 115lb and heavyweight women's titles.
It's impossible to quickly recap all of the best moments from WNO Championships but consider these: Gabriel Sousa becoming only the second person to ever submit Mikey Musumeci as a black belt. 16-year-old Cole Abate beating 10th Planet veteran Geo Martinez. The 30-min marathon final match between old rivals Tye Ruotolo and Mica Galvao. Jacob Couch upsetting Roberto Jimenez with a first-round submission.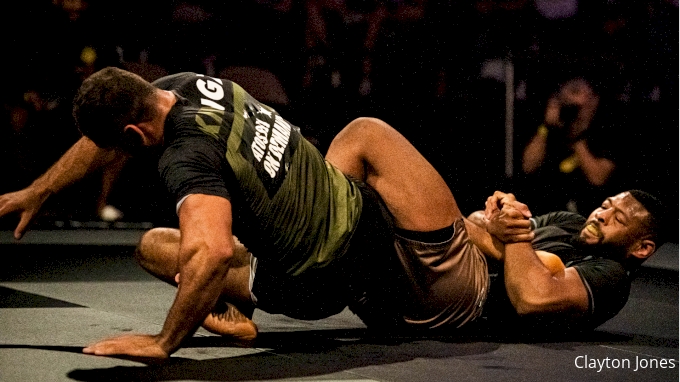 Tim Spriggs nearly ripping Kaynan's leg off in the heavyweight final. The first-ever Twister seen on WNO, as performed by Grace Gundrum. The fastest female submission in WNO history, courtesy of Tubby Alequin. The epic match between Amanda Leve and Gabi Garcia, the unfortunate eye poke that took heavyweight front-runner Mason Fowler out of the tournament, and the bizarre DQ of Orlando Sanchez following an unquestionably-illegal slam.
Marcus "Buchecha" Almeida, the most success black belt champion in the history of the IBJJF World Championships, won his MMA debut in emphatic fashion. Fighting on ONE Championship in Singapore, he submitted fellow Brazilian Anderson "Braddock" Silva (not the former UFC champ) in the first round with a north-south choke.
Pans saw the return of the gi in a big way, the first major tournament of the year on US soil to feature the kimono. Fellipe Andrew won his first double-gold in an IBJJF major, putting 18 points on Gustavo Batista in the absolute division final. Yara Soares made her IBJJF black belt debut at Pans. She lost to Gabi Pessanha in the super heavyweight final but rebounded to win gold in the absolute division beating Ana Carolina Vieira in the final.
Tainan Dalpra gave us a taste of what was to come by winning his first major IBJJF gold medal following a year of cleaning up at smaller Opens. Bianca Basilio, Victor Hugo, and Andre Porfirio all earned submissions in the finals to win Pan gold– Basilio and Porfirio tapped out their opponents, Gabi McComb and Pedro Marinho, with brutal straight ankle locks (see here and here). Victor Hugo choked Rodrigo Martins from the back in the ultra-heavyweight final, and Shane Jamil Hill-Taylor emerged champion in the hyper-competitive featherweight division beating Fabricio Andrey and Gabriel Sousa.
The first ADCC Trials to qualify for the 2022 World Championships took place in Poland, and you can see results here.
In the only real look into the break-up of the DDS, Nick Rodriguez suggested that Gordon was possibly a reason for team split. He told podcast host Jason Chambers that the split was because "certain people had issues with one person" and by breaking away to form B-Team he and his training partners had "cut out the poison".
A less dramatic but no-less notable team split was that of Dream Art breaking away from Alliance to become a standalone entity, taking top names such as Isaque Bahiense, the Munis brothers, Yara Soares, Anna Rodrigues and others.
October
Gordon Ryan returned to action, kind of. October saw a WNO titled just that, but it was an exhibition match against UFC fighter Philip Rowe that served as a demo of Gordon's skills and a friendly way to test his stamina in the face of his ongoing medical treatment for his stomach issues. While Gordon appeared heavier than usual his skills shone through and he tapped Rowe with ease no less than four times. Rowe, for his part, still partook in the exhibition even nursing a broken hand.
We crowned three new champions on the same event, with Mikey Musumeci, Ffion Davies and and Bia Mesquita all claiming vacant straps. Musumeci unveiled the "Mikey lock" against Richard Alarcon to become the 135lb champ. The resulting furore over whether Mikey could really lay claim to having invented the submission sparked a brief, furious debate but in lieu of anything better people quickly settled upon that as the most fitting name.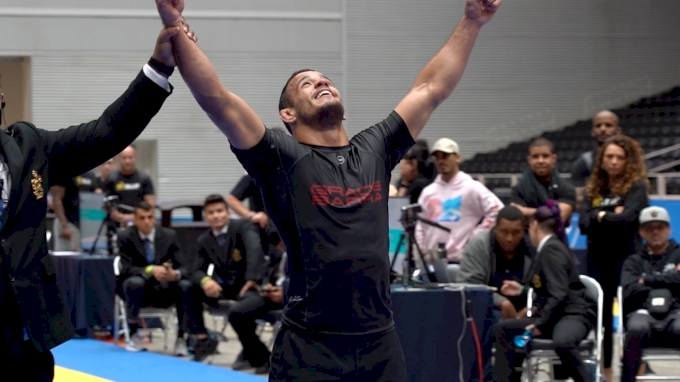 The IBJJF held their No-Gi World Championships, with Pedro Marinho enjoying a real breakout moment. The rookie black belt took double gold, winning both the heavyweight absolute gold medals in matches against veterans Vagner Rocha and Roberto Cyborg. In the women's divisions Rafaela Guedes followed her powerful WNO performance with double gold.
There were 11 brand new champions crowned, and seven of the winners also earned gold at No-Gi Pans in May of this year. Checkmat won the team trophy, another sign of things to come (more on that later). While big teams dominated the overall event, four champs were coached to gold by Unity head Murilo Santana: Devhonte Johnson, Jeferson Guaresi, Mayssa Bastos and Diego "Pato" Oliveira all became champions in their divisions.
Pedigo Submission Fighting, better known as the Daisy Fresh crew, added some serious firepower to their ranks with the addition of both Mikey and Tammi Musumeci and 2019 IBJJF World champ Dante Leon all officially repping PSF from here on out.
Brazilian-Japanese black belt Igor Tanabe made his MMA debut, shedding 45lb over three months to make middleweight and winning by first round submission. IBJJF World no-gi champ and ADCC Trials winner Jena Bishop made her long-awaited MMA debut at LFA 116, defeating Helen Lucero via rear naked choke in the first round.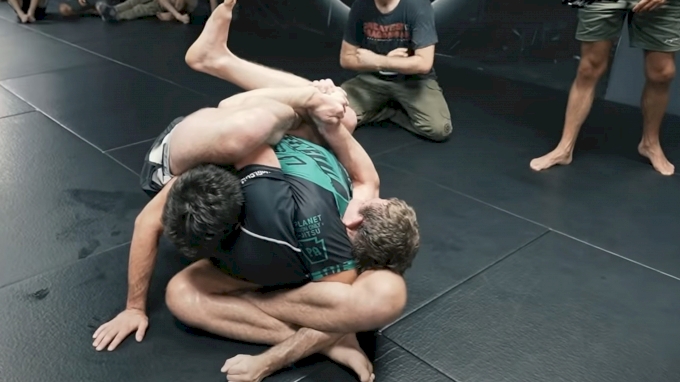 The world's first double buggy choke happened, with Derek Rayfield and Rene Sousa battling at the 10th Planet in-house tournament in Los Angeles. Eddie Bravo and co couldn't believe their eyes as Reyfield answered Sousa's attack with a buggy choke of his own, showing us that it's possible to not only escape but flip the position. Remarkable.
In world grappling news the ADCC Asia & Oceania qualifier, which was due to take place in Singapore on December 11, 2021, was pushed back to 2022 because of ongoing problems with the pandemic. Eddie Bravo announced that he would bring back the EBI tournaments that helped change the face of submission-only grappling in 2022, promising multiple sub-only events.
Notable results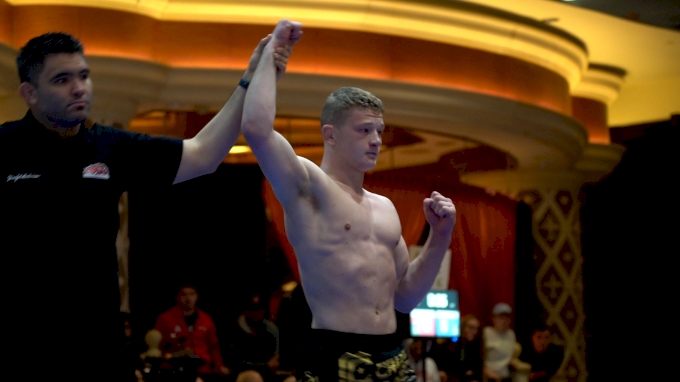 November
Cole Abate became the youngest male ADCC Trials winner in history, winning the -66kg division without conceding a single point in the process. Abate, who displayed both poise and maturity way beyond his years, joined fellow division winners Kade Ruotolo, Giancarlo Bodoni, Mason Fowler and John Hansen in qualifying for the 2022 ADCC World Championships.
Tickets for the 2022 ADCC World Championships went on sale on Black Friday, and promoter Mo Jassim told us that grappling fans snapped up over 7000 tickets in the first 48 hours. The 2022 ADCC promises to be the biggest submission grappling event in history.
The IBJJF Grand Prix events took place in Las Vegas alongside the World Masters Championship. The two 4-man GPs, which featured middleweight and heavyweight competitors, were notable for two very different reasons. Tainan Dalpra looked flawless in beating Renato Canuto and Jonnatas Gracie to win the middleweight GP, the continuation of a success year which would culminate a month later at the World Championships.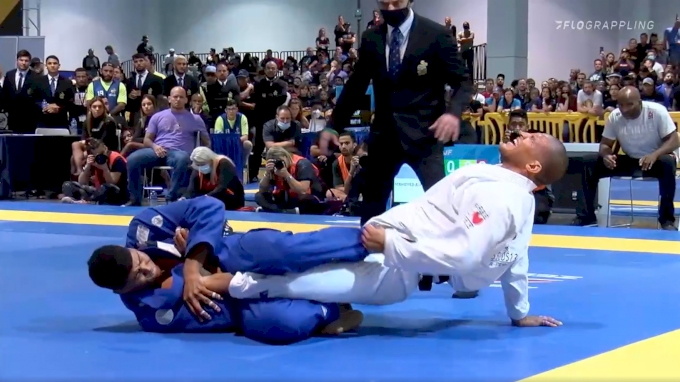 Victor Hugo's controversial leg lock got the most attention from the GP. His modified ankle lock drew sharp criticism from leading figures such as Checkmat co-founder Leo Vieira, who led the call for the submission attack to be investigated as a twisting leglock similar to a heel hook. Vieira claims the attack, which no-gi practitioners would recognize as an Aoki lock, exists in a gray area which makes it "illegal, but permissible" under the current implementation of the rules.
Dante Leon called on Lachlan Giles to vacate his Grapplefest -80kg title belt, asking the Australian to either "step up or step aside". Giles, who is based in Melbourne, Australia, had been living under some of the most strict COVID-19 lockdown rules in the world.
Andre Galvao signed a two-year, six-fight MMA contract with ONE Championship, and he said that he anticipated fighting as soon as February of 2022. Still no news on if this is definitely going to happen, but we have heard that MMA training is now a regular fixture for certain black belts at Atos HQ in San Diego.
Roger Gracie was the first person inducted into the ADCC Hall of Fame, we released Part 1 of the Buchecha documentary on Thanksgiving, Gabi Garcia appeared in Halle Berry's MMA-themed directorial debut "Bruised" on Netflix, and Jena Bishop won her second MMA fight, returning to the ring exactly three weeks after her pro debut. Getting a head start on the competition, Mikey Musumeci bucked his usual trend of signing up at the last minute and registered over two weeks out for the roosterweight division at Worlds. In sadder news, Swedish grappler Max Lindblad's gym was torched by an arsonist– the grappling community came together to donate toward repairs.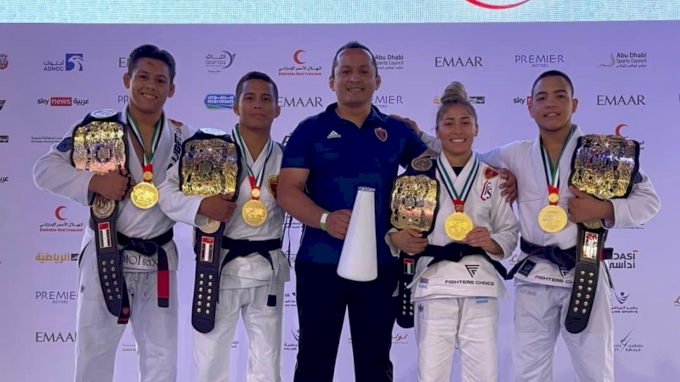 Melqui Galvao took four black belts to World Pro gold in Abu Dhabi. Three of the four were competing in Abu Dhabi for the first time as black belts: Micael Galvao won gold in the 77kg division with all submissions, while Fight Sports teammates Diogo Reis (-62kg), Brenda Larissa (-49kg) and Nathannael Fernandes (56kg) each took the top spot in their respective divisions. Brenda Larissa took gold in the previous ADWPJJC, making her a two-time champion. Together, they earned a total of $40,000 in prize money.
Notable results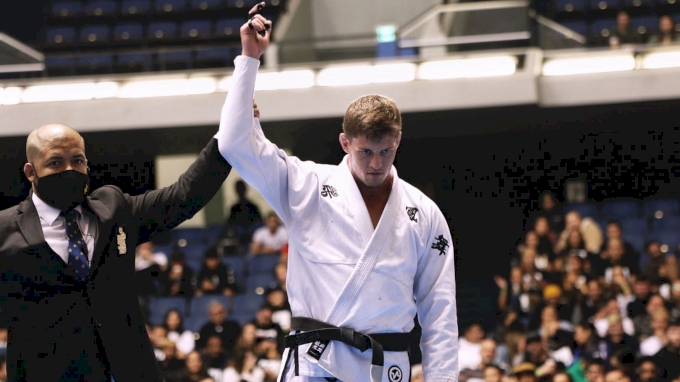 December
You'd think after a year as wild as 2021 that things couldn't get much crazier, right? Well Nicholas Meregali made sure to save the best for last, as he sent the 2021 IBJJF World Championships into disarray.
Competing in the ultra-heavyweight semifinal against Victor Hugo, Meregali flipped off somebody in the crowd mid-match. It all seemed simple enough at the time– he was penalized for unsportsmanlike behavior but still declared the winner on points. Events spiraled shortly after when officials reviewed his actions and retroactively disqualified him following pressure from rival teams. This not only removed him from the ultra-heavyweight final but also the absolute final that Meregali had qualified for the previous day. In our post-match interview he was shocked, upset, regretful and even a little defiant.
The 25th edition of the IBJJF World Championships was supposed to be a celebration of the return of jiu-jitsu following no world championships in 2020, but the debacle around Meregali's actions threatened to overshadow an otherwise outstanding tournament.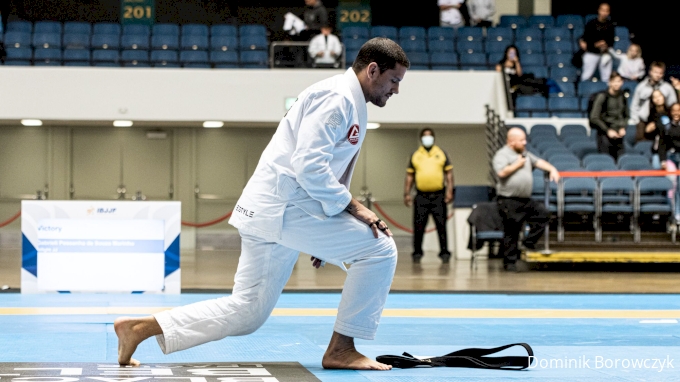 At the same event, both Felipe Pena and Gabi Garcia retired but in very different circumstances. Pena, absolute division winner by default, announced he would no longer compete in IBJJF events as he eyed a move to MMA and no-gi competitions such as ADCC. Garcia suffered two submission losses to newcomers in the women's heavyweight ranks and recognized it was time to end an unforgettable career.
Mikey Musumeci won his fourth Worlds gold medal and became the most successful American grappler in the history of jiu-jitsu. He now accounts for half of all gold medals won by American men, with the other four shared by BJ Penn, Robert Drysdale, Rafael Lovato Jr. and Shane Jamil Hill-Taylor.
There were only two closeouts (men's lightweight and men's medium-heavyweight) and the IBJJF Worlds saw the most first-time champions crowned in 17 seasons. Diego Pato, Tainan Dalpra, Fabricio Andrey, Erich Munis and Victor Hugo were among the male champions. Anna Rodrigues, Gabi Mccomb, Melissa Stricker and Gabi Pessanha could be counted among the female champions.
Checkmat followed their success at No-Gi Worlds and claimed the team trophy for the first time in the team's existence.
Buchecha returned to the ring and dominated his second MMA fight, beating Korean slugger Kang Ji Won by first-round RNC. Days after he was matside at Worlds to cheer on his Checkmat teammates and later called for the IBJJF to consider reforming the rules due to what he perceived as rampant stalling tactics employed by competitors.
The Ruotolo brothers challenged convention by competing against each other instead of closing out the brown belt lightweight division at Worlds. Promoted to black belt the following week, they signaled they intend to compete both gi and no-gi in 2022, with their sights set on both IBJJF Worlds and ADCC.
There were many end of year promotions, with a whole wave of brown belts being bumped up to black belt for the 2022 season. Click here for a rundown.
December saw Gordon Ryan verbally sparring with old foe Felipe Pena, rankling the Brazilian so much that Pena has requested he go in Gordon's division at ADCC so they can settle things on the mat. Ryan rounded out the month by announcing he contracted COVID-19.
Notable results
2022 and beyond
The 12 months ahead promise to be a landmark year for grappling. We anticipate the gi season to return to a similar cadence to that before 2020, and the upcoming ADCC World Championships will– with no exaggeration– be the biggest event in submission grappling history. Watch the best grappling events in the world live or on demand on FloGrappling.