Tezos WNO 18: Meregali vs. Marinho Presented by Fat Tire
WNO 18: Meregali Vs. Marinho Card: What to Know
WNO 18: Meregali Vs. Marinho Card: What to Know
Nicholas Meregali, one of the the top BJJ fighters in the world, faces Pedro Marinho at WNO 18: Meregali vs. Marinho. Here is the full card on FloGrappling
May 16, 2023
by Joe Harrington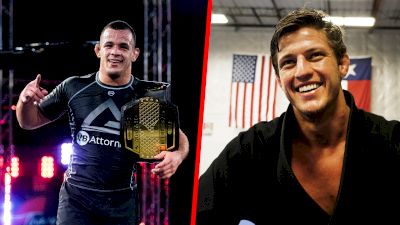 Nicholas Meregali, one of the top Brazalian jiu-jitsu heavyweights in the world, will face Tezos WNO no-gi light heavyweight champion Pedro Marinho in the main event at WNO 18: Meregali vs. Marinho on May 18 at the Criterion in Oklahoma City.
The match is the first gi match at WNO in more than three years.
Subscribe To FloGrappling To Watch WNO 18: Meregalo vs. Marinho
Despite Quiet Start To Black Belt Career, Alvarenga Aims To Show Out At WNO
WATCH: Pedro Marinho Relishes The Opportunity To Take Down Meregali
Meregali is 83-19-1 overall according to BJJHeroes and has not lost a match since Sept. 17 at the 2022 ADCC World Championships. Meregali went 6-0 at the Pan Jiu-Jutsu Championships in March with five submission victories. He's the reigning IBJJF open weight world champion.
The main event matches Meregali — who's last loss was in a no-gi match against Craig Jones — against Pedro Marinho. In January of 2022, Marinho defeated Jones at Tezo WNO: Craig Jones Vs. Marinho to claim the Tezos WNO light heavyweight belt.
With IBJJF Worlds in June, and Brasileiro completed, the jiu-jitsu world turns its attention to Oklahoma City. And it's not just for the main event.
Here's the card for WNO 18.
WNO 18: Meregali vs Marinho Card
Main Event: Nicholas Meregali vs Pedro Marinho - Heavyweight Gi
Co-Main Event: Rafael Lovato Jr.vs Elder Cruz - Light Heavyweight
Jacob Couch vs Izaak Michell - Middleweight
WNO 18: Meregali vs Marinho Prelims Live On The FloGrappling YouTube Channel
Prelims at the events will stream live for free on YouTube starting at 6:45 p.m. on May 18.
In the free prelims, Austin Oranday will face Troy Russel, and Davis Asare will face Nick Heflin. Both free prelims will be 15-minute no-gi matchups.
How To Watch Nicholas Meregali vs Pedro Marinho, Rest Of Card
The rest of the card will stream live on FloGrappling and the FloSports app. Event replays and matches will also be available on FloGrappling and the FloSports app.
WNO BJJ Events on FloGrappling
Here are the results and videos of past WNO events on FloGrappling: