Tezos WNO 18: Meregali vs. Marinho Presented by Fat Tire
Results | Tezos WNO 18: Nicholas Meregali vs Pedro Marinho
Results | Tezos WNO 18: Nicholas Meregali vs Pedro Marinho
Live results & analysis from Tezos WNO 18: Nicholas Meregali vs Pedro Marinho, including 7 no-gi matches and the first gi jiu-jitsu WNO match since 2022.
May 18, 2023
by Corey Stockton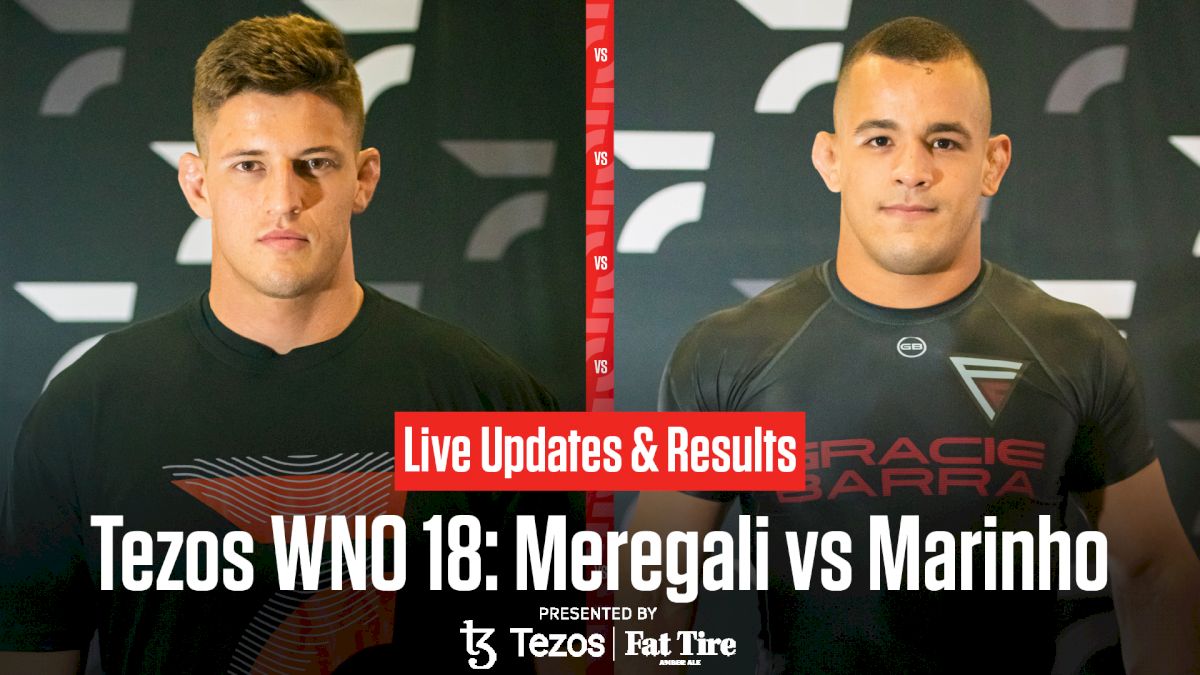 For the first time in more than two years, kimono competition will return to the Tezos WNO mats in the main event at Tezos WNO 18: Meregali vs Marinho presented by Fat Tire.
Nicholas Meregali, the reigning IBJJF absolute world champion, will take on the Tezos WNO light heavyweight no-gi champion in a special gi matchup to headline an event stacked with no-gi superfights featuring some of the best athletes in grappling.
Meregali and Marinho have had history of late. After Marinho defeated Meregali's New Wave teammate Giancarlo Bodoni earlier this year to defend his Tezos WNO 205-lb strap, he called for a match against Meregali. Meregali didn't hesitate to accept.
But the tables turned as Meregali took to the internet to find an opponent for a gi match on the WNO stage. Marinho was the first to step up and accept the challenge against the multiple-time IBJJF world champ, who is now just a few months off of his 2023 IBJJF Pans double-gold campain, where he submitted six of his seven opponents.
---
WNO 18 Live Updates
Main event: Nicholas Meregali vs Pedro Marinho
Pedro Marinho had a strong opening pass attempt, and nearly took Nicholas Meregali's back. But Meregali escaped and started to steamroll, establishing mount and threading a mounted triangle. Securing the finish in just over six minutes, Meregali pointed to the image of a triangle on his back, a pre-match prediction.
Meregali def Marinho via mounted triangle (5:15)
Co-main event: Rafael Lovato Jr. vs Elder Cruz
Elder Cruz shot early and often, but struggled to get a takedown for the first five minutes. But when Rafael Lovato Jr. shot, Cruz was ready with a precise lateral drop counter. Cruz secured another takedown later on in the bout to establish the top position.
But Lovato pulled out a late match flurry, throwing a triangle and following it up with a closed guar backtake, directly to a rear naked choke from the back. An incredible come from behind victory in front of his home crowd.
Lovato Jr. def Cruz via rear naked choke (9:24)
Alex Enriquez vs Tubby Alequin (flyweight)
Both athletes in this match kept a high, relentless pace; but Tubby Alequin got the best of most exchanges.
Alex Enriquez had the first opportunity, a powerful double leg to the back. But Alequin ended on top. Her advantage only increased from there, utilizing smooth positioning to advanced positions, attack a triangle, get to mount, secure the back, and threaten several chokes in the final minutes of the bout.
Enriquez remained composed and dug her way out of every dangerous attack, but couldn't overcome Alequin's late match flurry of attacks.
Alequin def Enriquez via unanimous decision
Jacob Couch vs Izaak Michell (middleweight)
Izaak Michell opened up early, applying passing pressure, and keeping Couch on the defense for the first five minutes of the bout. Couch recomposed his guard, but after a few minutes of movement, Michell cartwheeled over Couch's guard and directly onto the back.
Couch had his best opportunity in the final three minutes, utilizing the butterfly guard to sweep then switching from an omoplata to a leg entanglement. But Michell escaped, nullifying Couch's best chance to get back in the match.
Michell def Couch via unanimous decision
Dante Leon vs Ruan Alvarenga (lightweight)
Ruan Alvarenga owned the early takedown game, hitting three sharp takedowns against Dante Leon. But Leon wrestled back up on every occasion, and when Alvarenga finally decided to pull guard, Leon made the most of his opportunity to strike.
Leon poured on the pressure in the passing game. Alvarenga made a big move to try for a reversal. Leon used the opportunity to get behind Alvarenga and set the choke into place.
Leon def Alvarenga via rear naked choke (6:40)
William Tackett vs Francisco Lo (middleweight)
William Tackett seemed to be winning the early takedown exchanges, and got to a leg early in the match. But Francisco Lo got the best of the early exchange, using Tackett's leg attack to get to a smash position, where he passed to the guard and threatened with a katagatame.
Lo returned to that pass twice more. While he couldn't control the top position, he had better positional success for most of the match.
Tackett opened up toward the end of the match with some back and leg attacks, but it wasn't enough to overcome the early lead built by Lo.
Lo def Tackett via decision
Austin Oranday vs Troy Russel (welterweight)
Oranday vs Russel began as a leg lock shootout, fought largely in 50-50 and outside ashi.
Oranday won an exchange, getting into the inside sankaku position. But Russel turned thing s around, returning to the 50-50 where he sinched a heel hook for his WNO debut victory.
Russel def Oranday via inside heel hook (4:15)
Davis Asare vs Nick Heflin (middleweight)
Davis Asare controlled the match from every position in his Tezos WNO debut. He sat to guard early and often, nullifying the takedown skills of elite wrestler Nick Heflin. He used his sweeping game to pass to side control. And, in his best attack of the match, he used his closed guard to throw up a triangle, from which he transitioned to back control.
Although the New Wave competitor could not finish the match, he left no doubt for the judges.
Asare def Heflin via unanimous decision
---
The post-match call outs:
Dante Leon called for a shot against a top-3 athlete at 155, looking for an opportunity for the vacant Tezos WNO lightweight title
Izaak Michell called for a 185-lb title shot against current 205 lb champ Pedro Marinho.
After his submission victory over Elder Cruz, Rafael Lovato Jr. echoed Michell's call for a match with Pedro Marinho. Lovato, however, called for a shot at Marinho's 205 lb belt.
Nicholas Meregali asked for a shot against whichever black belt wins the 2023 IBJJF World Championships in the beginning of June. He offered $20,000 of his own money as a bet match.
---
Nicholas Meregali has competed in gi on WNO before
Gi competition — even on the Tezos WNO stage — is nothing foreign to Nicholas Meregali. He headlined the first-ever WNO event in January 2020 against Victor Hugo. Now nearly 30 months later, Meregali aims to show his drastic improvements since joining forces with John Danaher, Meanwhile, Marinho who is 3-1 on the Tezos WNO mats — despite being an underdog every time he's competed there — is looking to show that, gi or no-gi, WNO is his house.
Also on tonight's WNO 18 card:
Rafael Lovato Jr. vs Elder Cruz
Alexandria Enriquez vs Tuby Alequin
Jacob Couch vs Izaak Michell
Dante Leon vs Ruan Alvarenga
William Tackett vs Francisco Lo
Tezos WNO will feature two prelims, streaming free on FloGrappling's YouTube channel.
Austin Oranday vs Troy Russel
Davis Asare vs Nick Heflin
---
Watch the prelims here:
---
Catch the 2023 FloGrappling Road To Worlds beginning tomorrow! Watch the trailer below: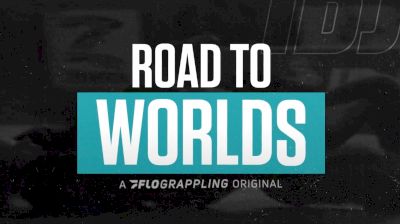 ---
Catch up on all the latest Tezos WNO news: