2020 European Jiu-Jitsu IBJJF Championship
2020 Official Gi Season Preview: Female Feather/Light
2020 Official Gi Season Preview: Female Feather/Light
A look at what to expect in the 2020 gi season at female black belt featherweight and lightweight.
Dec 25, 2019
by Michael Sears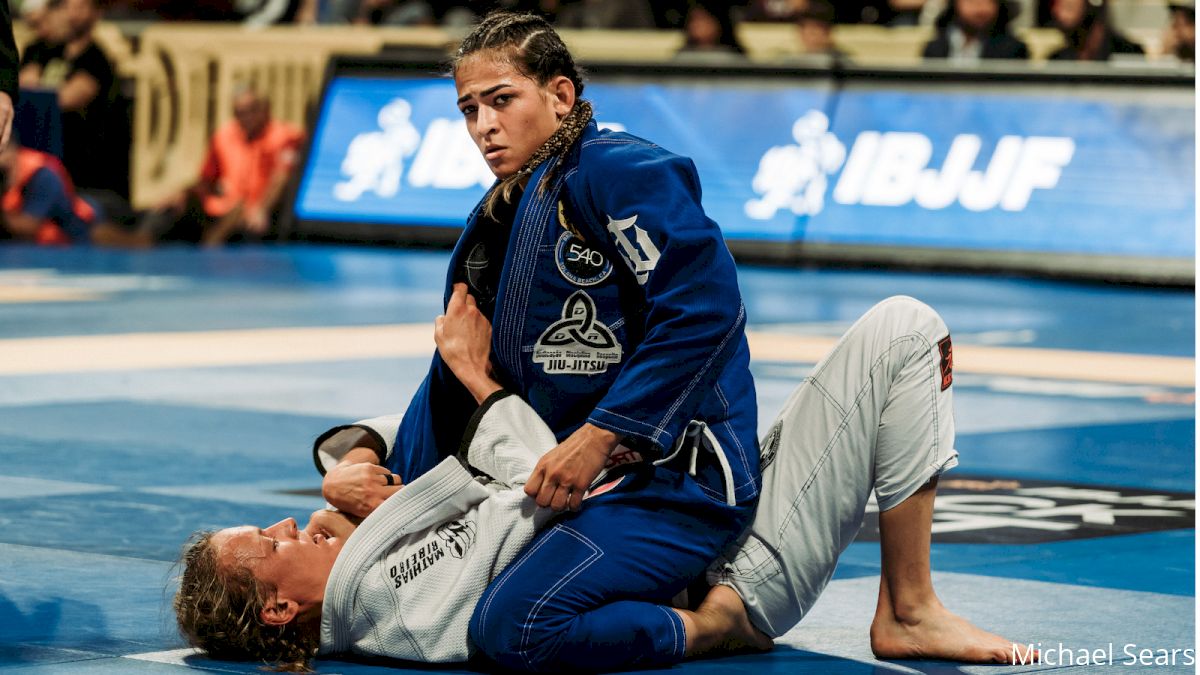 Unlock this article, live events, and more with a subscription!
Get Started
Already a subscriber? Log In
The 2020 gi season will be upon us in no time, with the season starting up once the IBJJF European Championships kick off in Lisbon on January 20th. Euros is the first of the four major IBJJF Grand Slam tournaments, with Pans, Brasileiro and finally Worlds in May completing the gi season.
I'm deep into season previews, with a few already dropped this week. Now it's time for my second black belt women's preview, featherweight and lightweight.
Here are the rankings at featherweight headed into the season, and these are the rankings at lightweight.
Here are some season previews previously released: Season Dates / Male Rooster / Male Light-Feather / Male Feather / Male Light / Female Rooster and Light-Feather
Alright, lets start this preview off with the black belt female featherweight division -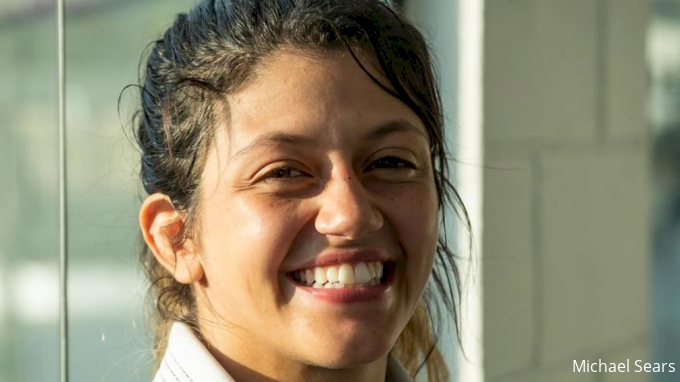 Basilio On A Foot Lock Rampage
Bianca Basilio (Atos) started the year taking second as a lightweight, winning the Brasileiro at that weight and taking second at Euros and Third at Pans. She also won the Abu Dhabi World Pro at 55 kg and then entered Worlds at featherweight, submitting Ffion Davies by ankle lock and fighting her way to the final against Ana Carolina Schmitt.
Bianca lost to Schmitt in that final and finished just short of her first world title in the gi. She has since went on to avenge that loss by ankle lock at BJJ Stars. She also split two matches with Luiza Monteiro at AJP Rio, again winning by ankle lock there. Her straight ankle lock is the best in the business, she routinely defeats elite girls with it and usually in devastating fashion. Bianca is riding high into 2019 on a wave of momentum.
Watch: Bianca Vs Ffion From Worlds
---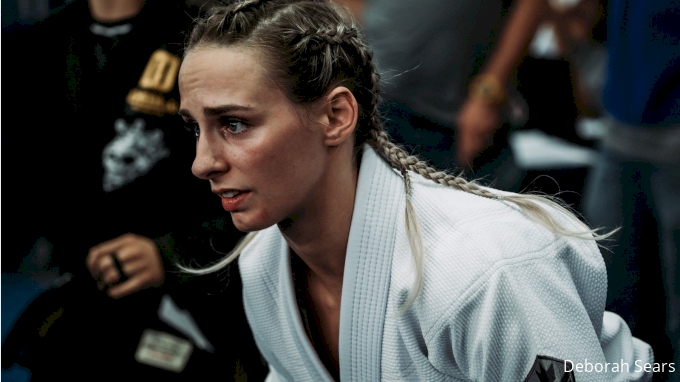 Round Two For Ffion
Ffion Davies (ECJJA) was on her way to achieving the Grand Slam before that Basilio ankle lock in Long Beach. Ffion even tapped out 2019 World champ Ana Carolina Schmitt in the Brasileiro final and looked almost a sure thing to win Worlds.
That Bianca ankle lock at Worlds was followed by a toe-hold at ADCC when the two met in the finals there. Ffion has had things go her way in one of their meetings though, she took Bianca's back and won 4-0 at AJP London. So far Basilio holds the edge 3-1 in their series and Ffion is going got have to figure things out with her Basilio problem sooner or later.
Ffion no doubt displayed the potential to one day be an all-time great in the women's division with her first year at black belt. She was one tournament short of the IBJJF Grand Slam and looked dominant in the major tournaments she won. If she can just keep her feet away from Bianca Basilio, she's next to unstoppable. Maybe the next time around she completes that Grand Slam she was so close to achieving in 2019.
Watch: Ffion's Win Against Basilio In London
---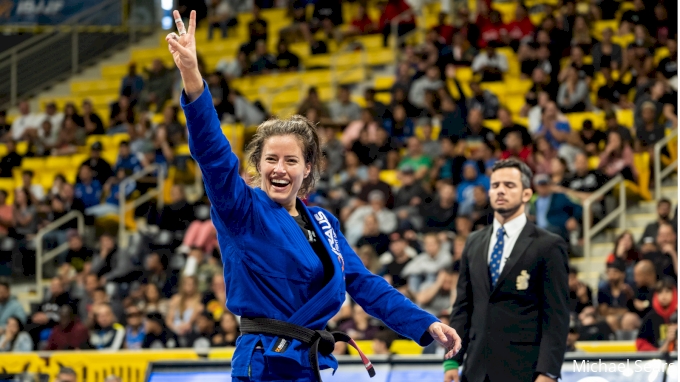 Other Challengers At Feather
Ana Carolina Schmitt (Nova Uniao) won Worlds in 2019, but submission losses to both Ffion and Basilio have diminished her stock a little. Regardless of those losses though, Schmitt got it done when it counted and put together the run in the Pyramid needed to become the 2019 World champ. Ana also closed out this weight at Worlds with teammate Maxine Thylin when she was on Gracie Humaita in 2017. She can't be counted out, but in such a talent-rich division it's not going to be easy to repeat.
Checkmat has three solid featherweights in Karen Antunes, Nathalie Ribeiro and Gabriela Fechter. Antunes was the World champ at this weight in 2018, and Ribeiro finished third in that division after defeating Basilio. This trio can do some damage and one of them just bring the featherweight world title back to Checkmat in 2020. Between Antunes and Michelle Nicolini, four of the featherweight world champs this decade were from the team.
Heather Raftery (Atos) and Aarae Alexander (Team Lloyd Irvin) are two athletes right on the cusp of success at this level that could make it far at a major and knock off some of the other women mentioned this year.
---
Lightweight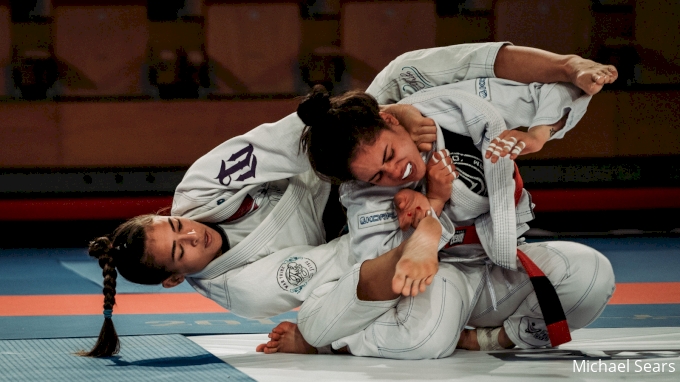 Bia Has This One On Lock
Beatriz Mesquita (Gracie Humaita) won her sixth world title as a black belt at this years IBJJF World Championships. She also finished second in the open class, won Pans, Brasileiro and the Abu Dhabi World Pro.
Bia looked as untouchable as ever in 2019, she won the Worlds final by submission while leading 11-2. There is just no way I foresee her going down at this weight anytime soon, I think the biggest threat to another world title for her would be if she closes out with a Humaita teammate and is kind enough to concede the gold medal.
This is Bia's division and it has been for a long time. She doesn't just win but does so in dominant fashion, unless she decides to change weight classes at some point she's always going to be the heavy favorite to win Worlds.
Watch: Mesquita Dominates In World Final
---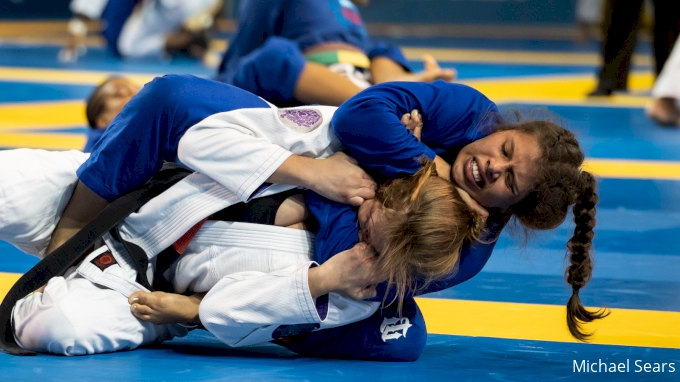 Best Of The Rest At Light
Charlotte Von Baumgarten (Mathias Ribeiro) finished second in the world in 2019 and won Euros. This was an improvement for her at these events from 2018, where she finished third at both. Charlotte didn't look ready to challenge Bia yet, but will make the podium any time she enters.
Gabrielle Mccomb (Gracie Humaita) probably has the most upside of any of the contenders, but should she meet Bia in the final they will just close out anyway. It's a very likely possibility that as Mesquita inevitably walks away from the competition in the coming years Mccomb will keep the lightweight title in the Humaita family.
Jena Bishop (Alliance) is an American Nationals champ and Worlds bronze medalist. Jena has a ton of other accomplishments to her name in no-gi and at the masters level. She's as dangerous as anyone at this weight and should contend for a podium spot at the majors in 2020.
There's a bevy of newer black belts that could cause problems in this division. Janaina Maia (Gracie Humaita), Nicole Sullivan (Atos), Michele Oliveira (Nova Uniao) and Hope Douglass (Cicero Costha) are all dangerous and names to look out for in 2020.