Unlock this article, live events, and more with a subscription!
Get Started
Already a subscriber? Log In
It's about three weeks until the start of the 2020 gi season at the IBJJF European Championships. I'm over halfway done with division season previews at this points, and now it's time to preview the medium-heavyweight division.
Since Romulo Barral and Leandro Lo won this division for five straight years from 2012-16, this division has had a new champion for three straight years. Felipe Pena took the title in 2019, coming down from heavyweight where he was world champ in 2018.
Here are the previously released previews: Season Dates / Male Rooster / Male Light-Feather / Male Feather / Male Light / Male Middle / Female Rooster and Light-Feather / Female Feather and Light
Here are the current top 25 ranked athletes in the rankings:
| | | | |
| --- | --- | --- | --- |
| Rank | Name | Team | Country |
| 1 | Felipe Pena | Gracie Barra | BRA |
| 2 | Gustavo Batista | Atos | BRA |
| 3 | Lucas Barbosa | Atos | BRA |
| 4 | Matheus Diniz | Alliance | BRA |
| 5 | Rudson Mateus | Brasa CTA | BRA |
| 6 | Renato Cardoso | Alliance | BRA |
| 7 | Jake Watson | Maracaba | USA |
| 8 | Gabriel Almeida | Checkmat | BRA |
| 9 | Nisar Loynab | Atos | USA |
| 10 | Horlando Monteiro | Kimura | BRA |
| 11 | Matheus Spirandeli | Alliance | BRA |
| 12 | Charles Negromonte | Roger Gracie | BRA |
| 13 | Murilo Santana | Unity | BRA |
| 14 | Faisal Al-Ketbi | UAE Jiu-Jitsu | UAE |
| 15 | DJ Jackson | Team Lloyd Irvin | USA |
| 16 | Mathias Luna | Checkmat | USA |
| 17 | Carlos Andrade | Cicero Costha | BRA |
| 18 | Henrique Moreira | Abi-Rihan | BRA |
| 19 | Jose Cardoso | Ceconi | BRA |
| 20 | Diego Borges | Zenith | BRA |
| 21 | Igor Souza | A.F.N.T. | BRA |
| 22 | Rafael Paganini | Alliance | BRA |
| 23 | Jakub Zajkowski | Gracie Barra | POL |
| 24 | Bruno Lima | Alexandre Machado | POR |
| 25 | Philippe Pomaski | Checkmat | SUI |
These were the podiums at the IBJJF Grand Slams in 2019:
Worlds
1 - Felipe Carsalade Araujo Pena - Gracie Barra
2 - Gustavo Espindola Batista - Atos Jiu-Jitsu
3 - Matheus Oliveira Diniz - Alliance
3 - Renato Guimaraes Cardoso - Alliance
Pans
1 - Gustavo Espindola Batista - Atos Jiu-Jitsu
2 - Lucas Daniel Silva Barbosa - Atos Jiu-Jitsu
3 - Matheus Oliveira Diniz - Alliance
3 - Rudson Mateus Sarmento Teles - Brasa CTA
Bras
1 - Rudson Mateus Sarmento Teles - Caio Terra Association
2 - José Henrique Cardoso - Ceconi KMKZ
3 - Carlos Eduardo Alves de Andrade - Cicero Costha Internacional
3 - Henrique Riedlinger Moreira - Família Abi-Rihan Jiu-Jitsu
Euro
1 - Rudson Mateus Sarmento Teles - Brasa CTA
2 - Gabriel Salles Muniz Almeida - CheckMat
3 - Horlando de Jesus Monteiro - KMR BJJ KIMURA
3 - José Henrique Cardoso - Ceconi KMKZ
Alright now let's get started, this is your Official 2020 Gi Season Preview for medium-heavyweight:
Preguica Going For A Third Title
Felipe Pena (Gracie Barra) has won Worlds the last two years, first at heavy in 2018 and then dropping down to medium-heavy and winning it all in 2019. "Preguica" is also a four-time Abu Dhabi World Pro champ, has won the open class at Euros, and double gold at the Brasileiro.
The biggest question with Preguica would be what weight does he go. He's gone back and forth between medium-heavy and heavy throughout his career, with success at both weights.
Not counting the absolute, Felipe has won 18-straight gi matches at his weight class. He's never lost to any of contenders at medium-heavy as a black belt and is the clear favorite should he choose to return at this weight in 2020.
Watch: Preguica Wins 2019 Worlds
---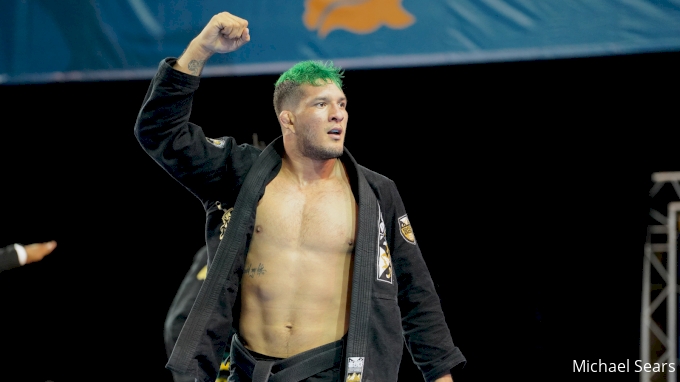 Atos Duo Next Two In Line
Lucas "Hulk" Barbosa and Gustavo "Braguinha" Batista of Atos closed out this division at Worlds in 2018. Both athletes have also won Pans and Euros at black belt, with Hulk also winning the Brasileiro in 2018 to complete the IBJJF Grand Slam in that year.
Hulk came into 2018 with a ton of that momentum after his 2018 Grand Slam, then continued to dominate with a double gold performance at Pans. That momentum all came to a halt when he went down to old rival Matheus Diniz 2-0 in the Worlds quarterfinals. Hulk has been competing mostly no-gi for the last few months, but he recently passed the guard, mounted and tapped Rudson Mateus at BJJ Stars.
Braguinha also put in a double gold performance at a major in 2019, winning his weight and the open class at Euros. He closed out Pans with Hulk, and beat a list of big names to win an AJP King of Mats. At the World Championships he fought his way to the final, losing a referee decision to Preguica and finishing with silver for a second straight year. Gustavo has defeated a bunch of big names in a short black belt career; 2020 might be the year he reaches the top of the podium in Long Beach.
Watch: Braguinha Wins Euros Open Class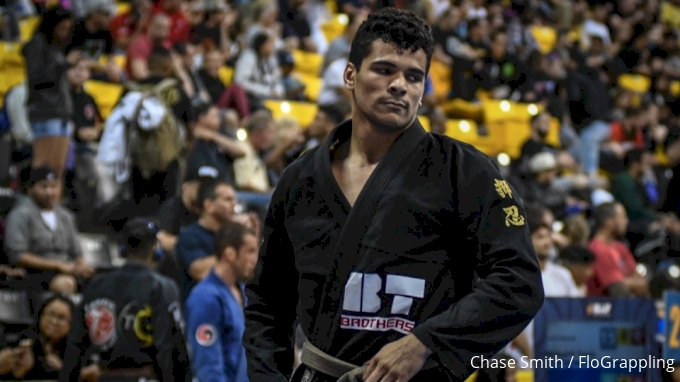 Other Names To Watch At Under 88 KG
Rudson Mateus (Brasa CTA) won Euros and Brasileiro in 2019, before going out in the quarters to Renato Cardoso by an advantage at Worlds. The closed guard specialist took third at Worlds in his first year at black belt in 2018; now entering his third season he should be expected to challenge for the world title in 2020.
Matheus Diniz (Alliance) finished third at Worlds for the second time in 2019, taking out returning champ Lucas Barbosa in the quarters. He fell to Preguica 2-0 in that semifinal. The Marcelo Garcia pupil is coming off his biggest career accomplishment when he won ADCC 2019 and could potentially add a gi world title to go with his no-gi accomplishments.
Checkmat has a pair of young black belts who should contend in Gabriel Almeida and Mathias Luna. Both of them won everything at the colored belts and will now look to get it done at the next level.
Unity Jiu Jitsu general Murilo Santana and his lieutenant Devhonte Johnson both call the medium-heavyweight division home. Murilo has always been one of the tougher competitors in this division and is a three-time Worlds bronze medalist. Devhonte won Worlds at both brown and purple belt.
Alliance also has a pair of contenders in this division in Renato Cardoso and Matheus Spirandeli. Cardoso is a three-time bronze medalist at Worlds, including the last two years. Spirandeli's biggest win so far has been the Sul Americano, but he has finished third at both Euros and the Brasileiro.
Jake Watson (Maracaba) is a fresh black belt but has won the Long Beach and Phoenix Opens already. Those weren't easy wins either, as he knocked off ranked opponents Horlando Monteiro and Mathias Luna at those tournaments.
Speaking of Horlando Monteiro (Nova Uniao), he's always one of the contenders at medium-heavyweight. Horlando is a Euros champ and has finished both second and third at Euros and the Brasileiro. He missed much of the 2019 season with visa issues, but that's in the past and he will be back in the mix in 2020.
Nisar Loynab (Atos) is another challenger here at medium-heavyweight. So far his conquests at black belt have only included wins at IBJJF opens, but he has recent wins over Yago de Souza and Gabriel Almeida and should be expected to take his performances up a level in 2020.