Unlock this article, live events, and more with a subscription!
Get Started
Already a subscriber? Log In
It's gi season time, with everything kicking off on January 20 at the IBJJF European Championships. I'm finally done with my very last season preview, the brown belt male and female divisions.
Season previews: Season Dates / Male Rooster / Male Light-Feather / Male Feather / Male Light / Male Middle / Male Medium-Heavy / Male Heavy / Male Super-Heavy / Male Ultra Heavy / Female Rooster and Light-Feather / Female Feather and Light / Female Middle and Medium-Heavy / Female Heavy and Super-Heavy / Purple Belt
Here you go, the Official Brown Belt Gi Season Preview:
Male Divisions
Roosterweight
2019 Pans champ Johnif Rocha (Cicero Costha) enters the season ranked first overall in a division that was ruled in 2019 by his teammate Thalison Soares.
There are a lot of challengers at this weight including Euros runner-up Breno Peterson (ZR Team). Some solid purple belts are coming up to brown, like world champ Keven Carrasco (Ares) and the Ueno brothers Hiago and Thiago (Tree BJJ), who closed out Euros. Purple belt Pans champ Hiryu Niwa (Atos/AOJ) rounds out the top five at this weight.
Watch: Carrasco Wins Purple Belt Worlds
---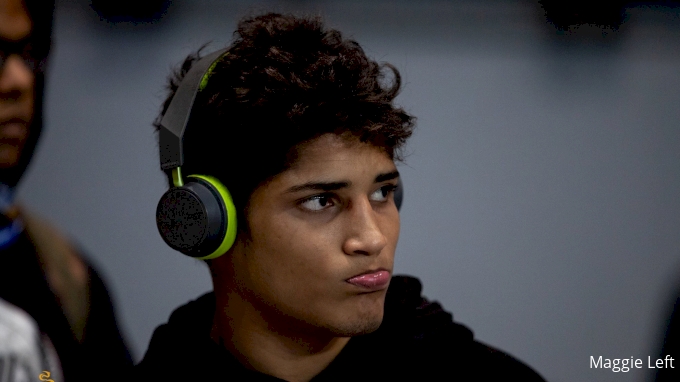 Light-Featherweight
This weight is pretty loaded at the top, with Meyram Alves (Guigo/Team Lloyd Irvin) currently holding the top spot. Alves won Pans in 2019 at purple feather and finished second at Worlds, at brown belt he dropped down to light-featherweight and won the Sul Americano.
Fabricio Andrey (Alliance) just won Worlds at this weight as a blue and purple belt in back-to-back years. He has taken some losses up a weight class at AJP events that saw his stock drop a little, but when at light-feather he looks unbeatable. Worlds runner-up at brown belt Joshua Cisneros (Cleber Jiu-Jitsu) is currently third behind Meyram and Fabricio, with a big Who's #1 showdown vs Meyram on the horizon.
Watch: Fabricio Gets The Sub At Worlds
---
Featherweight
2019 purple belt world champ Diego Sodre (Nova Uniao/Clube Feijao) enters the season ranked first at featherweight. Diego has won a few Opens since moving up to brown belt, and defeated current light-feather number one Meyram Alves at Worlds in June.
There is some stiff competition at this weight for him, though, namely in the form of Raul Basilio (Atos/Almeida) and Lucas Rodrigues (Atos/AOJ). Raul was the 2019 Brasileiro champ in this division, and Rodrigues was a 2018 purple belt world champ.
Yaroslav Blazhko (ZR Team) is always on the podium at big events and is a threat here as well. Marcelo Abreu (Checkmat) made the Worlds and Pans podium at purple belt in 2019.
Watch: Sodre Wins 2019 Worlds

---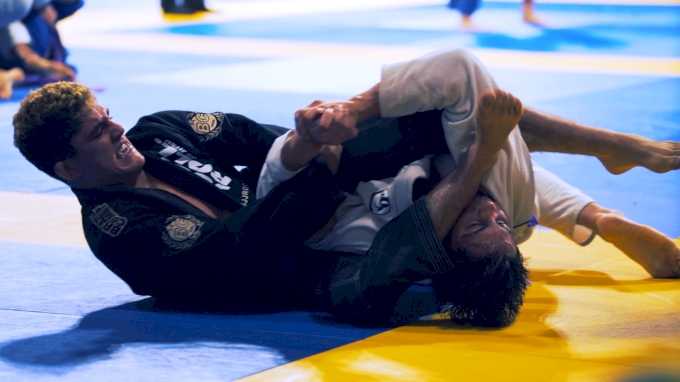 Lightweight
This division has been all over the place since Worlds, where Lucas Protasio (Checkmat) defeated Andy Murasaki (Atos) in the purple belt final. Murasaki then went on to win a crazy AJP Rio bracket where he knocked off three top-10 opponents.
Brasileiro champ Higor Lima (NS Brotherhood) then submitted Andy by ankle lock in the Rio BJJ Pro. Purple belt Brasileiro champ Luiz Paulo Medeiros (Alliance/Dream Art) and Euro champ Nicholas Werner (Mathias Ribeiro) have wins against some of the big names in this division in the past. Victor Nithael (Nova Uniao/Clube Feijao), Julio Arantes (Qatar BJJ), and Eduardo Roque (R1NG) are three more heavy hitters in a crazy lightweight division.
Watch: Lucas Protasio World Champion Highlight
---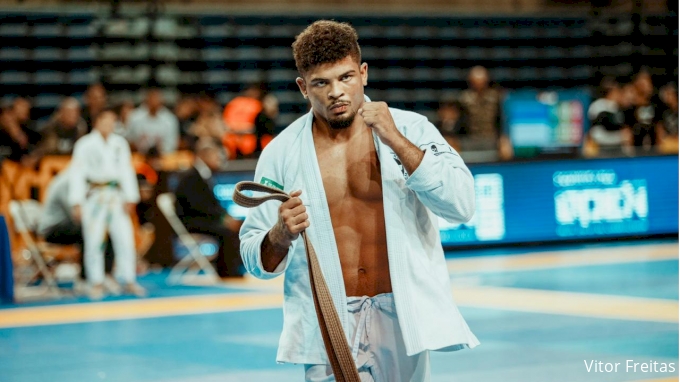 Middleweight
Worlds bronze medalist and Euros champ Lucas Gualberto (Alliance/Dream Art) enters the season ranked first after winning Euros, closing out the Brasileiro, and finishing third at Worlds. Tarik Hopstock (Frontline) also finished third at Worlds, with a bronze medal from Euros as well.
Tainan Dalpra (Atos/AOJ) has been one of the most promising prospects at the colored belts in recent years; he has a Who's #1 fight coming up with Lucas. Alex Munis (Alliance/Dream Art) was the Brasileiro champ at brown belt, and Gabriel Costa (Guigo) did the same at purple middle. Fausto Godoy (Cicero Costha) is yet another name here that might win it all in 2020.
Watch: Gualberto's Euro Final
---
Medium-Heavyweight
Conner Deangelis (Atos) currently has the top ranking after defeating three top-10 opponents at the AJP Rio. 2019 brown belt Worlds runner-up Giancarlo Bodoni (Alliance) was previously number one here, before falling to second-ranked Lucas Lisboa (Cicero Costha).
Pedro Machado (R1NG) is another of the favorites here. He was the purple belt P4P number one before his recent promotion and has won nearly everything at the colored belts.
Watch: Conner Vs Machado At Worlds
---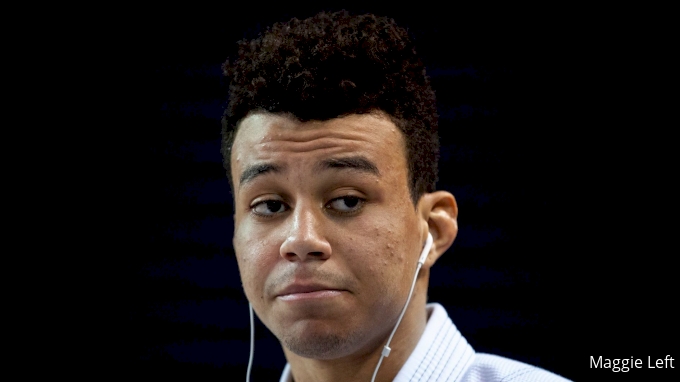 Heavyweight
2019 purple belt IBJJF Double Grand Slam winner Erich Munis (Alliance/Dream Art) is no doubt the heavy favorite here, but he certainly has some tough competition for 2020.
Purple belt medium-heavy world champ Igor Tanabe (Brasa CTA), brown belt Worlds bronze medalists Reda Mebtouche (Carpe Diem), and Tacio Carneiro (Qatar BJJ), Pedro Marinho (Gracie Barra), Davi Cabral (Gracie Barra), and Thomas Bracher (Gracie Barra) fill out probably the toughest brown belt weight for 2020.
Watch: Erich Munis Wins Worlds
---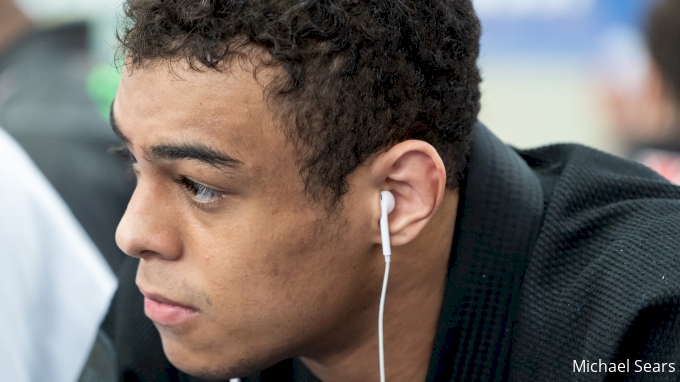 Super-Heavyweight
Anderson Munis (Alliance/Dream Art) won this weight at the 2019 Worlds as a purple belt and closed out the open class with his brother Erich. Anderson has even had success competing against elite black belts already at Spyder, with a win over Matheus Diniz at that tournament. He's a heavy favorite to win it at brown in 2020.
Purple belt Worlds runner-up Marcos Carrozino (GF Team), Levi Guimaraes (BTT), Andre Porfirio (Fight Sports), and Brian Giorgio (Alliance) are some more names to watch at super-heavyweight.
Watch: Anderson's World Final
---
Ultra-Heavyweight
Really tough ultra-heavyweight division for 2020 at brown belt, in the wake of 2018 and 2019 world champ in this division Victor Hugo going up to black. GF Team monsters Wallace Costa and Pedro Pimenta have been closing out everything in Brazil and currently hold the top two spots.
Roosevelt Sousa (Fight Sports) is a giant and one of the favorites here as well, along with 2019 purple belt world champ Renan Cruz (R1NG).
---
Female Divisions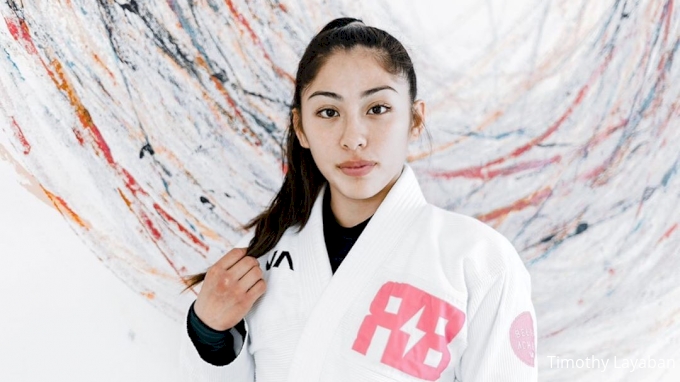 Roosterweight
The big name here is Gui Mendes pupil Jessa Khan (Atos/AOJ), who won Worlds, Euros, Pans and the Abu Dhabi World Pro in 2019. Jessa has an upcoming Who's #1 match with Worlds bronze medalist Vicky Hoang (Jiu-Jitsu For Life) on February 8. Aline Paes (Checkmat) and Margarita Ochoa (Atos) are some other contenders here.
Watch: Jessa Khan Promoted To Brown Belt
---
Light-Featherweight
The world champ is returning at this weight in Elina Moestam (Checkmat), along with the Worlds runner-up Tabitha Ricci (Paragon). This is a deep weight class, with Brasileiro runner-up Sayuri Toledo (Alliance), purple belt Worlds and Pans champ Crystal Gaxiola (Atos), and purple belt Worlds silver medalist Lavinia Barbosa (Checkmat) all in the mix.
Watch: Elina Wins Worlds

---
Featherweight
World champ Ana Rodrigues went to black belt and opened up this division. Brasileiro bronze medalist and American Nationals champ Thauany Xavier (Gracie Barra) currently holds the top spot, followed by purple belt Worlds champ Heather Morgan (Atos).
---
Lightweight
Ludmila Fiori (Nova Uniao) won the Brasileiro, finished second at Pans and third at both Euros and the Brasileiro in 2019 and is an easy choice for the preseason top spot at light. The Worlds silver medalist is back as well though in Kira Sung (Jiu-Jitsu Lab), along with both purple belt Worlds finalists Margot Ciccarelli (Unity) and Jessica Buchman (Brasa CTA).
Watch: Margot Vs Buchman At Worlds

---
Middleweight
Martina Linnea (Checkmat) made the podium at Worlds, Pans and Euros in 2019 and holds the top ranking at middleweight. Worlds bronze medalist Vanessa Griffin (Team Lloyd Irvin) should challenge her at this weight in 2020.
---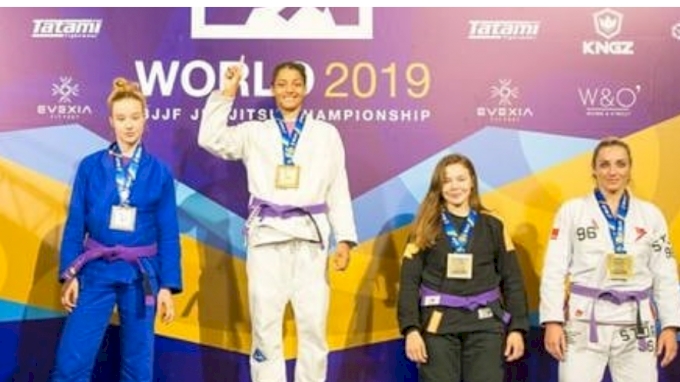 Medium-Heavyweight
2019 Worlds champ Maggie Grindatti was recently promoted post No-Gi Worlds and opens things up here. She was submitted in that No-Gi Worlds open class by Elizabeth Clay (Ares), who should be expected to be a force here. The top ranking is currently held by 2019 purple belt Worlds champ Larissa Diaz (Alliance/Dream Art). Euros champ Ane Svendsen (GF Team) and purple belt Pans champ and Worlds silver medalist Chloe Mcnally (Unity) are more contenders at medium-heavy.
Watch: Larissa Vs Chloe At Worlds
---
Heavyweight
Another weight with the Worlds champ returning in Rafaela Guedes (Atos). Rafaela also finished third at Pans and should be a heavy favorite at heavyweight heading into the season.
Watch: Rafaela Wins Worlds
---
Super-Heavyweight
This weight had two superstars last season in Gabi Pessanha and Yara Soares. Both women have since moved on to black belt and opened things up for Worlds runner-up Mayara Oishi (Checkmat), Euros champ Marta Szarecka (Gracie Barra) and purple belt Brasileiro champ and Worlds runner-up Mayara Custodio (Checkmat).